With competition for places on the roster being so fiercely contested there's no substitute for winning in the UFC, and as such it's every fighters worst nightmare to find themselves trapped in the midst of a losing streak they just can't seem to break out of.
Every defeat brings a greater likelihood that their next fight could be their last in the Octagon, bringing even more pressure, anxiety and self-doubt that only seeks to further compound the problem.
For some fighters back-to-back defeats is all it takes before they are unceremoniously shown the exit door, but for one reason or another, some are cut a little more slack, which at first might seem like a blessing, but can often prove to be something of a curse as they dig themselves into an even deeper hole on the sports biggest stage.
It's those unfortunate fighters that are the focus of this article as we count down the worst losing streaks ever recorded inside the UFC's Octagon.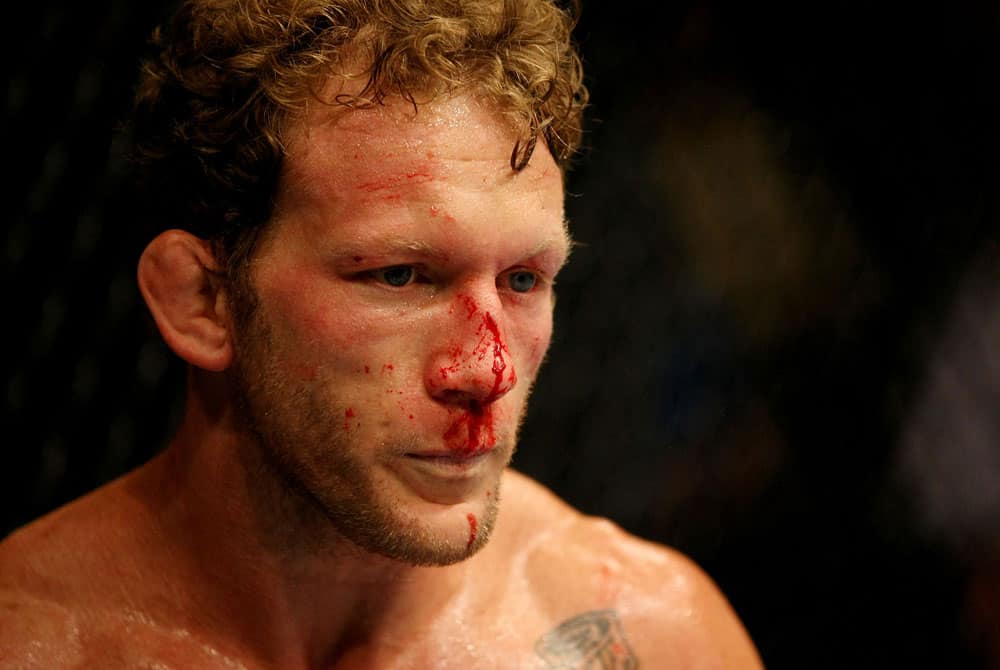 10. Gray Maynard – 4 losses in a row
Truth be told there's a number of fighters who have suffered four-fight losing streaks in the UFC over the years, but Gray Maynard makes it onto this list due to the fact his slump came in the midst of a six-year spell in which he would register just two wins in nine Octagon outings.
A former two-time challenger for the lightweight belt, Maynard entered into another title eliminator with TJ Grant in 2013 having only lost once in his previous 14 bouts, but surprisingly was TKO'd barely two minutes into the fight.
Worrying signs that Maynard's chin was deserting him then emerged when he was also TKO'd in the first round by Nate Diaz, and then Ross Pearson also finished him with strikes.
A further loss to the unheralded Alexander Yakovlev took his losing streak to four fights, but Maynard resisted talk of retiring and instead took over a year out before dropping down to the featherweight division.
He then briefly broke his losing streak with a win over the unheralded Francisco Bruno, but a loss to Ryan Hall since then leaves the 37-year-old's fighting future in doubt again.
9. Jessica Eye – 4 losses in a row
Jessica Eye would appear to have more lives than cat in the Octagon given that, in addition to her current four-fight losing streak, she's actually only won once in her seven fights for the promotion, yet as things stand 'Evil' still holds down a spot on the UFC roster.
Her current losing streak occurred within a 14-month period, beginning with a unanimous decision loss to future champion Miesha Tate at UFC On FOX 16 in July of 2015.
Julianna Pena would also best her on the scorecards next time out, and then came two more losses against former title contenders Sara McMann and Bethe Correia.
Not many fighters could withstand that number of losses without being cut, but clearly the UFC brass believe the 30 year-old Eye can turn things around as they have granted her one more chance to prove herself, even though she's decided to take a year-long hiatus from the sport.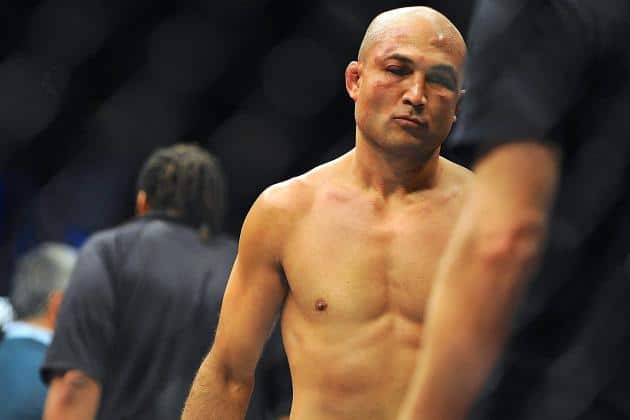 8. BJ Penn – 4 losses in a row
BJ Penn stands out among those who have suffered four UFC losses in a row, and not just because it's shocking to see one of the all-time greats fall on such hard times in the Octagon.
The only thing standing the way of this being a five fight losing run is a majority draw against Jon Fitch back at UFC 127 in 2011, and when you factor in that Penn has actually only won once in his last eight fights, it's hard not to include him on the list.
Despite being undersized at welterweight, Penn accepted fights with two of the division's toughest fighters in Nick Diaz and Rory MacDonald in 2011 and 2012 respectively, suffering one-sided beatdowns on each occasion that left the Hawaiian star contemplating retirement.
After a length hiatus from the sport his decision to accept a trilogy bout with his nemesis Frankie Edgar at featherweight (his first ever fight in that weight class) also seemed doomed to failure, and his performance that night was worse than anyone had anticipated.
Fast-forward another two and a half years and Penn made another UFC comeback against rising star Yair Rodriguez that only further served as proof that the 39 year-old was now well past his best as he endured his most decisive thrashing yet.
For many fans it's been painful to watch Penn's long, drawn-out decline play out in this fashion and the hope now is that he'll finally hang up his gloves for good.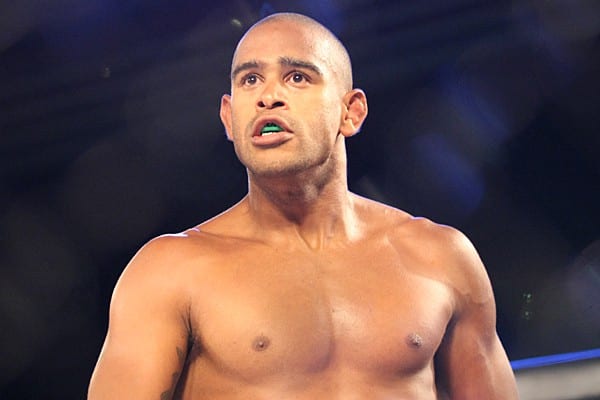 7. Jorge Santiago – 5 losses in a row
If you weren't paying close attention, Jorge Santiago's five fight UFC losing streak could have gone unnoticed due to the fact it occurred over three separate stints in the Octagon over a seven year period.
It all began back at UFC Fight Night 6 in 2006 when Chris Leben knocked Santiago out, and just a few months later there was more of the same as Alan Belcher relieved him of his senses with a head kick KO.
Santiago was released from the UFC after that, but to his credit he bounced back in style by winning 11 of his next 12 fights in other promotions, which earned him another bite at the UFC cherry in 2011.
Unfortunately, Santiago experienced déjà vu in his comeback fight when Brian Stann handed him another knockout loss, and a decision loss to Demian Maia later that year ended another disappointing spell in the promotion.
It's not often a fighter gets a third chance to prove themselves in the UFC, but Santiago stepped in as a late replacement against Gunnar Nelson in 2013.
It didn't prove to be third time lucky for Santiago as he would lose on the scorecards and later that year he announced his retirement.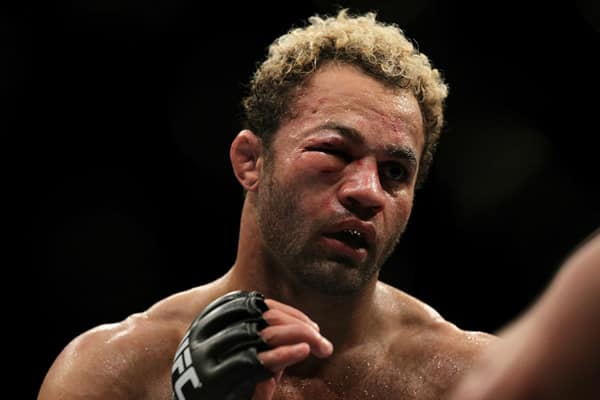 6. Josh Koscheck – 5 losses in a row
Josh Koscheck holds the distinction of being one of the UFC's longest serving fighters ever with 25 fights in the Octagon, but that also have him time to register one of the longest losing streaks ever in the promotion.
Koscheck's five-fight slide essentially came out of nowhere. Just three fights earlier he'd been competing for the UFC's welterweight title, and though he lost a lopsided loss on the scorecards that night, he'd win his next two fights.
A split decision loss to Johny Hendricks in May of 2012 marked the beginning of his decline, but things really started to go downhill the following year when Robbie Lawler dropped him with a knee and TKO'd him with punches.
Worse was to come at the tail-end of 2013 when Tyron Woodley knocked him out in the first round at UFC 167 with as devastating a right hook as anyone witnessed that year.
Koscheck took 2014 off, but he wasn't able to arrest the slide upon his return, suffering his first ever submission loss against Jake Ellenberger in February of 2015.
An ill-advised short notice fight with Erick Silva came less than a month later, leading to another submission defeat that took his losing streak to five fights and finally brought an end to his long UFC career.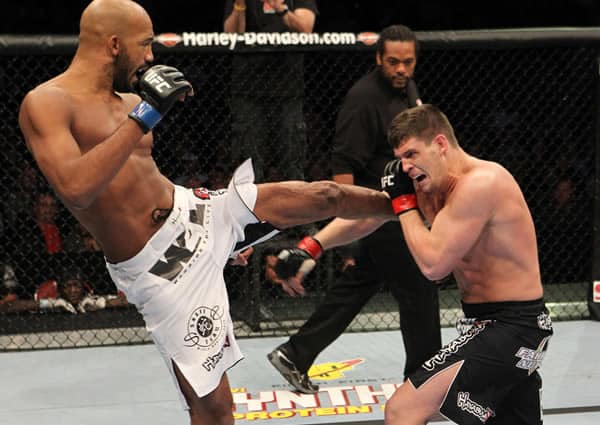 5. Steve Cantwell – 5 losses in a row
A former WEC light-heavyweight champion, 22 year-old Steve Cantwell headed into 2009 having just won his UFC debut, taking his overall career record to 7-1.
Cantwell's career would spiral out of control soon after though, starting with unanimous decision losses to both Luiz Cane and Brian Stann that year.
A few months later Dana White revealed that Cantwell was dealing with a potentially career-threatening medical issue, though the exact nature of the problem was shrouded in mystery and the fighter declined to talk about it.
Luckily the issue was eventually resolved and some 18 months after his last Octagon bout he returned to action, but lost to Cyrille Diabate by unanimous decision.
The UFC stuck with Cantwell, no doubt hoping that the still relatively young fighter would rediscover his old form, but it wasn't to be, with further losses coming against Mike Massenzio and Riki Fukuda before he was finally released.
Despite only being 25, Cantwell would then retire from the sport with a 7-6 record and has since claimed that serious injuries were the biggest factor in his decline and decision to hang up his gloves.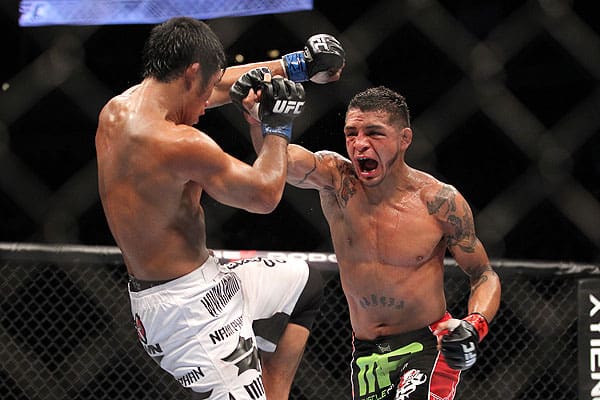 4. Leonard Garcia – 5 losses in a row
Leonard Garcia only mustered a 1-2 record during his first stint in the UFC back in 2007, but there was much worse to come when he rejoined the promotion a few years later after the WEC promotion folded into the UFC.
Garcia had gained some notoriety during his time in the WEC for his classic slug-fest with 'The Korean Zombie' in 2011 the the UFC decided to put together a rematch between them.
However, rather than the two fighters just taking turns to punch each other in the face, this time 'The Korean Zombie' managed to finish Garcia with an ultra-rare 'Twister' submission.
That was to be the start of a five-fight losing streak for 'Bad Boy,' with unanimous decision losses to Nam Phan and Matt Grice coming next.
Garcia's predictable 'stand and bang' approach just wasn't cutting it any more, but it was a style deemed entertaining enough by the UFC brass that it wasn't until further losses on the scorecards to Max Holloway and Cody McKenzie that his time in the UFC finally came to a close.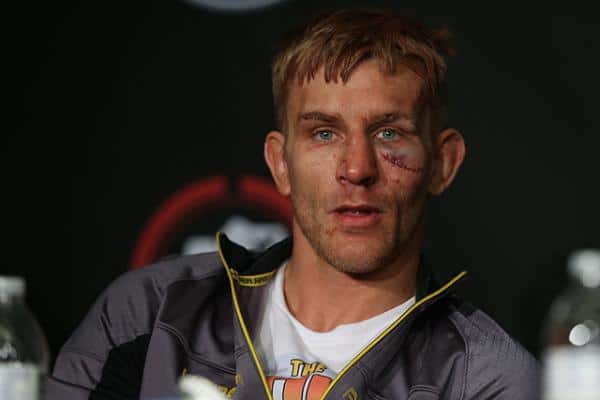 3. John Alessio – 5 losses in a row
John Alessio took no less than twelve years to compile his five fight losing streak in the UFC.
Alessio's UFC career began as far as UFC 26 in the year 2000 when he was still just 20 years-old, earning an immediate welterweight title shot against Pat Militech, which he'd lose by way of a second round armbar submission.
He'd compiled a 9-3 record after that in promotions like PRIDE and King Of The Cage, before beginning his second UFC stint at UFC 60 in 2006 with a unanimous decision loss to Diego Sanchez, followed by a further loss on points to Thiago Alves.
Again Alessio was forced to ply his trade outside of the Octagon and again he'd prove himself capable with a 16-5 run while fighting for the likes of WEC, DREAM and MFC.
In 2012, Alessio's impressive form earned him a third stint in the UFC, but hopes that after 12 years he'd finally get his first win in the promotion were dashed when he slumped to decision losses against Mark Bocek and Shane Roller in the space of just a few months, bringing an end to his time in the UFC once and for all with an 0-5 record.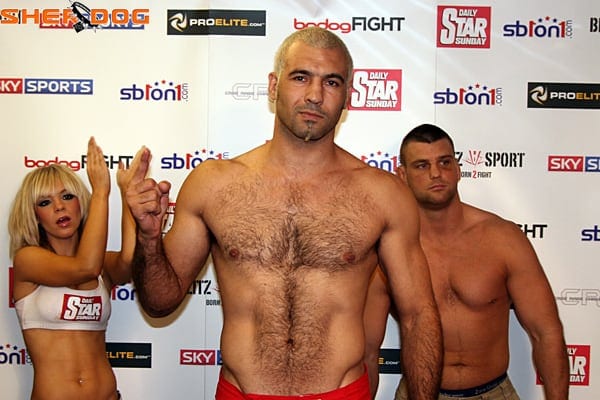 2. Elvis Sinosic – 6 losses in a row
Elvis Sinosic was the first ever Australian to fight in the UFC back in 2001 and he made an immediate impact with a first round submission win over Jeremy Horn at UFC 30.
That fast-tracked Sinosic a light-heavyweight title shot against Tito Ortiz in June of that year at UFC 32, but it proved too much too soon for him as he succumbed to a ground and pound TKO stoppage in the first round.
Another first round stoppage defeat against Evan Tanner followed by a decision loss to Renato Sobral ended Sinosic's first UFC stint in 2002, but three years later he was brought back into the fold, despite his overall record standing at an underwhelming 6-7-2 at the time.
A first round KO loss to Forrest Griffin suggested that things weren't going to go any better for the Aussie in his second UFC spell, and a further loss to Alessio Sakara confirmed it.
After notching a couple of wins in other promotions Sinosic was given yet another Octagon opportunity a year later against Michael Bisping, which lead to his sixth UFC loss in a row courtesy of a second round TKO stoppage.
Sinosic retired later that year with a 8-11-2 career record, but remarkably he almost had a fourth stint in the UFC after accepting a fight in Australia at UFC 110 in 2010, though a shoulder injury forced him to pull out a few days before the show.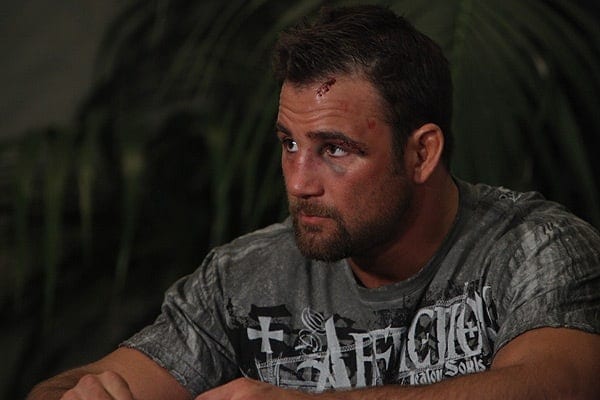 1. Phil Baroni – 6 losses in a row
Something of a cult figure in the MMA world, Phil Baroni is best remembered for loudly declaring that he was "the best eva!" following a KO win over Dave Menne in 2002, though the reality was that he'd never again taste victory in the Octagon after that night.
Following the Menne fight, Baroni headed into a rematch with Matt Lindland, who had earned a close decision victory over him a a couple of years earlier, but this time around he'd suffer a more convincing loss on the scorecards.
Next up was a fight with Evan Tanner, which ended controversially by TKO when the referee mistakenly though he'd heard Baroni say he wanted to quit while eating punches on the mat.
An immediate rematch was scheduled in 2004, which Baroni also lost by way of decision, followed by a guillotine choke submission loss to Pete Sell, and with four losses in a row the UFC parted ways with the fighter.
For the best part of five years 'The New York Bad Ass' plied his trade for a variety of different promotions including PRIDE and Strikeforce, putting together an 8-5 record, before Dana White decided to give him another chance in the UFC.
It wouldn't prove to be a glorious comeback however, with Baroni losing to Amir Sadollah, followed by being knocked out in the first round by Brad Tavares to bring his UFC losing streak to a record equalling six-in-a-row, and his career record to 13-13.