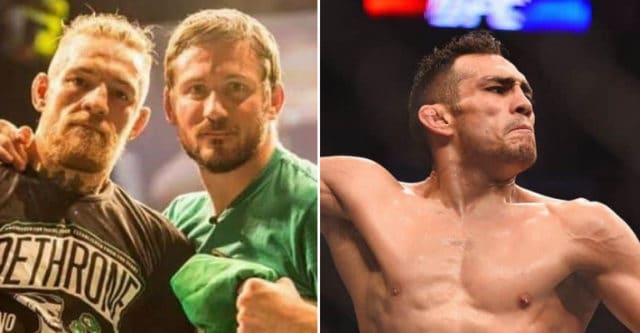 The feud between lightweight champion Conor McGregor and interim lightweight champ Tony Ferguson rages onward after an incendiary tweet by McGregor's head coach was met with equal aplomb by "El Cucuy."
Ferguson responded to John Kavanagh, McGregor's head coach at Straight Blast Gym in Ireland, who mocked fans who adopted a "defend or vacate" take on "The Notorious", who hasn't defended the title once since winning it back in November 2016.
Kavanagh also recently came out with another McGregor non-story about how he was 'pushing' for 'The Notorious' to return to MMA instead of boxing (yawn).
Clearly Ferguson wasn't gonna let that slide.
DefendorVacateDefendorVacateDefendorVacateDefendorVacateDefendorVacateDefendorVacateDefendorVacateDefendorVacateDefendorVacateDefendorVacateDefendorVacateDefendorVacateDefendorVacateDefendorVacateDefendorVacateDefendorVacateDefendorVacateDefendorVacate pic.twitter.com/mZ8G8bzI1l

— Coach Kavanagh (@John_Kavanagh) January 6, 2018
"190lbs of Pure Awesomeness" Day 2 #TonyFergusonMMA Coming After Yo' Ass @TheNotoriousMMA #DefendorVacate Pussy —> #Vacate Looks Great @ParadigmSM #GP …And To You @JohnKavanagh You Are Small Potatoes Coach Cavalier… I Can't Wait To Add Your SBG Pin To My Map ??? Sign It. pic.twitter.com/Tyligtctni

— Tony Ferguson (@TonyFergusonXT) January 7, 2018
The lightweight division has been in flux ever since its' champ took time off from MMA to pursue a boxing bout with Floyd Mayweather. Khabib Nurmagomedov had a stellar performance at UFC 219 last weekend, brutalizing the-always Edson Barboza for three grueling rounds.
Many lightweights have staked a claim for McGregor's next fight, with Ferguson winning the interim strap after submitting Kevin Lee in McGregor's absence.
Ferguson has been angling for a unification bout with McGregor for quite some time, but with the Irishman's unpredictable nature, not much is known about the champion's next move. Some reports have suggested another boxing bout, and others a return to the UFC. Just who will be the man to meet him is still very much in the air.
A few years ago, a sidelined champion would without question take on the interim champ after returning from their injury or absence. GSP fought Condit, Cormier fought Jones, Lesnar fought Carwin. The list goes on. But this is the McGregor era, and the champ-champ apparently does whatever he wants.
The more Ferguson goads McGregor the better, as the Irishman has a mercurial temper and is ego driven. If the interim champion can irk McGregor well enough, he might just get the fight.
If you enjoyed this story, please share it on social media!