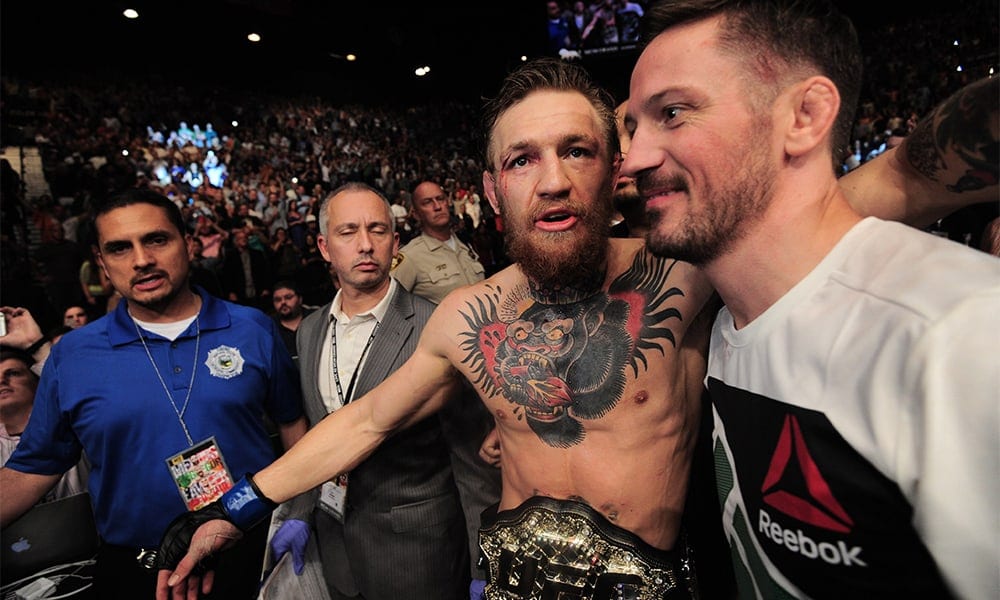 2018 will be an interesting year for UFC lightweight champion Conor McGregor. The big question that is on everyone's mind is will he return to MMA or go back to boxing. There is a third option, which is that he won't fight at all.
Going back to 2016, McGregor made the jump to superstardom and the fact that he fought Nate Diaz that year twice caught the action of many fight fans as well as casual fans. This, in turn, made him a superstar.
He would go on to win his second title with a drubbing of Eddie Alvarez at UFC 205 at Madison Square Garden.
Moving along to 2017, although McGregor didn't fight in the Octagon, he was able to move to boxing for a super fight against boxing legend Floyd Mayweather Jr. in August, which saw Mayweather TKO him in the tenth round.
Now, the speculation of McGregor's future is on and his head coach, John Kavanagh, recently gave his thoughts on what his fighter should do next during a recent interview with BBC Sport.
"I'm just happy to see him back, just regular training," said Kavanagh. "He had a lot going on in his life. A lot of stuff outside of fighting was going on in his life and he seems to be getting the hang of all that.

Now he's back training almost every day now and I think 2018 will be another big year for us. Exactly what that is, I don't know yet, but the plan is forming. Stay tuned."
It should be noted that the boxing bout with Mayweather wasn't the only reason he didn't fight under the UFC banner last year.
Early in the year, his longtime girlfriend Dee Devlin gave birth to the couple's first child and McGregor took the first part of the year off to enjoy family time.
Now, the UFC is attempting to book McGregor against interim UFC lightweight champion Tony Ferguson, who won the title back in October. Since then, Ferguson has done everything in his power in order to get this fight made.

If it was up to Kavanagh, the promotion shouldn't strip McGregor of the title. Also, he plans to push hard for the champion to make a UFC return instead of boxing.
"Conor's still the champion," said Kavanagh. "He can say what he wants but I have his belt at home. He's still the champion. He's making the decision on what makes sense for the next move, but it's kind of early days yet.

We're just watching how that has developed while he's been away. Let's see what happens in 2018. I'm excited about it."

"You want to know my opinion?" said Kavanagh. "I'll be pushing very hard for MMA. The boxing was a nice detour from what we've done but mixed martial arts is my passion, so if I have anything to do with it, he'll be in the octagon this year."