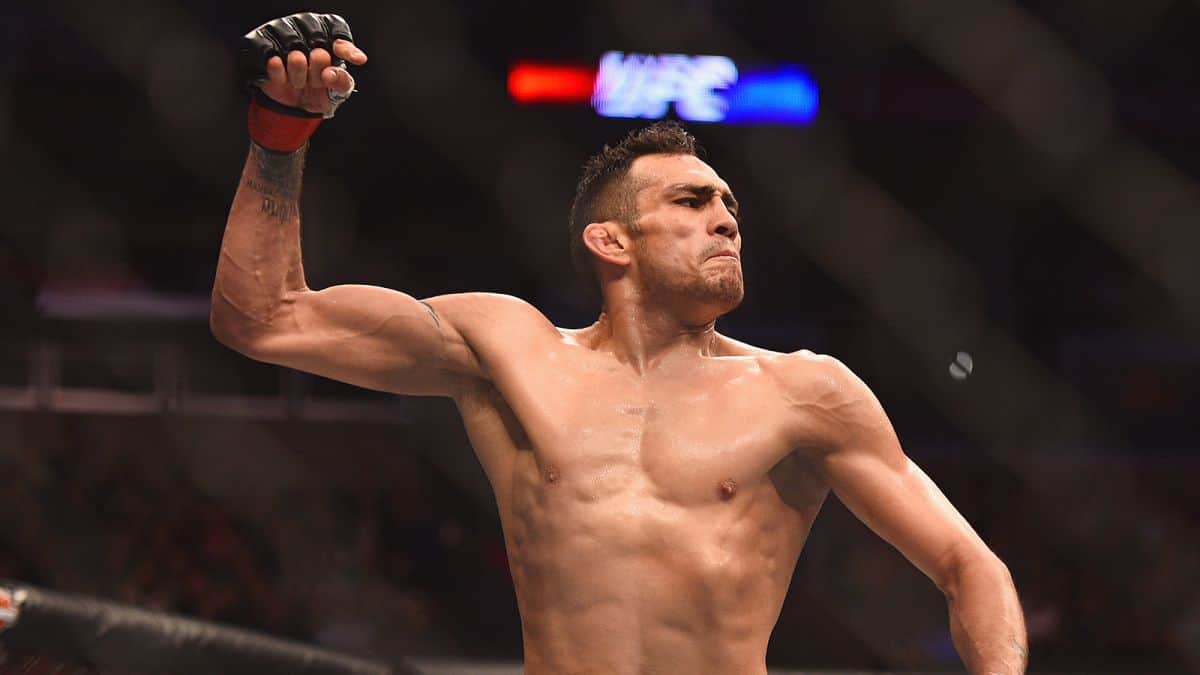 Twitter erupted once there was a war of words between Tony Ferguson and Al Iaquinta.
The history between these fighters may be recent, but interesting at the same time. It's been documented that the main event of the UFC 223 pay-per-view event went through three official changes.
The UFC attempted to book Khabib Nurmagomedov against Ferguson and Max Holloway in the main event for the lightweight title.
However, Ferguson pulled out due to an injury and Holloway wasn't able to make weight on short-notice. Thus, they got Iaquinta to step in on 24 hours notice and fight Nurmagomedov.
As many believed would happen, it did, Khabib ended up winning the fight along with the undisputed UFC lightweight title.
It all started on Monday once Ferguson thought it would be a good idea to call out Nurmagomedov for winning his title by beating a "non-full time fighter real estate agent ranked number 11 to win the title."
This is when Iaquinta shot back by writing that the promotion stripped him because he's "a weirdo and Robert Whittaker isn't." For more on that click here.
The reason that Ferguson was unable to make this fight happen and was forced out of the main event is due to the fact that he tore his LCL. As a result, he had to undergo the knife to correct the injury. Now, he's expected to be on the sidelines for 6-to-9 months while he recovers.
Moving along to Tuesday (April 24th, 2018), things got more heated once they got into a full-blown Twitter exchange.
Damn Son You Didn't Even Belong In That Cage, Although I WAS rooting For You, Weird Is Having To Make Your Own Name Plate At Media Day. Sad To See How You SOLD OUT To Fight For A Title When You Couldn't Even Win The Title. Star Struck. Best Of Luck Kid. Get Back In Line.

— Tony Ferguson (@TonyFergusonXT) April 24, 2018
I belonged more than you, you tripped on a rope

— Al Iaquinta???? (@ALIAQUINTA) April 24, 2018
It's Ok Kiddo, I Forgive You. I'm Not The One You're** Really Angry At. One Day We Will See Each Other In The Octagon If You Keep Winning. #TUFGuys

— Tony Ferguson (@TonyFergusonXT) April 24, 2018
Be quiet until you come back until then your embarrassing yourself you can't fight

— Al Iaquinta???? (@ALIAQUINTA) April 24, 2018
I'll Never Be Quiet Kiddo. ???????? pic.twitter.com/cDJtdRQL7g

— Tony Ferguson (@TonyFergusonXT) April 24, 2018
@TonyFergusonXT you said you were going to meet at the flag pole after school and you didn't show up because you tripped on a rope ???? hide bro

— Al Iaquinta???? (@ALIAQUINTA) April 24, 2018