Tommy Fury's father, John Fury, destroys set to end press event promoting his son's fight with KSI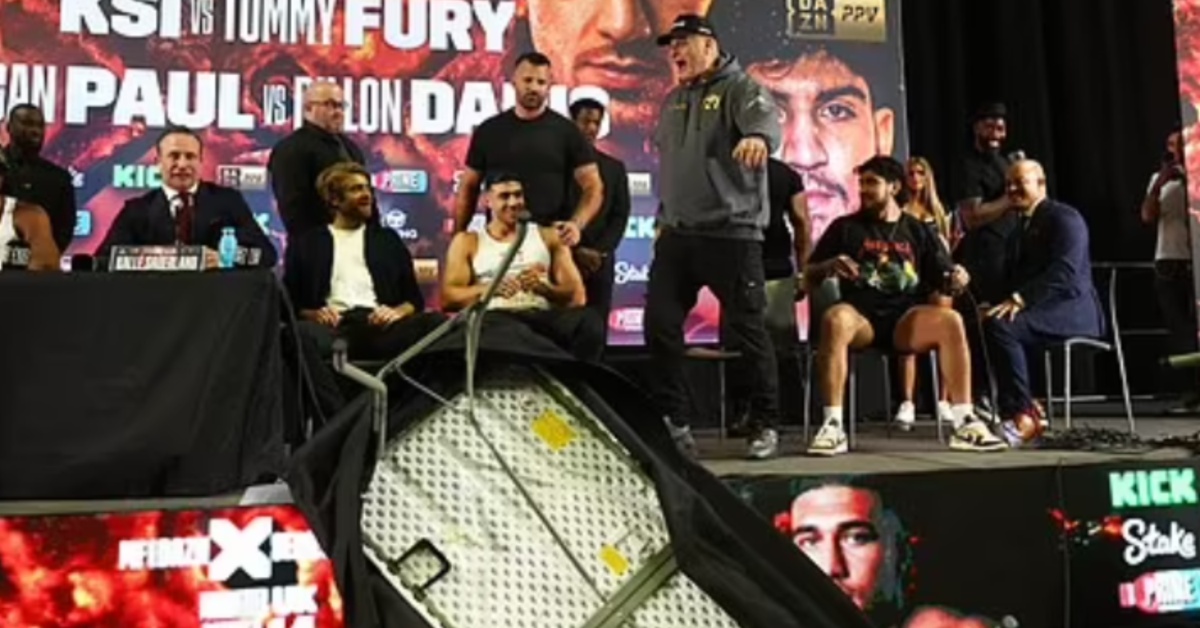 As expected, the press conference to promote the Misfits boxing event headlined by Tommy Fury and KSI went absolutely off the rails.
During Tuesday's media event, Fury and KSI went face-to-face for the first time. Joining Tommy Fury at the table was his father and coach, John Fury who has developed his own reputation as a larger-than-life character determined to suck up all the fame that his children generate with their talent in the boxing ring.
During the press event, things nearly escalated to out-of-control proportions multiple times, much of it surrounding the back-and-forth between bitter rivals Dillon Danis and Logan Paul. Shockingly, the straw that broke the camel's back came when Paul asked John Fury why his other son and WBC heavyweight world champion, Tyson Fury, was ducking a fight with Oleksandr Usyk.
It was then that Fury went absolutely off the rails, destroying the stage setting and nearly causing a riot.
Tommy Fury Takes a Backseat to His Father's Antics
Everybody tuning in most certainly expected the press conference to be nothing more than a combat sports circus, but nobody expected John Fury to be the man responsible for an abrupt halt to the festivities.
On October 14, KSI and Tommy Fury will look to keep their respective undefeated records intact as they headline the highly anticipated event in Manchester. Perhaps outshining KSI and Fury will be the co-main event of the evening, featuring Logan Paul and Dillon Danis. Since the moment their matchup was announced, Danis has been relentlessly trolling Paul on social media, taking aim at the WWE Superstar's fiancée, Nina Agdal.
Dillon certainly didn't let up during the press conference, taking several digs at Agdal's sketchy dating history, but in the end, it was John Fury who made his mark and captured headlines.
Did Tuesday's chaotic press event make you more inclined to check out DAZN's latest Misfits boxing card in October?