Dillon Danis slapped with cease and desist order after revealing NSFW pics of Logan Paul's fiancée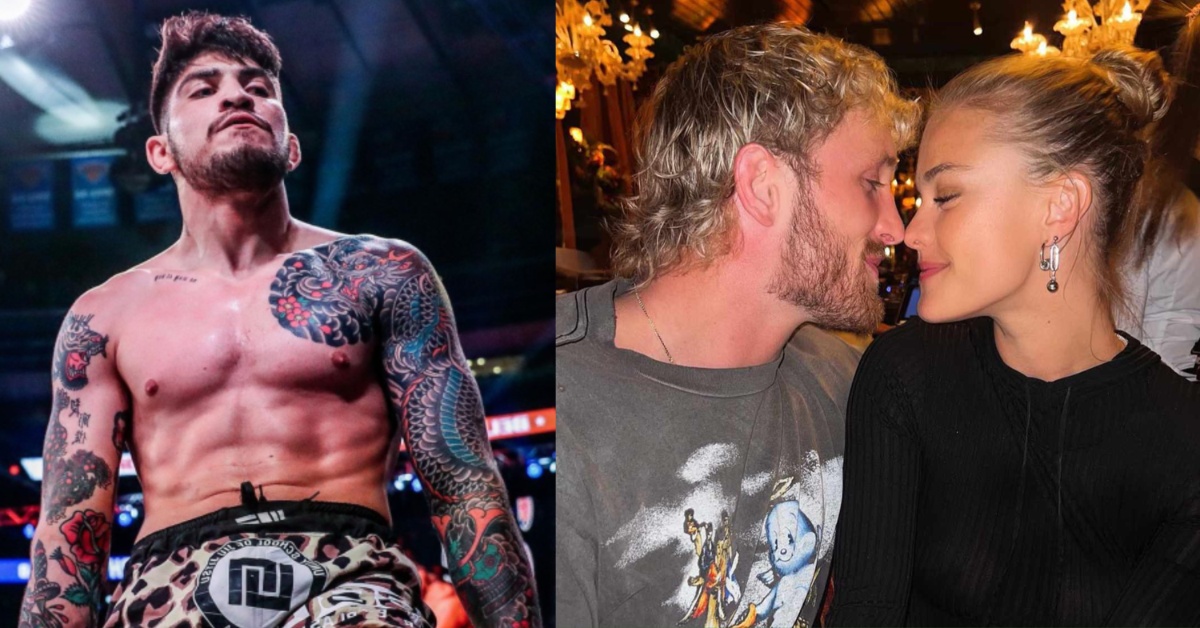 Ever since the news broke that Dillon Danis would make his long-awaited return to competition on October 14, the undefeated Bellator standout has been doing some next-level trolling of his opponent, Logan Paul.
Dillon Danis has not competed since scoring back-to-back first-round submissions under the Bellator banner in 2019. That changes this fall when Danis straps on the eight-ounce gloves for a clash with social media sensation and WWE Superstar Logan Paul in Manchester, England. That same night, Paul's PRIME Energy business partner KSI will return to headline the event opposite undefeated British boxing star Tommy Fury.
While the fight may be a couple of months away, the mental warfare has already begun and it appears Dillon Danis may have already been declared the winner after Logan Paul's team allegedly contacted Danis with cease and desist order. According to Danis, Paul threatened to pull out of the fight if Danis doesn't discontinue his antics online.
So what exactly did Dillon Danis do to get under the skin of Logan Paul in record time?
Much of it surrounds Paul's fiancee Nina Agdal. Danis not only made light of Agdal's past relationship with the likes of Leonardo DiCaprio and LeBron James, but he also posted nude pictures of her which can be seen fully uncensored courtesy of the slideshow below. You have been warned.
Dillon Danis Responds to Cease & Desist Order
In a follow-up post, Danis suggested that he had a lot more ammo in the clip, but was no longer able to pull the trigger. "I wish I could provide more entertainment for all of you. I love doing what I do, but my hands are tied in this situation. The fight is at a critical point," Danis wrote. Asked by an online user if he was being censored after going on an absolute trolling tear, Danis responded saying, "Yea or Logan is out."
Dillon Danis offered up some additional details on the situation, revealing that Logan Paul's insecurities have soured him on the fight during a series of posts on X, formerly known as Twitter. Danis also called out the hypocrisy on display by Paul.
"Being in such a weird position really takes away from the fight for me, making it feel blah. I don't know how to feel; I never thought someone who filmed a dead person for a video would have limits," Danis added.
"I'm fully committed to this fight and have been carrying the whole card's promotion on my back. The Pauls and I have had beef since forever. Just imagine how you'd feel. Jake attacked my ex, fabricated stories about me impregnating someone, attacked my best friend's fiancée. Logan ridiculed me for years, attacked Floyd's wife, filmed a deceased person, scammed millions. KSI went after my mom, the list goes on. Now I finally get to settle our feud, and this whole thing is complete bullshit—we both have a signed contract. This isn't a tennis match; this is the fight business.
"I know a lot of you hate me, but one thing you gotta respect is that I've taken every diss from everyone for years. You've never seen me block one of you, cry, or crawl into a ball. If you're gonna talk shit, don't cry when it comes back—it's part of the game."
Though Dillon Danis has pulled back on his trolling of the elder Paul brother, he still takes the opportunity to deliver a strike from time to time, as seen below. If you know, you know.