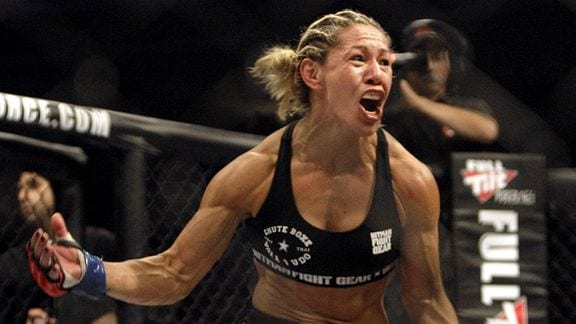 Former Ultimate Fighting Championship (UFC) light heavyweight champion Tito Ortiz has never been one to mince words in preparation for his own bouts. It's the same deal when advising another mixed martial arts (MMA) bruiser.
Despite not managing current Invicta FC featherweight champion Cristiane Justino anymore, Ortiz still speaks on "Cyborg's" behalf as her advisor. As usual, Ortiz discussed a potential matchup between "Cyborg" and current UFC women's bantamweight champion Ronda Rousey.
Justino successfully defended her title with a 45 second TKO of Faith Van Duin at Invicta FC 13. Not to be outdone, "Rowdy" knocked out Bethe Correia in 34 seconds at UFC 190 to retain her championship.
At a Bellator media day (via MMAFighting.com), "The Huntington Beach Bad Boy" talked about "Cyborg's" efforts of making the 135-pound weight limit:
"Cris is jumping through every single flamed hoop that everybody is asking her to do and she's trying to get down to 135. Realistically, 140 is still a challenge for her to get down that low. She's gonna try. She's doing everything possible and it seems like Ronda is doing zero possible. She's just sitting back and collecting her checks."
While Ortiz said "Cyborg" is trying to make the women's bantamweight division, he explained why her bout with Rousey should be at a catchweight:
"There's a different level between Ronda, Cris and all the competition in both of their weights. Ronda smashes everybody in her weight class. Cris smashes everybody in her weight class. So why not have the two girls that smash everybody in their weight class meet at a catchweight of 140 and compete?"
Ortiz said he thinks Rousey is making excuses to avoid a clash with Justino:
"Why is she running away from Cris? She says I'll fight any man, 'I'll fight Mayweather, I'll fight Chris Weidman,' but she's afraid to fight Cris Cyborg. It sounds like excuses. Usually when someone is intimidated by someone and doesn't want to fight them, they'll find any excuse not to."
If you enjoyed this story, please share it on social media!