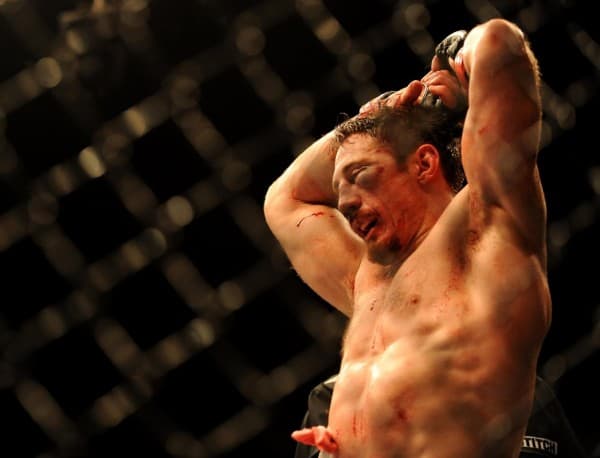 One of the most controversial bouts in recent memory has to be Yoel Romero's controversial TKO victory over Tim Kennedy at September's UFC 178 from Las Vegas.
Kennedy had Romero in deep waters nearly finishing the fight at the end of the first round, but then the famous "Stoolgate" incident took place. Between rounds, Romero took considerably longer to come out for the second round, sitting on his stool with his corner men long after the ref called him out.
When Romero finally came out, he stunned Kennedy early in the second round and was able to finish the fight. Kennedy, obviously quite angered, has not kept quiet about the situation. But former UFC vet Chael Sonnen is getting tired of Kennedy complaining and had some words for the former soldier.
Sonnen put Kennedy on blast Wednesday (December 3, 2014) on his You're Welcome podcast, calling him "one cranky and bitter son of a b–ch."
"The American Gangster" then continued voicing his opinion to guest Michael Bisping, who has oddly fought and lost to both Sonnen and Kennedy:
"Have you seen some of the stuff he's saying lately? He's threatening to never come back to the sport because he's so upset about 'Stoolgate'. This guy's one of these guys that, for me, he gets a pass. I'm an American, he's an American hero. He served the country well. He did some things; he's a hero. That's where it ends.
The guy says some stuff that if he wasn't a hero – somebody needs to tell him to shut up. Tim, you gotta stop, man. You're so bitter."
Sonnen believes that the fight is over and the past is in the past, calling for Kennedy to just forget about it already:
"Tim was so worked up about it. I'm going, 'Tim, anything that you want to do and all of this anger, man, I'm for it.' We're for that before the fight. But when the fight's done, when the pay-per-views are sold, when the cage is being torn down, shut up. Give the other guy his 15 minutes, whether he earned it or he was gifted it. Give him his 15 minutes and walk away."
Today (Thurs., December 4, 2014) it seems as if Kennedy had some words for Sonnen as well, calling out the disgraced veteran in a text message to MMA Junkie:
"Chael is being an ignorant idiot that evidently doesn't have any idea what he's talking about."
Kennedy went on to say that Sonnen has the wrong idea of what happened after the fight, referring to the video that surfaced of Romero chasing down Kennedy backstage to apologize after the fight:
"I didn't walk back to Yoel – Yoel was chasing me down after the fight trying to apologize for cheating," Kennedy wrote. "Watch the video. It's very clear that is exactly what happened."
As for "Uncle Chael," Kennedy quickly jumped on him for his past mistakes, citing his disgraceful use of performance-enhancing drugs (PEDs):
"I haven't said a thing for the past five weeks; all I've been doing is hunting. But I guess I shouldn't worry about it. It's coming from a retired, PED using felon. Maybe he's trying to promote a fight in (grappling event) Metamoris, and if that is the case, I will happily choke him out."
It seems as if the former soldier is pretty worked up about Sonnen's words, bashing "The American Gangster" and calling him out for a grappling match in the process.
Although Sonnen did not exactly say where he got the idea of Kennedy retiring from, there were some rumors that surfaced about a potential retirement for Kennedy.
After the Romero fight, Kennedy underwent surgery for an injured knee and told Ariel Helwani that he had "no idea" if he would fight again, but he has since shut down the idea of leaving the Octagon. He added that his goal is to become healthy again, and that his commitment to the Texas Guard could take priority over his fighting career, but he does plan to return to the cage at some point.
A win over Romero would have pushed Kennedy right into a potential number one contender match, and he'll need to rebound with a big win to prove himself again. Who will "The Sniper" set his sights on next?
Photo Credit: Stephen R. Sylvanie-USA TODAY Sports