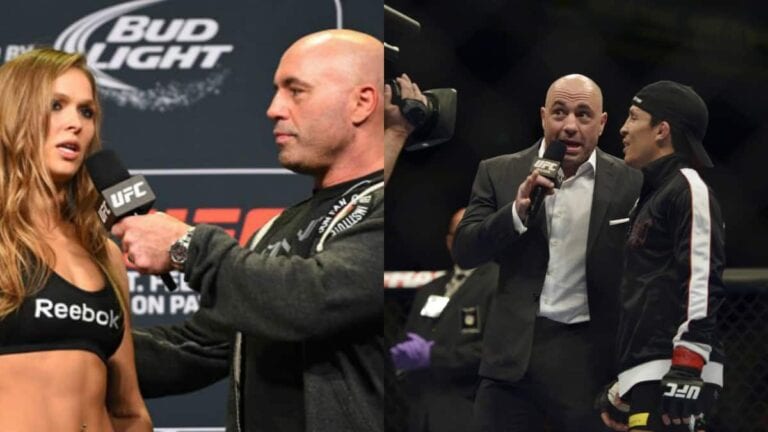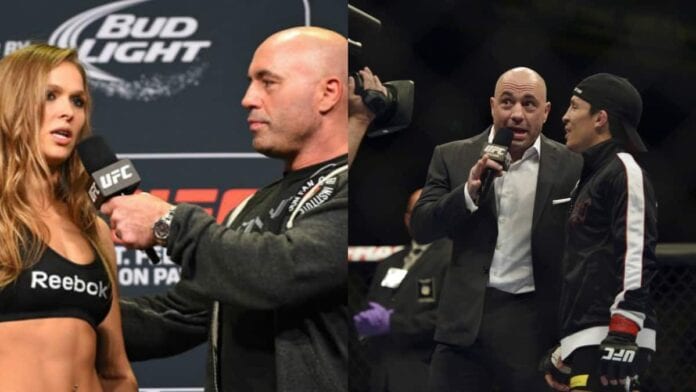 Joe Rogan has become one of the most recognizable names in mixed martial arts (MMA) today.
As the UFC's ongoing color commentary, Rogan has an immense responsibility to inform fans of what exactly is going on inside of the Octagon. And besides his occasional slip ups or favored infatuation with a specific fighter, the 48-year-old is usually on point.
But Rogan is much more than just a guy who calls fights. He's a long-time comedian, host for one of the most popular podcasts in the world, an actor, and an open advocate for controversial subjects like marijuana legalization, politics, and of course, the evolution of MMA protocol. Not to mention he's a Brazilian jiu-jitsu black belt under Eddie Bravo and possesses a life-time of kickboxing skills.
Throughout the years, Rogan has given his fans, and haters, some of the best material one could ask for. From internet rants to public choke holds, from fight reactions to his headlining standup, the guy is relentless when it comes to producing relevant content.
In celebration of the most influential voice in MMA fight calling today, here are the top 10 Rogan moments of all time.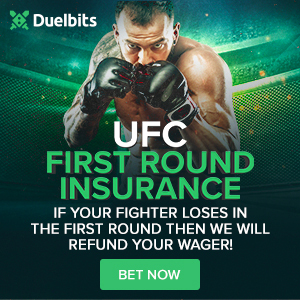 10) The Myspace challenger
Keyboard warriors are certainly an abundant force of unknowing and overconfident abusers of the Internet.
Unfortunately for one of those of backend bullies, Joe Rogan is more than willing to teach a lesson on the mat.
Like a tidal wave crashing down on a small town beehive, Rogan made quick work of this Myspace hater to the applause of all of his fans.
9) Radio craziness
Arguably one his funniest rants of all time, Joe Rogan verbally destroyed a female radio listener when she called in and said he wasn't a relationship expert.
Being the savage that Rogan is, he proceeded to turn her entire complaint into a comedy sketch.
It's quite hilarious, and a quick excerpt displaying how good the UFC play-by-play man is on his feet. The toothpaste comment is my favorite part.
8) Fear Factor fight
In all reality, Joe Rogan probably could have made a serious run at a MMA career once upon a time. His grappling and kickboxing are beyond good.
So when a contestant on Fear Factor got in Rogan's face and proceeded to flaunt his feathers, Rogan decided to take action.
If the cameras weren't rolling and no one was there to break it up, he probably would have left this guy incapacitated in just seconds.
7) BJJ and marijuana
Rhasaan Orange, better known by his ongoing Brazilian Jiu-Jitsu character Renato Laranja, is an active black belt training at Eddie Bravo's 10th Planet Jiu-Jitsu (same gym as Joe Rogan).
While Laranja's above exchange with Rogan regarding the usage and public support of marijuana may have been slightly planned, it's still one of the funniest videos around.
Rogan defends his beliefs to a tee while Laranja offers a hilarious Brazilian accent.
https://www.youtube.com/watch?v=Wj_nQsL0_qA
6) One night in Melbourne
When former UFC women's bantamweight champion Ronda Rousey got knocked out cold by Holly Holm at UFC 193 this past November in Melbourne, Australia, the entire MMA universe was turned upside down.
But despite the countless reactions around the world, no other emotional reply offered more insight into what just took place than Joe Rogan's cageside facial expression.
It's a distinguishable reception in the aftermath of one of the greatest upsets in UFC history.
5) Teaching GSP
Georges St-Pierre is widely regarded as one of the very best MMA fighters in the history of the sport.
So it was fairly impressive to see him taking lessons from Joe Rogan in order to accurately land a turning side kick.
It remains one of the most popular videos on the Internet with insight into how prolific Rogan's kickboxing technique is. GSP would later go on to utilize the turning side kick inside of the Octagon.
4) Public tap
Joe Rogan's comedy and commentary on the world around him is certainly subjective, especially considering how aggressive and self-assuring the UFC spokesman can be.
When a random patron came calling after one of Rogan's sets, questioning his beliefs on border control, the action quickly unfolded.
One shoulder touch led to another, and the fan was left tapping to a choke in the back of a comedy club. Don't mess with Rogan.
3) The ice spill
This is undoubtedly Joe Rogan's most infamous UFC rant of all time.
While the near-two minute verbal onslaught doesn't actually involve fighting, it remains an entertaining listen nonetheless.
Unfortunately, an unsuspecting ice bucket and a few slow-working UFC employees took the blunt of Rogan's banter right on the chin.
2) Help this heckler
It's rare that a heckler is able to dethrone a comedian on stage, especially when that comedian is someone as witty as Joe Rogan.
So when an unsuspecting crowd dummy decided to attack Rogan's Mighty Mouse shirt and dirty pants, Rogan proceeded to obliterate the heckler.
The lesson here is that Rogan is probably the last comedian you'd ever want to mess with, verbally or physically.
1) Mencia madness
This video is as famous as anything Joe Rogan has ever done on stage.
In effort to call Carlos Mencia out for stealing other comedian's jokes and hiding his real name (Ned Holness), Rogan took a mic on stage and laid the truth on the table.
Mencia had little ammunition to respond with and truly never recovered professionally after his act was blown up by Rogan.