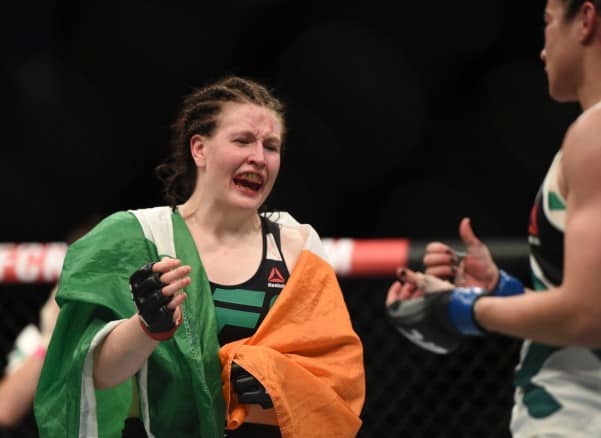 The UFC-Reebok deal continues to bring negative attention to the world's leading MMA promotion, whether they want to admit it or not…
We've heard it all since the UFC-Reebok deal became active mere months ago, stories of fighters losing the best part of $90,000 due to the partnership's payout structure, fighters quitting because of the loss in earnings, and well known staples of the sport sacked for speaking out against the deal. All-in-all, the whole Reebok thing stinks to high heaven, and it's ultimately the fighters paying the price.
As all these growing concerns come to a head, UFC president Dana White revealed the partnership had been 'a home run.' Perhaps 'baseball bat to the head' would have been more appropriate, but that's probably what he meant to say. Anyway, enough with the sarcasm, on to the serious stuff. UFC Fight Night 76 went down this past Saturday October 24. in Dublin, Ireland, and provided a reasonably exciting card given the event's terrible run of bad luck with injuries.
Soldiering on without main event stars Dustin Poirier and Joe Duffy and the co main of Stipe Miocic vs. Ben Rothwell, UFC Dublin managed to create enough buzz with the impromptu main event of Louis Smolka vs. Paddy Holohan. The two flyweights put on a solid headlining affair, and really put in some work to try and save the card. The UFC-Reebok payouts for the event have been released, and are as follows:
Louis Smolka: $2,500 Paddy Holohan: $2,500
Norman Parke: $5,000 Reza Madadi: $2,500
Nicolas Dalby: ,500 Darren Till: ,500
Neil Seery: $2,500 Jon Delos Reyes: $2,500
Mickael Lebout: $2,500 Stevie Ray: $2,500
Aisling Daly: $2,500 Ericka Almeida: $2,500
Krzysztof Jotko: $2,500 Scott Askham: $2,500
Tom Breese: $2,500 Cathal Pendred: $5,000
Darren Elkins: $10,000 Robert Whiteford: $2,500
Garreth McLellan: $2,500 Bubba Bush: $2,500
There has to come a point where somebody says enough is enough, or the core of the promotion itself, the fighters, will simply not be able to maintain a career in the sport. With the lesser known athletes this card was filled with, it's likely that with their 5-figure contracts and $2,500 Reebok payouts, following camp, tax, cornermen and travel costs etc., they will end up paying to fight in the UFC.
As long as the Reebok deal is taking money out of the fighters pockets, it will continue to be covered in this negative light. Let's hope something changes, or this ill fated partnership could end up driving away the fans and fighters from the UFC.