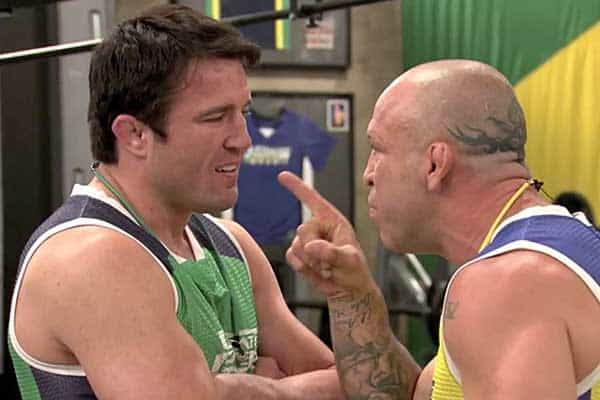 It's time for the third and final part of 'The Gym Wars' series, unearthing a final, fascinating selection of behind-the-scenes videos that shed light on what really goes on in the training room as tempers flare, kicks and punches land too hard and bodies start to hit the floor.
Be sure to check out the first and second parts of the series if you haven't already, and without any further ado, let's begin.
King Mo TKO's Boxing Sparring Partner
When a well known MMA fighter like Muhammed 'King Mo' Lawal looks to train at a professional boxing gym, there's always the risk that there's going to be some friction.
That seemed to be the case here as 'King Mo's' over-zealous sparring partner began to take their training a little too seriously at the famous Mayweather Boxing Club. The Bellator light-heavyweight matched his opponents aggression however, and made him pay with a right hand sending him to the canvas, bringing a swift end to the proceedings.
"I don't know what happened, man," Lawal told fighthub.tv afterwards. "I thought we were going to go light. He was trying to knock me out, so I guess I ended up dropping him."
Wanderlei Silva Vs Michael Costa:
By this point in this three part series you'll no doubt have gathered that a sparring session with Wanderlei Silva has bad news written all over it, but Michael Costa really stirred the hornet's nest when he attempted to land an axe kick against the PRIDE legend.
Clearly annoyed, Silva instantly switched into beast mode and waded forward with heavy artillery, forcing other fighters training nearby to get out of the way.
Catching a kick, Silva then dumped Costa to the mat and landed authoritative ground and pound strikes, sending a clear message that 'The Axe Murderer' is not a man to be messed with.
Wanderlei Silva Vs Chael Sonnen
The TUF gym was the scene of an infamous brawl between Ultimate Fighter: Brazil coaches Wanderlei Silva (who's been mentioned more than any other fighter during this series of articles!) and Chael Sonnen back in 2014.
There was already a heated rivalry between these two long before the show and after their war of words continued on set it eventually led to a full-on physical confrontation while the cameras were rolling – a first for the long running franchise.
During an argument in-between training sessions, Silva was spoiling for a fight and when he got too close for comfort in an aggressive manner Sonnen reacted by shoving him away.
That sparked off the fight, with both men instantly transitioning into a fighting stance. Sonnen then ducked under a punch from Silva and took him down. Both men then threw punches on the mat before others became involved and amidst the chaotic scenes that followed they were eventually pulled apart and separated.
Silva and Sonnen had been officially been set to settle their differences in the Octagon at UFC 175 in the summer of 2014, but the bout was later cancelled after both men were handed lengthy suspensions by NSAC relating to drug test issues.
With that in mind, this footage is as close as we may ever get to a fight between the two.
Ross Pearson Lands Head Kick KO In Training
Former TUF winner Ross Pearson may be a nice guy out of the cage, but don't make the mistake of thinking that he'll go easy on you in the training room.
Facing a taller sparring partner Pearson lands a classic combo, lowering his opponent's guard with a dig to the body and then following upstairs with a head kick that accidentally lands a little too cleanly and fells the unfortunate recipient like a tree.
Kenny Florian Vs Training Partner
Kenny Florian is another fighter who's got a reputation for being one of the 'good guys' in the sport, but neverthless, when you're going up against a high level fighter like that in sparring there's still every chance that you're going to get hurt.
That's illustrated in this video as the former fighter, who's now a UFC color commentator and analyst sinks his sparring partner with two ripping punches to the mid-section.
Alistair Overeem Vs Training Partner
The training room doesn't always have to be such a serious business. There can also be time for team-mates to just have relax and have some fun as this video shows.
However, heavyweight star Alistair Overeem's idea of 'playing' looks like it's a lot more fun for him than it is for his unfortunate training partners!
Fabrico Werdum Vs Siyar Bahadurzada
Though he's fought in higher divisions in the past, Siyar Bahadurzada was competing as a welterweight when this sparring session with the man who would become the UFC's heavyweight champion, Fabricio Werdum took place.
Despite being outsized that didn't stop current UFC fighter Bahadurzada from getting into some full-blooded striking exchanges here.
Nick Diaz Vs Nate Diaz
There's something inherently uncomfortable about watching siblings throw punches at each other, but let's face it, who wouldn't be down to watch a fight between the 209's finest, Nick and Nate Diaz?
Even putting aside the actual fight, just picturing how the pre-fight trash-talk and in-cage antics might play out boggles the mind!
Given how tight-knit the two brothers are this is likely to remain a figment of our imaginations, which makes this video of the two sparring in the boxing ring all the more intriguing.
Ronda Rousey Vs Uriah Hall
Uriah Hall got a taste of Ronda Rousey's signature armbar finish when he rolled with the female superstar on the set of The Ultimate Fighter reality show.
"She kicked my ass, man… She threw me around on national TV," Hall sheepishly admitted afterwards. "That arm-bar is legit."
Erick Silva Drops Partner With Spinning Back Kick
Erick Silva is one of the most entertaining strikers around, and while that's good news for his fans, it can be bad news for his training partners.
During this sparring session Silva looked to get creative with some spinning kick action to the gut, which sinks his opponent to his knees.
Jose Aldo Vs Renan Barao
A couple of years Jose Aldo and Renan Barao were dominating the UFC's lower divisions as the featherweight and bantamweight champions respectively with long unbeaten runs between them.
A superfight between these two could have been something special, but since they are friends and training partners it would appear that this is one match-up we wouldn't be getting an opportunity to watch in the Octagon.
However, behind closed doors at the Nova Unao gym in Brazil these two warriors are regularly sharpening each others skills in sparring as this footage shows.