Tyron Woodley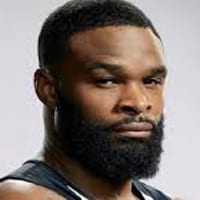 DOB: April 7th, 1982
Birthplace: Ferguson, Missouri
Nickname: The Chosen One
Gym: Roufus Sport/American Top Team
Style: Wrestling
Weight Division: Welterweight
Championship: UFC Welterweight Champion
Woodleys amateur wrestling days
Tyron Woodley grew up in Ferguson, Missouri and was the 11th of 13th brothers and sisters. When Tyron was a kid he would excel at sports including football and especially amateur wrestling.
While in high school, Woodley won the state wrestling championship at 160lbs. This earned him a scholarship to Missouri University to wrestle for their team.
At Missouri University, Woodley would become a two time all american on one of the top teams in the country.
Tyron's early MMA career
Woodley made the natural transition from wrestling to MMA having his pro debut in 2009. He would go on to win his first two bouts by first round finishes.
Then after just having 2 professional fights, Tyron caught the eye of MMA promotion Strikeforce. In the same year he turned pro, Woodley would have 3 more fights under the Strikeforce banner. Stopping all three opponents by submission within the first two rounds.
In the next year, he would win two more fights with the promotion pumping his record to 7-0. Including a TKO win over Jiu Jitsu world champion Andre Galvao.
He would go on to win his next three fights before meeting UFC vet Nate Marquardt for the welterweight title. Woodley would taste defeat for the first time in his professional career losing by TKO in the 4th round.
Tyron moves to the UFC
With Strikeforce being bought out by the UFC, the company picked up Woodley's contract. His first was a 36 second KO over UFC vet Jay Hieron.
Tyron would drop a contested split decision in his next bout against former Elite XC champ Jake Shields. He would bounce back winning his next 2 fights by stoppages against Josh Koscheck and Carlos Condit.
Woodley would hit another snag, losing a decision against Rory MacDonald, but got back on track winning the 2 fights. 
Woodley's title reign
At UFC 201, Woodley met Robbie Lawler for the UFC welterweight championship. He would stop Lawler with a vicious first round KO to win the title.
Woodley's title reign would last a little over 3 years, but he wouldn't be very active due to nagging injuries. He would defend the title 4 times including twice against Stephen Thompson and once against Demian Maia and Darren Till. By far his best performance was against Till, who he finished with a d'arce choke.
Woodley's losing skid
After having a long run as champion and constantly dealing with injuries, Woodley would lose his title to Kamaru Usman. The challenger dominated Woodley for 5 rounds in a way that Woodley would normally do to his opponents.
In the fight, he looked noticeably slower and seemingly like the fire to fight wasn't there. His next fight wouldn't go his way either as he would lose a decision to former teammate Gilbert Burns.
Then in his fight against nemesis Colby Covington, Woodley was dominated again. Eventually having to quit due to a rib injury.