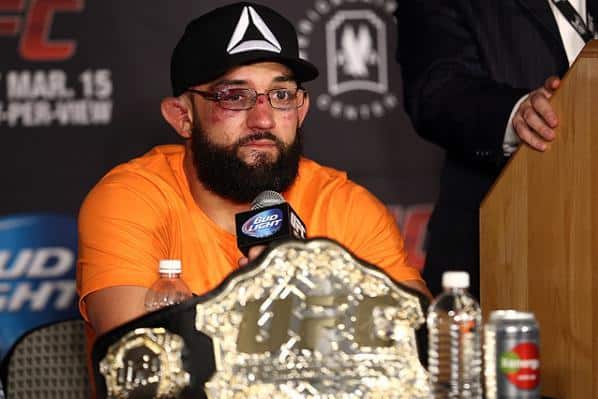 Former UFC welterweight champion Johny Hendricks has a well-documented history with current UFC welterweight champion Robbie Lawler as the two have fought twice, UFC 171 and 181, which both fighters won once against each other. 1-1, so where is the rubber match?
Well, that will not be happening in 2015 as Carlos Condit fights Lawler at UFC 195 and Hendricks will be fighting Tyron Woodley at UFC 192. According to Hendricks, he feels like he was passed over for a second time.
"I've been passed a second time," said Hendricks. "Now, I'm just fighting. If I'm healthy I'm going to fight. I don't care who it is when it is. As long as my body is healing. Right after this fight, I'm going to see where my body's at, take a week off, relax and see what's next for me. That's where my head's at.
"I'm tired of … I campaigned for a fight. I should have got a fight. It didn't happen. I wasted six months. I wasted six months! I don't have time for that. I want to fight. I want to get back in there. I want to continue to fight."
After losing to Lawler at UFC 181, he beat Matt Brown by unanimous decision at UFC 185 and now is looking to beat Woodley at UFC 192. Hendricks admitted that he needs to take more chances, which is what made him a champion.
"I have to do that," said Hendricks. "You out-strike somebody, you lose. That's happened twice to me, now. I want to make sure that I get the W. Yea, I want to keep fans entertained. I want to keep them excited for my fights, but I also know what I have to do. I have to win."
Hendricks then previewed the upcoming Lawler – Condit championship bout.
"There's a couple ways this could go," said Hendricks. "One is that Condit goes out there and does what he does when he gets a title shot. He comes in with a great, smart gameplan, but it's not a very exciting one. Or, he goes out there and tries to finish Robbie Lawler.
"Robbie Lawler is also very tough. He can take a punch. Can he get inside on Condit? Can he get inside and land the effective punches that he needs to win that fight? It can go either way. That's a tough one."
You can watch the interview here: