The UFC put on a second consecutive barnburner of an event in as many weeks with last night's (Sat., August 4, 2018) highly entertaining UFC 227 from the Staples Center in Los Angeles, California.
Just like last week's UFC on FOX 30 from Calgary, Alberta, UFC 227's top two bouts delivered some huge drama in the co-main event and a huge TKO in the headliner.
The main storyline of UFC 227 was, of course, the shocking ending of longtime UFC flyweight champion Demetrious Johnson's historic run when he lost a close decision to Henry Cejudo, a result that is still being debated over now. Not to be outdone, bantamweight champion TJ Dillashaw scored a second straight TKO over Team Alpha Male rival Cody Garbrandt, ranking him up amongst the best bantamweight fighters of all-time.
So while UFC 227 may not bring in monstrous pay-per-view sales just like UFC on FOX 30 brought record-low ratings, it was an amazing event thanks to the top two title fights and a host of other performances elsewhere up and down the card. Check out our six biggest takeaways from the event here: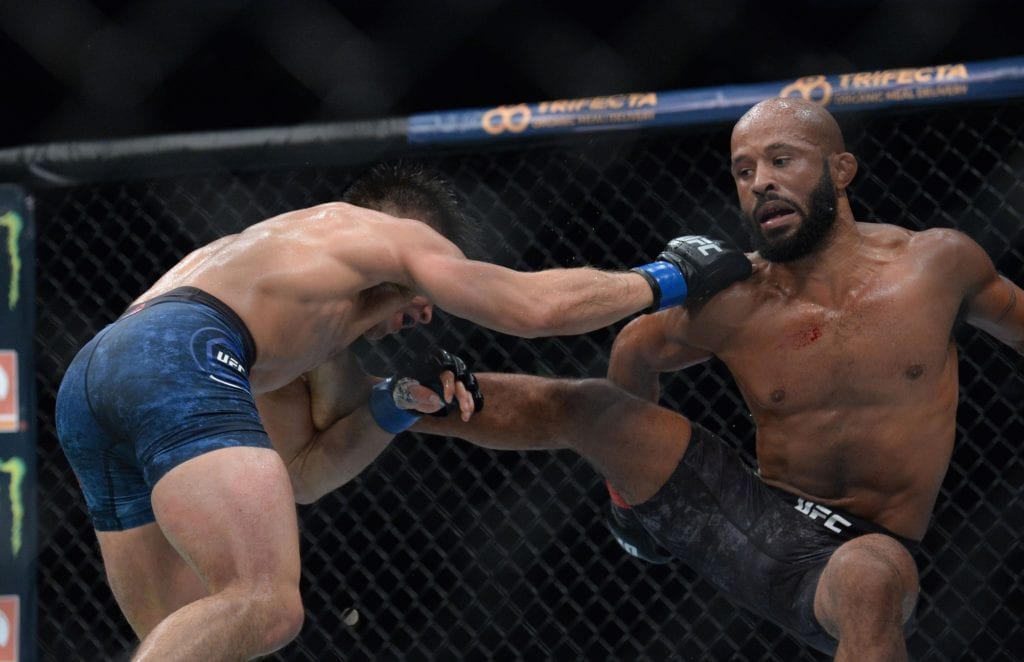 Demetrious Johnson Deserves An Immediate Rematch
After Cejudo outlasted "Mighty Mouse" via close split decision, he took advantage of the moment and called out the winner of the Dillashaw vs. Garbrandt main event to come, citing that he would do what Johnson never wanted to and move up in weight for a champ vs. champ super fight.
There's no denying the timing and excitement of such a callout in the current era of entertainment-focused super fights in MMA, and it's refreshing to see more rising stars like "The Messenger" call out their shots. However, with immediate championship rematches having been handed out for far less than Johnson's 11-fight string of title defenses, there's simply not another fighter who has ever deserved one more than "Mighty Mouse."
And it's not like Cejudo dominated Johnson and stopped the fight – he won a split decision that many feel should have gone to the former champion.
Johnson has some serious injuries to heal up from that may postpone the fight, yet Dillashaw didn't seem to think that Cejudo was really deserving of a 135-pound title shot.
He's right. Cejudo should rematch "Mighty Mouse" when the all-time great former champ is ready to return.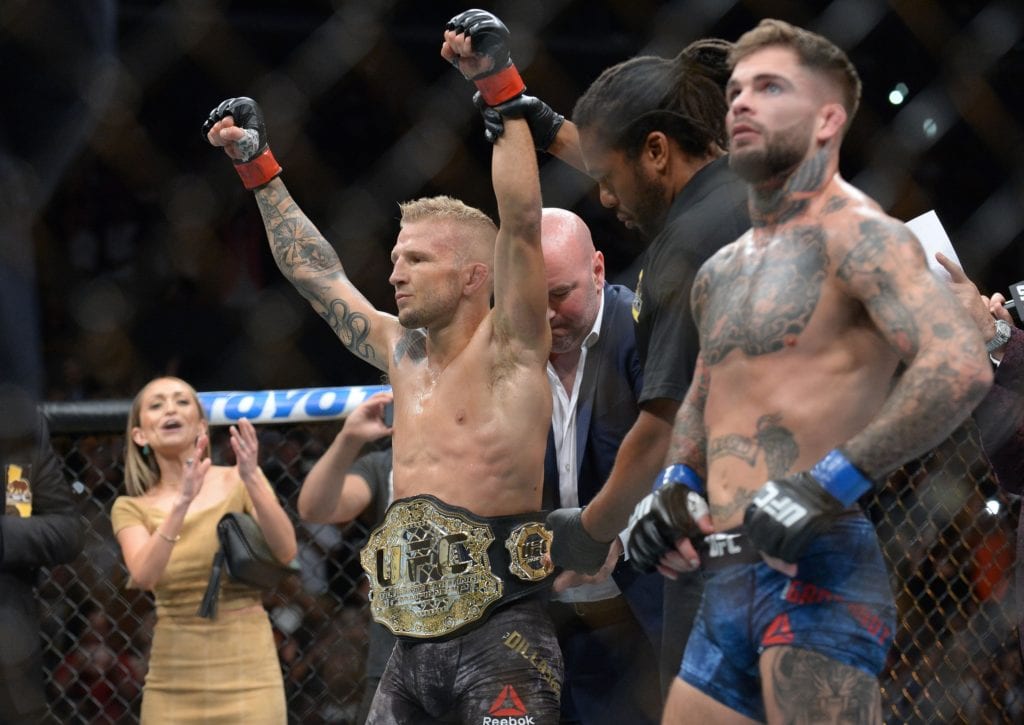 TJ Dillashaw May Just Be The Bantamweight GOAT
"The Viper" finally ended his long-standing rivalry with Garbrandt by knocking out "No Love" in the first round at UFC 227 after finishing him in the second round in their first meeting at last year's UFC 217, and in doing so, he may have cemented himself as the finest 135-pound fighter in UFC history.
While several will argue that that distinction goes to former longtime champion Dominick Cruz, the fact is that Dillashaw has been far more consistent in his two reigns as champion of the weight class and it could also be argued that, based on the evolution of fighting, he's beaten far greater competition than Cruz did.
To put it in perspective, "The Viper" has beaten Garbrandt twice, John Lineker, and Raphael Assuncao after losing a highly-contested split decision of his own to Cruz in January 2016. Before that, he had four straight wins including three by knockout. Cruz fought twice since then, defeating Urijah Faber by decision and losing to Garbrandt, but he hasn't fought since December 2016. With injuries seemingly always putting his career in a perpetual state of uncertainty, Dillashaw is ultimately the better and more consistent bantamweight champion.
He finishes fights like Cruz never did, and he shows up to defend his title like few UFC champions right now do.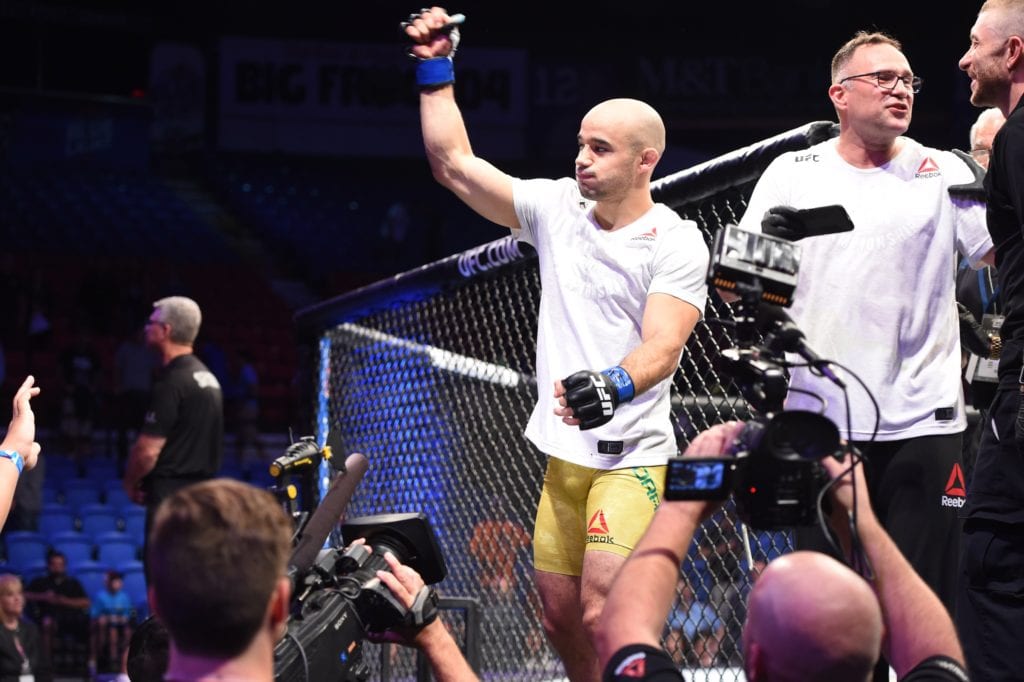 Marlon Moraes Deserves The Next Bantamweight Title Shot
Building off of the previous takeaway, the next man to face Dillashaw for his 135-pound title should be surging knockout artist Marlon Moraes.
Sure, Cruz probably gets the shot due to his resume and his history with Dillashaw, but make no mistake – it's the former WSOF champ who's more deserving of a shot at the champ. He has won an amazing 15 out of his last 16 bouts and most recently finished Jimmie Rivera and Aljamain Sterling with truly frightening knockouts not often seen in lighter weight classes.
He's won three straight in the Octagon since Cruz has even competed last, so while his lack of a big name or true drawing power may prevent him from actually receiving the next title bout, he is wholly deserving of it.
Cruz is an MMA legend and one of the best bantamweights ever. But at this point, it's tough to give him a title shot after so much time off because he's never certain to make it to the fight due to his long and brutal history of injuries.
Moraes is more dependable, yet don't be surprised if we see Dillashaw vs. Cruz 2 because nonetheless, it has to happen at some point.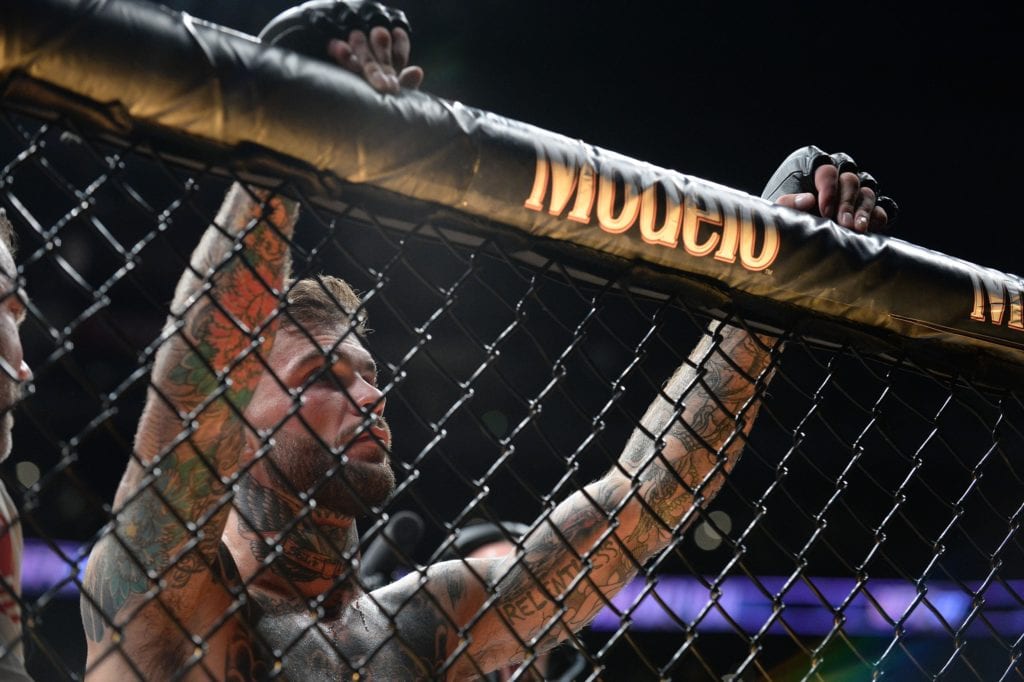 Cody Garbrandt Has Some Leaks To Fill
With two straight T/KO losses to the champion in his division, Cody Garbrandt has some serious holes to patch if he wants to find himself at the top of the 135-pound division soon.
He certainly has the time to do so at only 27 years old, but his holes are gaping ones that may be tough to fix in a short amount of time.
Instead of taking the accurate, measured plan of attack that he used to absolutely dominate Cruz to win the title, "No Love" once again got over-emotional going for the finish after rocking Dillashaw, and once again it cost him his ultimate goal. The fact that he throws caution to the wind and swings so wildly while leaving himself open to easy counterattack is a concerning tendency at best and a career-altering one at worst.
The emotional build-up and sheer length of his rivalry with Dillashaw definitely played a part in his latest two losses, yet it's time for Garbrandt to reassess how he approaches his fights and allows them to play out after one of the most precipitous falls of a would-be UFC star we've seen following his meteoric rise in 2016.
He proved he has the skills to be a complete fighter against Cruz; it's time to get back to that mindset for his next fight rather than swinging heavy leather with no regard for his own safety.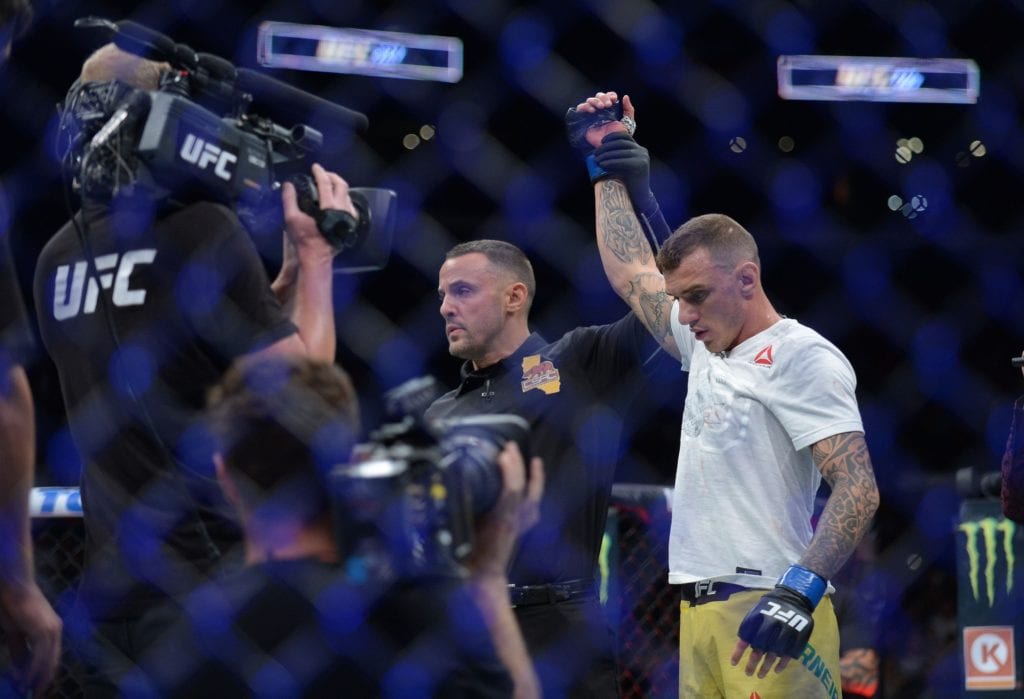 Renato Moicano Is A Featherweight Dark Horse
No 10-ranked (and soon to rise much higher) featherweight Renato Moicano is quietly becoming one of the most dangerous combatants at 145.
The Brazilian prospect submitted longtime contender Cub Swanson after dropping him with a laser-like jab last night, scoring him his biggest-ever win and most likely skyrocketing him into or very close to the Top 5. He's beaten the Nos. 4 and 5 fighters in the division in the last two years, and the one loss of his career was to current title contender Brian Ortega.
It's simple to see that Moicano was Ortega's greatest test in the UFC as well. He lost in the final minute-and-a-half of a 'Fight of the Night'-winning bout, and so while both men have undoubtedly gotten much better since then, the Brazilian rising star is on 'T-City's' level.
Not many top featherweights will be asking for a fight with Moicano right now, but a match with recently returned former title challenger Chad Mendes would be one hell of a fight.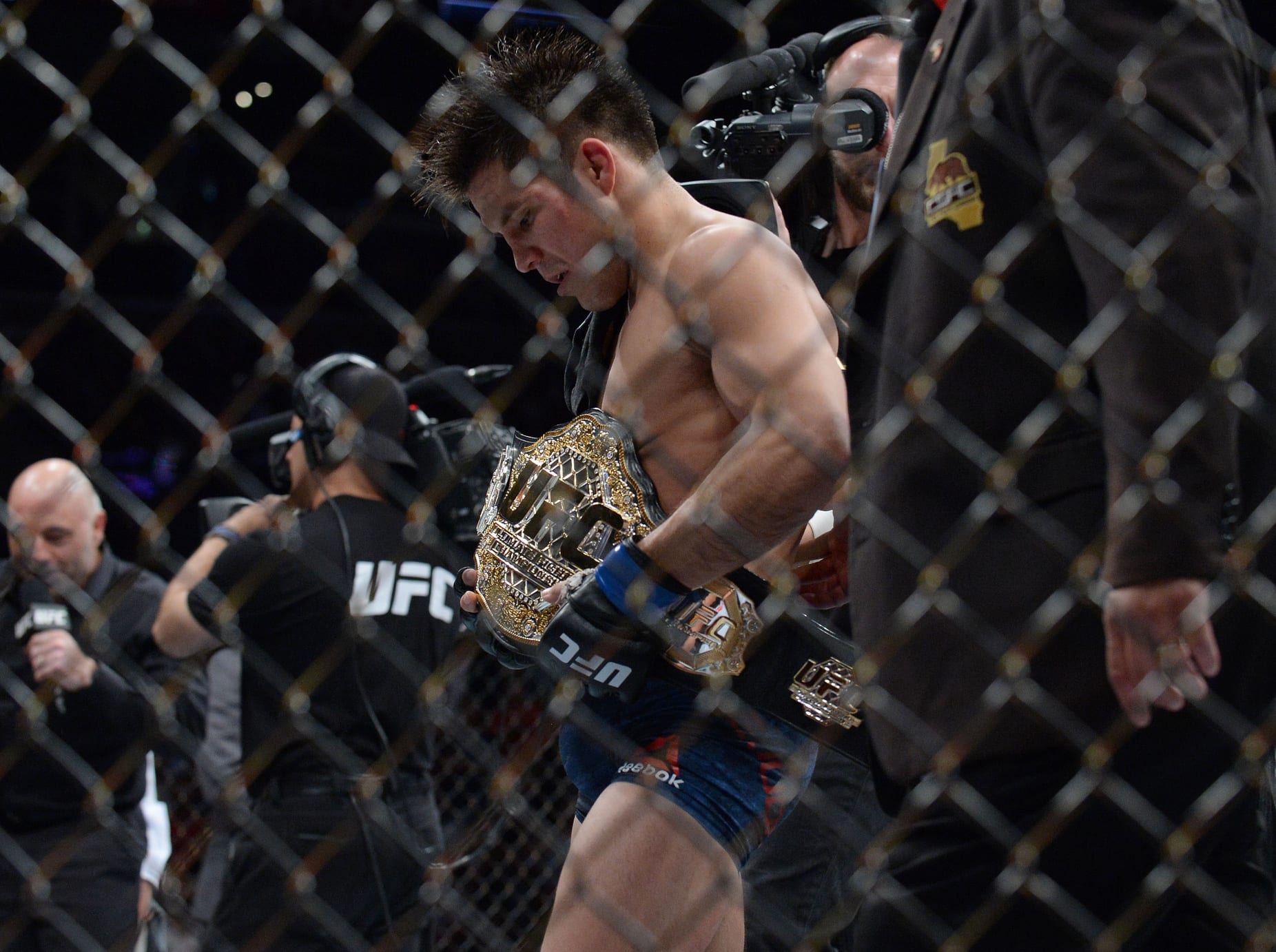 Henry Cejudo Is A Potential Megastar
Don't laugh at this one.
While Cejudo may not have the all-out star power of a Conor McGregor, no one but the infamous "Notorious" really does, so Cejudo's potential scope of attention is one the UFC can absolutely build upon to huge results going forward.
He comes with an infinitely interesting backstory due to his rise from a troubled childhood as the child of immigrant parents in California to the pinnacle of the sporting world as an Olympic gold medalist in wrestling, and now he's building his own star as one of the top fighters in mixed martial arts.
True, his win over 'Mighty Mouse' was a very close one, and he'll most likely have to (and should) prove that it's actually deserved by meeting the all-time legend in a trilogy match, but "The Messenger" is already focusing on big things in the UFC. While he may not fight Dillashaw next, the mere calling for it shows that he knows how to "play the game" more than Johnson ever has.
Cejudo has the charisma of a big star and the backstory to match, and he's ready to call for his shot after a huge win.
Those are the ingredients required to create a star the likes of which is rarely seen in the UFC, so don't be surprised to see "The Messenger" become one of the UFC's big names in the next year.