After Second Surgery, Rashad Evans Thought Career Was Over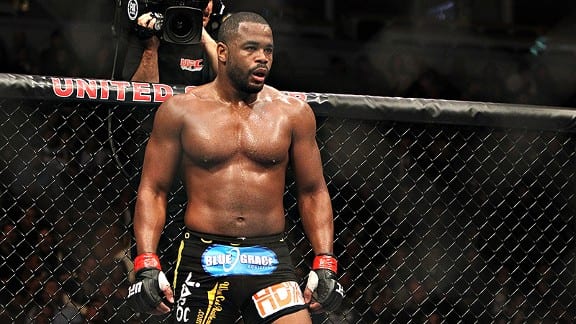 Former UFC light heavyweight champion Rashad Evans has hit some rough times as of late. The last time we saw "Suga" compete was back at UFC 167 in November 2013 where he demolished Chael Sonnen, scoring a first round TKO. Evans was then scheduled to take on former title challenger Daniel Cormier at UFC 170 in February 2014, but was forced out of the bout due to a knee injury that has kept him out of action ever since.
Reportedly healthy, "Suga" was scheduled to take on Glover Teixeira at this weekend's UFC Fight Night 61, but Teixeira pulled out with an injury. It turned out that Evans was not healthy either, as his body rejected a cadaver ACL just like with Dominick Cruz, and he was forced to have another surgery.
The former champion, speaking with MMAJunkie, admitted that he experienced some very dark days after realizing a year of his career had been wasted:
"It was like everything I had done to that point was all for nothing," Evans said. "That's how I felt. I felt like I just wasted a year of my life. It was a very humbling experience."
Having already been on the sidelines for 15 months now, and being 35 years of age, Evans admitted that he thought it was the end of his fighting career:
"You think, 'Damn, is this how I'm going to go out? Is this going to be the end of me?'" Evans admitted. "I never, ever thought I would be in that situation, and I was like, 'Wow, this is just how it ends.'
"You never know when you step into the octagon when will be your last time."
"Suga" stated that his second surgery caused him to reflect on his past, but also think about his future. Being one of the biggest stars in the sport at one time, and a former champion, Evans is undoubtedly financially capable of walking away from MMA right now. However, in thinking about why he began fighting so many years ago, Evans decided he just didn't want to hang the gloves up just yet:
"I think as an athlete or anybody in life, you always have to ask yourself the question: Why?" Evans said. "If you ask yourself the question, 'Why you do anything,' it always brings you back to the beginning, and that's a very humbling experience.
"Why did I start fighting? Why do I like to train? Why do I like this? Why do I do this instead of something else? Then when you ask yourself the question why, and you answer honestly, you seem to get the pureness out of yourself. You seem to get the answers and like, 'This is why I do it.' And it kind of reignites whatever you lost."
As to why Evans doesn't want to walk away just yet, it's simple. According to the former champ, the feeling of getting your hand raised in front of many screaming fans, is something like no other:
"It's the highest of the high," Evans said. "All my biggest wins, it has been the biggest night of my life. I've never needed to drink any alcohol that night after a big win or celebrate any kind of way. I could have just went into my room, sat down with no TV in a dark room and just been elated because that's how high it brings you.
"Having a crowd screaming your name, walking out, battling yourself – and that's what it is, the battling of yourself. When you're walking out, and just like, man, the doubts, and you're like, 'Man, am I going to do it this time?' All those feelings, and then when you finally triumph over yourself and then your opponent, it's the biggest high in the world, and it just keeps you coming back. You can't get that high anywhere else."
After his second surgery, Evans is expected to be out for at least another six months, putting his time away to a very lengthy two years. However, he still sits at No. 5 in the talented light heavyweight division, and is not looking for a tune up fight when he returns:
"I'm not going to babysit it at all," Evans said. "I think that the best way to do it is just to jump right back into the thick of things."
With the dark days behind him, a rejuvenated Evans is anxious to prove he is still amongst the light heavyweight elite:
"Know that i'm going to come back," Evans said. "I do believe in myself.
"I had people saying, 'You don't believe in yourself.' No, f-ck that. I believe in myself. I do more than anything now, and I do more than anything now because I've had this adversity, and adversity teaches you to look inside yourself, find why you're doing it – and I'm hungry. I'm ready. When I come back, I'm coming back hard."
After an unfortunate string of injuries, does Evans have anything left?