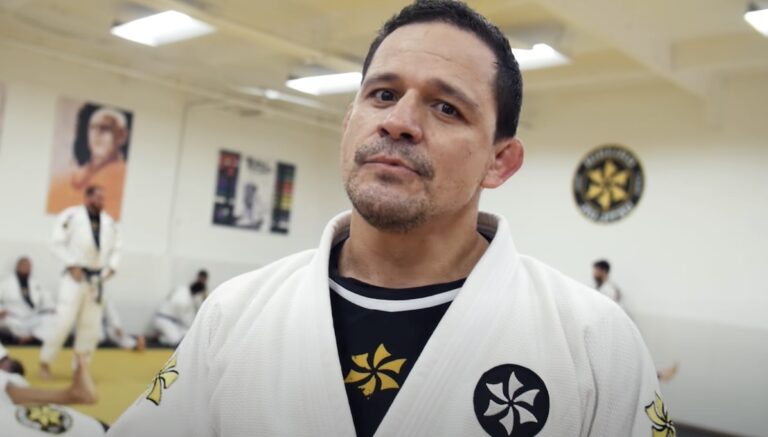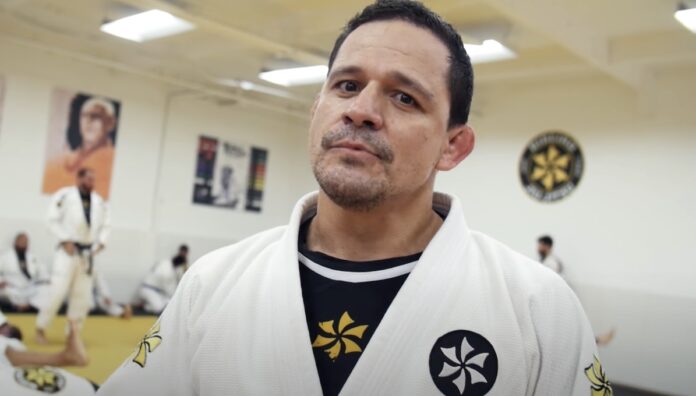 | | |
| --- | --- |
| Birth Name: | Saulo Mendonça Ribeiro Filho |
| Date of Birth: | July 2nd, 1974 |
| Place of Birth: | Manaus, Brazil |
| Team: | Gracie Humaita/Ribeiro Jiu Jitsu |
| Affiliation: | Ribeiro Jiu Jitsu |
| Height: | 5 ft 9 in (1.75 m) |
| Weight: | 190 lb (86 kg; 13 st 8 lb) |
| Division: | Medio 181.5 lbs, 82.3 Kg, Medio-Pesado 195 lbs, 88 Kg, and Pesado 208 lbs, 94.5 Kg |
| Rank: | 6th deg. BJJ black belt, Judo black belt |
| Championships: | 5x IBJJF World Champion, 2x ADCC Champion, 7x World Master Champion, 3x Brazilian National Champion |
Saulo Ribeiro is one of the all-time great competitors in BJJ. He has done it all from one every major championship multiple times to developing an impressive academy and affiliation.
Here is everything you need to know about Master Saulo Ribeiro. Going from how he began his Jiu Jitsu training to becoming one of the most successful athletes in BJJ history.
Saulo Ribeiro's Entry Into Jiu Jitsu
Saulo grew up in Manaus, Brazil and started practicing Judo from an early age. He became well-versed in Judo before he began practicing Jiu Jitsu at age fifteen.
His transition to Jiu Jitsu was to improve his submission abilities for competition. Professor Fabio Monteiro would be his first instructor, who ran Academia Monteiro. One of the most respected BJJ Academies in Manaus at the time.
Ribeiro's background in Judo helped him pick up the Jiu Jitsu game quickly. He would spend almost three years training under Monteiro.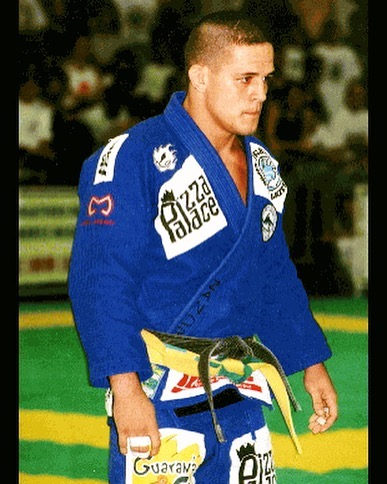 Saulo Begins Training Under Royler Gracie
When Saulo Ribeiro was seventeen, he would move to Rio de Janeiro to attend a university. Near his school was the famous Gracie Humaita Jiu Jitsu academy that was run by Royler Gracie.
Learning under the founders of the martial art allowed Ribero's abilities to grow exponentially. For the next four years, Saulo would train diligently under Royler.
His hard work would result in Royler awarding him with his black belt in 1995. Once Saulo received his black belt, he would then pursue a competitive grappling career.
Saulo Ribeiro's Pro Grappling Career
Saulo was lucky enough to begin his competitive grappling career right when the sport began expanding internationally. Here are some of the highlights of Saulo Ribeiro's storied grappling career.
IBJJF World Championship(1997/1998)
Saulo Ribeiro competed in the inaugural IBJJF World Championship in 1997. He would face some of the toughest competitors of the era in the middleweight division.
All three of his matches at the world championship would be hard fought wins by advantage. First knocking off Guilhereme Santos in the first round, Rony Rustico in the second, and Nino Schembri in the finals.
Winning the inaugural world championship in the middleweight black belt division.
At the next year's world championship tournament in 1998, Saulo would move up to the heavyweight division. Facing equally tougher competition like the year prior.
In the first round, Saulo would defeat Anderson Xavier by point to meet UFC champ Murilo Bustamante. He would have a war against Bustamante that he would win by advantage to win his second world title.
IBJJF World Champion(1999/2000/2002)
In 1999, Ribeiro would return to the IBJJF World Championship tournament to try and claim his third world title. Once again, he would try his hand in another weight class and compete in the light-heavyweight division.
Just like the two years before, Ribeiro would have three tough matches that he would grind out wins by advantages. Beating legends like Ze Marcello and Roberto Roleto to win his third world title in a row.
After three world titles in a row, Ribeiro would come back in 2000 looking for his fourth world title. This time, he would take his shot in the super-heavyweight division.
He would win all three of his matches by points to win his fourth straight world title. Beating big names like Daniel Simoes and Gabriel Gonzaga.
In 2001, Saulo would get his world championship snapped, but he would come back in 2002. Competing once again in the light-heavyweight division.
This time, he would be successful and win his fifth world title without getting a point scored on him.
2000 ADCC Champion
Saulo Ribeiro would compete in his second ADCC tournament in 2000. He came up short in his first attempt, placing second against Jeff Monson by an advantage. But he would not be denied in his second attempt.
At the 2000 ADCC event, Ribeiro would go down to the 88 kg division. He would win his first three matches, which included submitting UFC Middleweight Champion David Menne.
This would set him up to have a tough match with American Top Team architect Ricardo Liborio. The two would grapple for twenty minutes and Ribeiro would earn the win after a penalty by Liborio.
Earning the first ADCC title of Saulo's career. The same year that he won his fourth straight IBJJF World Championship.
2003 ADCC Champion
After losing in the finals to Ricardo Arona in 2001, Saulo would make a comeback at the 2003 tournament. Once again competing in the 88kg division.
This time, Saulo Ribeiro would not be denied ADCC gold. He would beat world champion Rodrigo Comprido in the quarter finals and UFC vet David Terrell in the semifinals. Setting up the match in the finals against all-time BJJ great Ronaldo "Jacare" Souza.
Ribeiro would use his experience against Jacare to control the match and win the match 2-0 to earn his 2nd ADCC title. He would also avenge a previous loss to Jeff Monson in the finals before losing by kneebar to Dean Lister.
He would earn a bronze medal at ADCC 2005 and compete at the 2007 ADCC before retiring after the 2009 ADCC.
7x Worlds Masters Champion
After announcing his retirement from professional grappling in 2010, the IBJJF began hosting an annual World Masters Championship. This would lead Saulo to pursuing a new goal in competition.
For the next six years, Saulo would dominate the masters divisions. He would earn gold at the inaugural 2010 International Masters & Senior Championship.
Then in 2012, the IBJJF would hold their first World Masters Championship. Riberio would earn double gold at the tournament and repeat this feat in 2013.
He would also earn gold medals at the tournaments in 2014, 2015, and 2016 before officially retiring from competition.
Saulo Ribeiro's MMA Career
Along with having a long and tenured pro grappling career, Saulo Ribeiro also dabbled in MMA. Right after he earned his black belt in 1995, he would have his first Vale Tudo match in early 1996.
He would submit Carlos Lopes at an event in Rio de Janeiro called Carioca de Freestyle(CDF). After this match, it would be four years until Saulo Ribeiro would fight in MMA again.
His second match would be a losing effort against Pankration champ and UFC/Pride vet Yuki Kondo. Ribeiro would have his last MMA match in 2002, beating Jason Ireland by RNC at an event in Toledo, Ohio.
Saulo Ribeiro's Jiu Jitsu Academy
In the early 2000s, Saulo Ribeiro along with his brother Xande Ribeiro would move away from Gracie Humaita to the US. They would settle in San Diego, California and begin building up their own academy they would call Ribeiro Jiu Jitsu.
Their academy would be one of the first big BJJ academies in San Diego. Much thanks to the success of Saulo and Xande in competition.
The two would train numerous world champions including their good friend Rafael Lovato Jr. Ribeiro Jiu Jitsu would become a full blown BJJ affiliation with over fifty schools under their affiliation.
Xande Ribeiro would move to Austin, Texas in 2020 to open Six Blade Jiu Jitsu. But Saulo is still in San Diego running the academy by himself.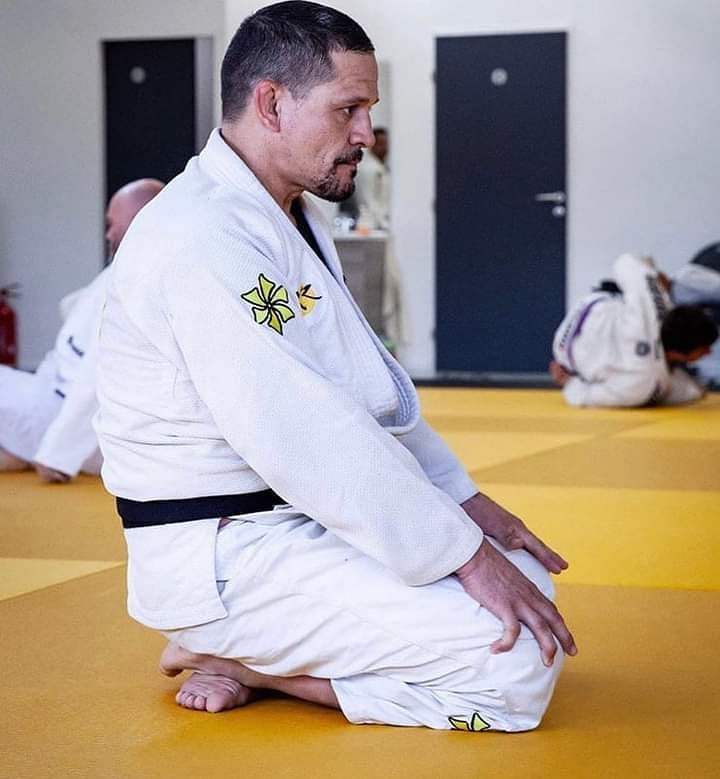 Saulo Ribeiro's Grappling Game
Saulo Ribeiro is known for his Judo ability and his preference for working on top. He is known for his heavy pressure and guard passing ability that he's used to win numerous big matches.
Passing his opponent's guard and getting to the mount and submitting his opponents with a cross choke.
Saulo Ribeiro Inducted Into the ADCC Hall of Fame
Saulo Ribeiro's accomplishments in ADCC would be acknowledged in 2022. He would be part of the inaugural 2022 Hall of Fame class.
In his career competing in ADCC, he would earn two gold medals, two silver medals, and one bronze medal. One of the very few athletes to earn over 5 medals in the history of the ADCC.
The Legacy of Saulo Ribeiro
Saulo Ribeiro has had one of the most accomplished careers in the history of the sport. Not only was Saulo a great competitor, but he has also been an incredible ambassador for Jiu Jitsu.
For almost twenty years, Saulo has run one of the most respected BJJ academies in the world. Today, Ribeiro is still teaching full-time at his academy in San Diego doing what he loves most.