'Thug' Rose Namajunas ready to face her fears in flyweight move: 'I want something that scares me'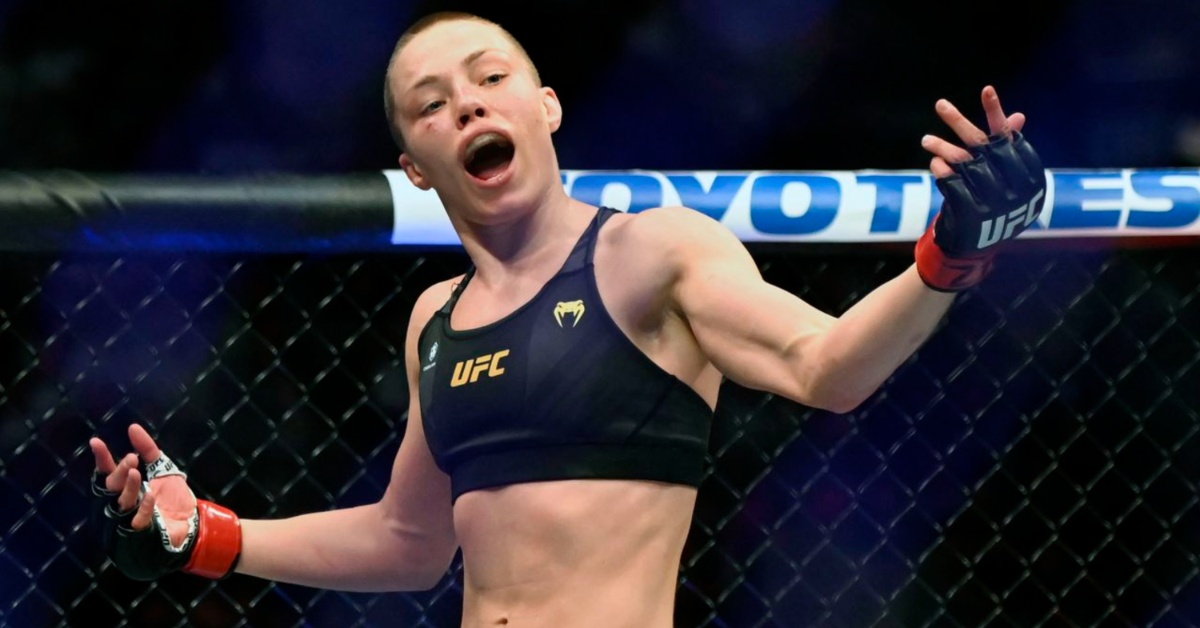 After climbing to the top of the strawweight mountain on two separate occasions, 'Thug' Rose Namajunas is ready for a new challenge.
On September 2, the former two-time queen of the 115-pound division will make her first appearance in well over a year as she is set to make her flyweight debut against top-five contender Manon Fiorot. The decision to move weight classes comes following her lackluster showing against Carla Esparza in May 2022.
Rose Namajunas walked into the bout with UFC gold and a heap of momentum, but she ultimately came up short, surrendering the strap to Esparza in what many fight fans were quick to call the worst title fight in the promotion's 30-year history. With plenty of time to reflect on her fall, Namajunas is ready to pick herself up and climb to the top once again. But this time, the view will be significantly different.
Appearing on The MMA Hour with Ariel Helwani, Rose Namajunas revealed that her plan to move up a weight class was something she had always thought about. Particularly as she got older and her body began to change, making weight cuts more strenuous with each fight.
"Definitely after the Carla fight [at UFC 274], I think that was—win or lose—I was thinking about doing that anyways," Namajunas said. "One, my body is changing, I started to mature. Early on in my career I never really cut that much weight up until the last few years. I think maybe when I fought Michelle Waterson, that was when I actually started to really put on size.
"Each fight it's just been a little bit more and more. Even though I got better at cutting, I also felt like, this can't be healthy. As much as I got mentally better at it, I think physically, I feel like I'm way stronger now. I also made a little bit of effort to put on a little more size, to actually intentionally get a little bigger and do a little more lifting and stuff and eating."
Rose Namajunas Has No Interest in Fighting Zhang Weili for the Third Time
Namajunas is admittedly disinterested in a trilogy bout with reigning strawweight champion, Zhang Weili, giving her yet another reason to step out of her comfort zone and try her luck in the promotion's stacked flyweight division.
"Weili's the champ now, so what, I fight her a third time? I don't know, it's just not every interesting," Namajunas continued. "I've already fought Andrade and this and that and now she's gone back down… Weili's the champ, so then I could just beat her again, but I don't know, to me it's more than that. I want something that scares me. I want to face my fears. It's just always been a part of the plan and yeah, I could keep doing the same old thing, but as soon as this game gets redundant, I can get bored really quick and that's not good for nobody. So I need to keep it fresh and interesting."
During her time away from the Octagon, Namajunas had received multiple fight offers, but the chance to compete against No. 2 ranked contender Manon Fiorot was the only one that excited her enough to sign on the dotted line.
"I had gotten a lot of fight offers over the course of taking time off and that was the first time where I was like, 'That sounds interesting,'" Namajunas said when asked about why she chose to fight Fiorot. "I thought about Paris and as much as I don't like traveling I also don't like a lot of other things that I also like equally. Of course, I love traveling. There's so much to learn, there's so much to see, and that's just kind of like, 'Lazy Rose doesn't want to travel, or Comfortable Rose doesn't want to travel,' but all these things help me grow and they expand my horizons.
"I had one of the best experiences going to Abu Dhabi, as much as I feared doing that. Nobody knew what was happening during COVID and all that stuff, it was like the most rewarding experience ever. Even though I smashed my nose, it was also one of the best things that happened ever. As much as I don't like these things sometimes, I know that this is medicine for me, this is good for me."
Fiorot goes into the bout riding an undefeated record inside the Octagon, with five straight wins against some very serious talent, including Victoria Leonardo, Tabitha Ricci, Mayra Bueno Silva, Jennifer Maia, and Katlyn Chookagian. With a W over Rose Namajunas, Fiorot will undoubtedly be next in line for a flyweight title opportunity.
"Overall, I just think Manon as an opponent is exciting too," Namajunas said. "She's a true martial artist. She's not just a fighter or an athlete. She's all of those things, but I remember watching her, I think she came off of the Contender Series, 'She's pretty badass. She has some real striking skills.'
"I like girls that can strike. I like girls that are overall MMA well-rounded, which she is, but definitely her karate background and her style and everything, even her little attitude, her whole swagger, that's something that brings out the competitor in me and I love that" (h/t MMA Fighting).