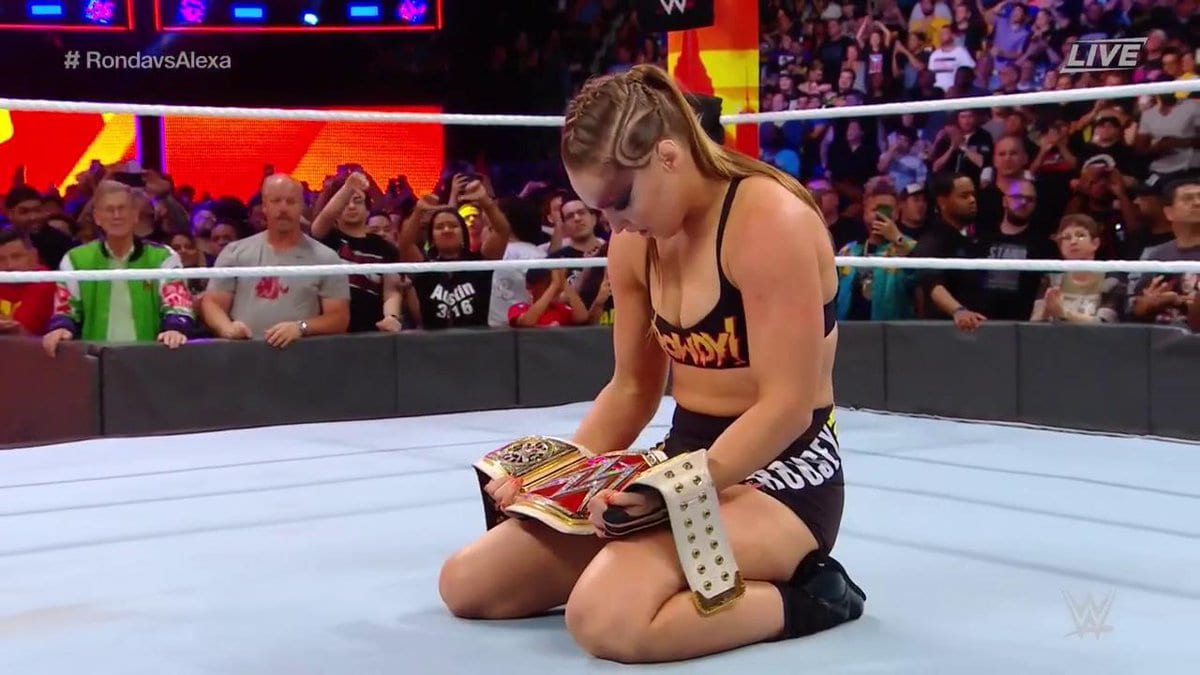 Ronda Rousey wins her first title under the WWE banner in a match that has been hyped up for months at their second biggest event of the year, SummerSlam.
Ronda Rousey Wins
The former UFC women's champion took part in battle at Sunday's (August 19, 2018) WWE SummerSlam pay-per-view event in Brooklyn, New York at the Barclays Center on the WWE Network.
Rousey defeated Alexa Bliss to win the WWE Raw women's title in a match that aired on the main card on their streaming service. As a result, this marked her first WWE title reign since making the jump from MMA to sports entertainment.
Watch her submission win via armbar over Alexa Bliss and some of the other scenes from her big win here:
https://twitter.com/FansWWEUniverse/status/1031370038413025280?ref_src=twsrc%5Etfw%7Ctwcamp%5Etweetembed%7Ctwterm%5E1031370038413025280&ref_url=https%3A%2F%2Fwww.mmamania.com%2F2018%2F8%2F19%2F17757990%2Fhighlights-watch-ronda-rousey-win-the-raw-womens-championship-at-summerslam
#RondaRousey is TURNING her back on @AlexaBliss_WWE in this #RAW #WomensChampionship match LIVE on @WWENetwork! #SummerSlam #RondavsAlexa @RondaRousey pic.twitter.com/PbzXkQ2aLG

— WWE Network (@WWENetwork) August 20, 2018
Stay back, #RondaRousey… Stay back.#SummerSlam @AlexaBliss_WWE @RondaRousey pic.twitter.com/PbxD5idr4y

— WWE SummerSlam (@SummerSlam) August 20, 2018
HERE COMES #RondaRousey!!!#SummerSlam @RondaRousey pic.twitter.com/ueEKFQYQYQ

— WWE (@WWE) August 20, 2018
A HUGE congratulations from @NatbyNature for new #RAW #WomensChampion @RondaRousey!#SummerSlam #RondaRousey pic.twitter.com/XqjoClKqYr

— WWE SummerSlam (@SummerSlam) August 20, 2018
The BLISS era is over. The ROWDY era has BEGUN!#RondaRousey is your NEWWWWW #RAW #WomensChampion!
#SummerSlam @RondaRousey pic.twitter.com/TAeVoZZnR9

— WWE (@WWE) August 20, 2018
Her Legacy
This latest match continues to show her progression in the world of pro wrestling as she was able to complete a big accomplishment while competing in the sports entertainment company.
Rousey has put distance between herself and MMA as now she's in the sports entertainment business. She is learning to make the transition from the Octagon to the ring. Rousey has been out of the fight game for two years after suffering devastating losses in her last two bouts under the UFC banner.
Up until those losses, she was a wrecking machine as she ran through the top contenders in the division at the time. However, that all went away when she was dethroned of UFC gold by Holly Holm at UFC 193 in November 2015 as Holm knocked her out with a head kick. Then, she suffered a 48-second TKO loss to Amanda Nunes at UFC 207 in December 2016.
Rousey signed with the WWE in January 2018 where she made her promotional debut at the Royal Rumble pay-per-view event. She would then enter into a feud with Stephanie McMahon and Triple H. This would later lead to a match where she would team up with Kurt Angle to take on the WWE power couple in a mixed tag team match. This match took place at the biggest event of the year for the WWE, WrestleMania 34 in April.