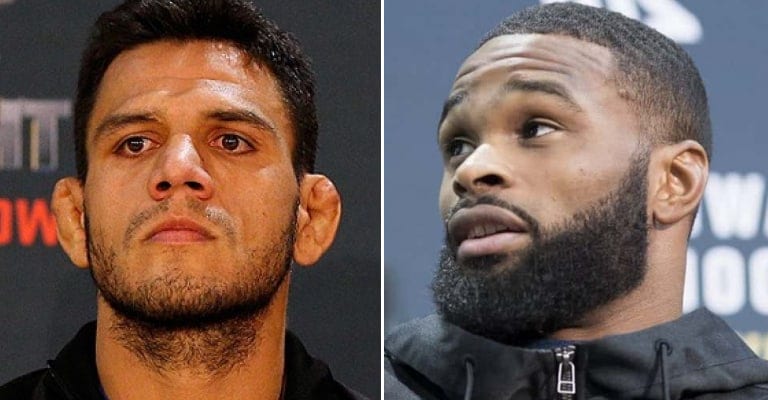 Some potentially major fight news – whether it's a merited bout or not – is swimming around the mixed martial arts (MMA) world today after Nate Diaz confirmed his shared interest in facing welterweight champion Tyron Woodley sometime this summer.
The fight, which has been rumored ever since late last year, has been met with a largely derogatory bag of reactions due to the fact Diaz is a career lightweight who owns a less-than-shining 3-3 record at welterweight.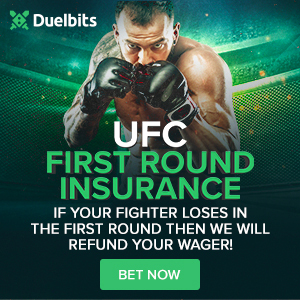 Fans, especially hardcore ones, aren't necessarily jumping at the chance to pay to watch what they view as a mismatch in Woodley's favor, and not surprisingly, top-ranked welterweight contender Rafal dos Anjos has joined them. Reacting to the warming rumors to MMA Fighting today, the surging dos Anjos said Woodley is only focusing on money and is willing to take a fight that makes no sense because of it:
"Tyron Woodley is only thinking about money. Of course that everybody wants to make money and needs money, but he's running away from logic. He's trying to force his hand and making a fight that makes no sense."
Dos Anjos elaborated further on his disdain for Woodley's attempts, noting that Diaz is perceived to be such an easy fight for "The Chosen One" that the champion was willing to forego shoulder surgery and fight him with one arm.
To dos Anjos, Woodley is simply trying to maximize his pay while remaining champion by taking the easiest fight against a more popular but less-deserving fighter:
"He can't fight in this weight class, and Woodley is trying to force this fight," dos Anjos said. "(Woodley) was willing to fight Nate Diaz while injured, needing to undergo surgery, because he knows it's an easy fight and he can win without one arm. I think it's wrong to hold the entire division like this."

"He's trying to get an easy fight and stay on his TV and radio shows as a champion, he wants this status," he continued. "He doesn't want to fight someone motivated as myself, someone on a roll. He wants to fight someone that will bring him money. Nate Diaz is more popular than me. I've achieved more things than him in my career, but Nate Diaz is more popular, so if this fight happens now it's not about who deserves it more, but who's more popular. He definitely wants an easier fight."
The former lightweight champ also cited the fact that Dana White billed his recent UFC on FOX 26 main event versus Robbie Lawler as a title eliminator, meaning that after dominating "Ruthless," he had earned the shot while Diaz definitely had not:
"I've earned it," he said. "I've heard Dana White two or three times on free TV say that I'm next, and my fight with Lawler was promoted as winner fights for the belt. I don't think it makes any sense that a win who never won at welterweight to jump the line like this. I don't think it makes any sense."
RDA was then questioned about fighting for an interim belt if Woodley did face Diaz, something which he not receptive to entertaining even though he would fight again:
"No. Enough of interim belts," he said. "I think that if Diaz vs. Woodley happens, it's for the belt. An interim belt (would make sense) if the champion wasn't fighting. But that would be a joke. … I want to fight for the belt. That's what I was promised. But if this guy wants to sit on his belt and not fight, I have kids to raise, family to support, so I'd definitely take another fight."
In a perfect world, dos Anjos said he'd fight Woodley at UFC 224 in Rio this May, but knows that's almost certainly off the table with Woodley injured, unwilling to fight him, and supposedly only chasing the money:
"Tyron Woodley and I in Brazil would be great, but the guy doesn't want to fight me here, in his home, imagine in Rio," dos Anjos said. "He would never accept something like that as a champion. And I don't even think he would be healthy to fight in May — unless the UFC pays him very well, because that's what he's really going after now: money."