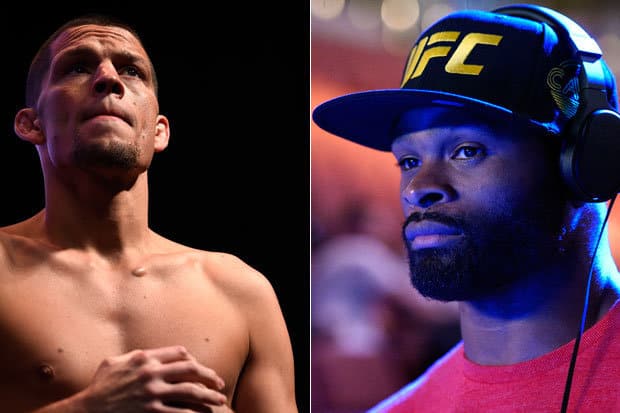 Currently on the sidelines recovering from shoulder surgery, UFC welterweight champion Tyron Woodley recently suggested his next fight would come against absentee fan favorite Nate Diaz in July.
The two unlikely opponents were linked to a potential fight at last December's UFC 219, but negotiations fell apart and "The Chosen One" opted to go under the knife to repair a torn labrum he suffered in his UFC 214 title defense against Demian Maia.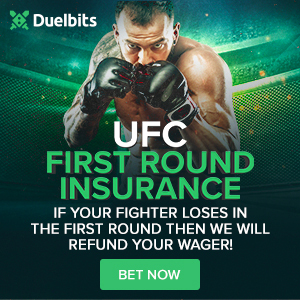 Diaz, meanwhile, recently broke his relative silence by calling out the rest of the UFC lightweight division for dragging their heels while aiming for a possible May or June return to the Octagon.
While many took a believe-when-they-see-it approach to Diaz' return after he's been on the sidelines since a majority decision loss to rival Conor McGregor on August 2016, Diaz himself clarified to ESPN's Brett Okamoto that he is tired of not fighting and Woodley is indeed his best option:
"I'm getting to the point where I'm sick of not fighting. I'm not getting any younger. I put that tweet out saying I wanted to fight in May or June, but I didn't say who because I was weighing my options. And now, Woodley is my best option.

"I see him on TMZ every week, talking about me. I'm like, 'What the f—? If that's what you want to do.' It's not really my weight class, but I'm with it. I think it's my title we're fighting for. If he's the one calling me out, whose title are we fighting for? Who's the real champion here?"
As for when he'll return, Diaz said that July 7's UFC 226 was a viable possibility because he'd like to fight in Las Vegas, and also wants ample time to prepare:
"I'd like a good two or three-month camp," Diaz said. "We'll figure it out. There's definitely going to be something. I'm trying to fight."
Diaz also discussed the prior fight rumors between him and Woodley, noting that reports of his desired salary were overblown and his employers denying they had offered him the fight was untrue:
"They called me out of nowhere, when I wasn't trying to fight nobody," Diaz said. "They asked if I would fight Woodley and I said, "Well, I'd like a three-month camp.'

"I told them I'd fight him on shorter notice, but would send them what I wanted in the contract. It was nothing out of the norm. My boxing coach said something about $15 million in an interview, but that was never the number.

"Then I saw in the media, the UFC said they never approached me about it. I was like, 'F— it then. I wasn't the one asking for the fight.'"
Most thought Diaz was demanding an outlandish payday only to hide the fact that he would only fight McGregor in their long-rumored trilogy bout, but apparently, he wants to squash that talk. In terms of McGregor's absence from fighting, Diaz believes the super-rich star is riding a rollercoaster of newfound fame and may not know how to handle it:
"He's just living his life right now and he's got a magnifying glass on him, whatever he's doing," Diaz said. "I don't give a f— what he does.

"I'm sure he's up and down. 'Do I want to be in these lights? Why am I not in these lights? I need to get in the lights. I need to get out of the lights.' It's a crazy rollercoaster."