With the MMA world awaiting the biggest fight of the year that will ironically happen in a boxing ring when UFC champion Conor McGregor meets Floyd Mayweather on August 26, whispers of whether or not the Irish superstar will ever return to the cage are running rampant.
Many have understandably speculated McGregor will take the massive payday from his fight with the aptly-named "Money," which could rank in excess of $100 million, and call it quits on his decorated combat sports career.
But others, including UFC President Dana White, have insisted McGregor will return to the cage, even before the end of 2017. The polarizing exec and public face of the UFC recently suggested that McGregor wants a massive title fight with Khabib Nurmagomedov in Russia, a monstrous bout that would have several hurdles to overcome before actually becoming a reality.
One man close to the situation believes that McGregor will return to the UFC for one huge fight or another, however, and that's longtime coach and friend John Kavanagh. The Straight Blast Gym (SBG) front man recently appeared on an episode of The MMA Hour to discuss McGregor's future, offering the belief that "The Notorious" will indeed return to MMA:
"I don't see any reason why he would not. Certainly money would not be the reason why he would not do MMA again. He has said very clearly to me, 'Get ready, we're back in the cage in December.' I hope someone out there has sparked the interest in him to make him excited about that."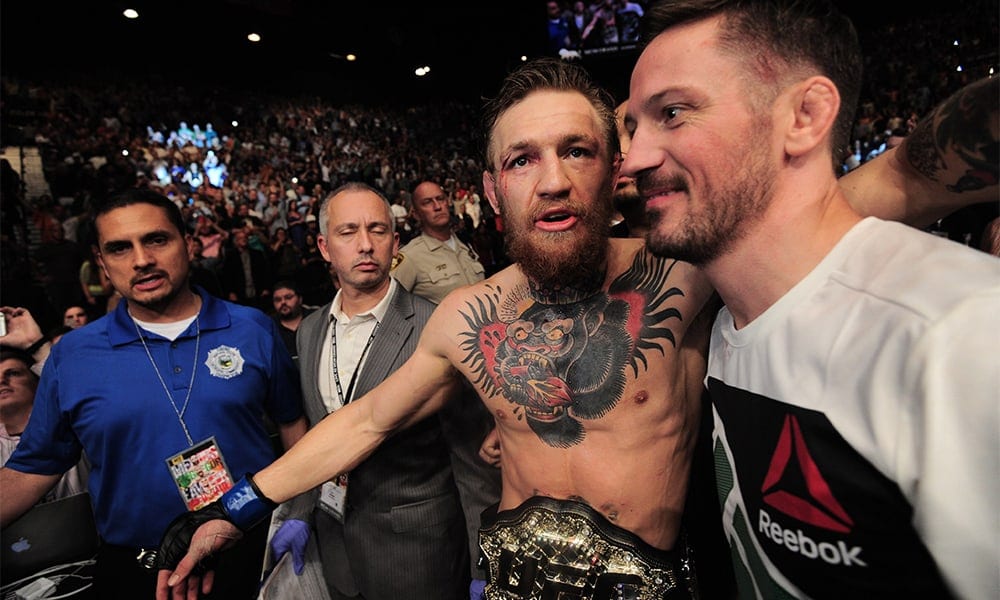 The reason for that if it did indeed happen, according to Kavanagh, is because McGregor is no longer motivated by the massive amounts of money he's receiving for each bout (something that seems directly contradictory to everything he does and says), but is instead buoyed by the next big challenge in front of him:
"It's not money that's motivating him anymore. He could very easily make similar money from doing some movies or doing endorsements. It's the challenge. That's why he's in the gym laughing every day. If he left the gym now and stopped fighting, what would he do with his free time? You can only sit in one car at a time, you can only have one meal at a time. Eventually you want to do something that's enjoyable to you. And that would be Conor drifting back into the gym. It's what's enjoyable to him."
It sounds like a noble scenario from Kavanagh to be certain, but if McGregor truly was only motivated by challenges and not money, then he probably wouldn't be facing Mayweather without a single professional boxing fight on his record instead of defending his lightweight title – or any UFC title, for that matter – in an effort to silence the critics who say his title runs are illegitimate due to his lack of defenses.
To be frank, McGregor vs. Mayweather is a spectacle fight, one that was put together for the sheer amount of press attention and all-out profit it's guaranteed to garner for all parties involved. Very few are giving McGregor much of a shot to beat a man whom many feel is the greatest boxer ever, a challenge that is indeed a new and one even if it seems to have been made for the money and the money alone.
With that said, Kavanagh at least acknowledged that the pay would be 'nice'. In his eyes, it's still the challenge that motivates his star client, however, and always will be:
"The motivation for this fight was not money, though of course it's nice to be well paid for what you do. It was the challenge. And to be told again it's impossible to do what he's saying clearly what he is about to do."