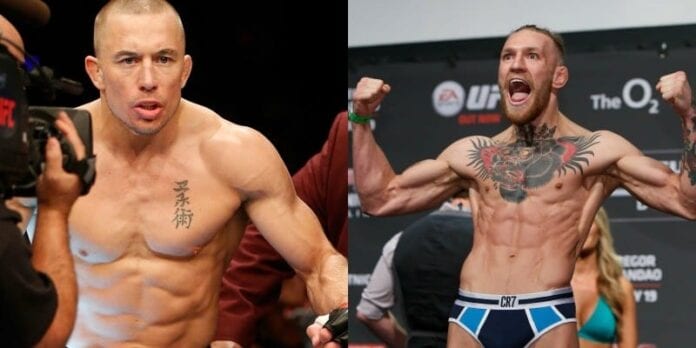 Despite being one of the promotion's brightest stars over the years, former long-time UFC welterweight champion Georges "Rush" St-Pierre has always seemed to have a somewhat rocky relationship with President Dana White and the UFC brass.
Obviously nothing like that of the UFC's relationship with golden boy the "Notorious" Conor McGregor.
St-Pierre vacated his title back in 2013, and McGregor has since assumed the role as the face of the UFC while serving as the reigning featherweight champion.
Despite his title status, the brash Irishman actually tasted defeat for the first time in his UFC career last weekend (March 5, 2016, dropping a submission loss to Nate Diaz in a welterweight scrap, two weight classes higher than McGregor's usual home at 145-pounds.
Recently talking on the two household names, White praised McGregor for his valiant effort while noting that St-Pierre never had the guts to jump up one weight class let alone two (Via FOX Sports):
"That's the thing, nobody wants to do it. GSP would never move up to 185 to fight Anderson Silva. He wouldn't do it. That's what makes Saturday so fun. You know how many times we wanted to do the GSP-Anderson Silva fight? GSP would not do it. Would not do it. Guys don't do that stuff. That's what makes Conor McGregor so unique, so fascinating and so fun. For GSP he was moving up one weight class. Conor McGregor jumped up two weight classes. Conor McGregor is so much fun in the fight business. Guys don't do that. Guys who are making the money that Conor McGregor makes, has the money in the bank, and all the things that are going on with him, he has a world title, he just decides to jump up two weight classes and fight somebody else."
Should fighters be talked down upon for not always taking risks, or is McGregor simply a different type of phenomenon?