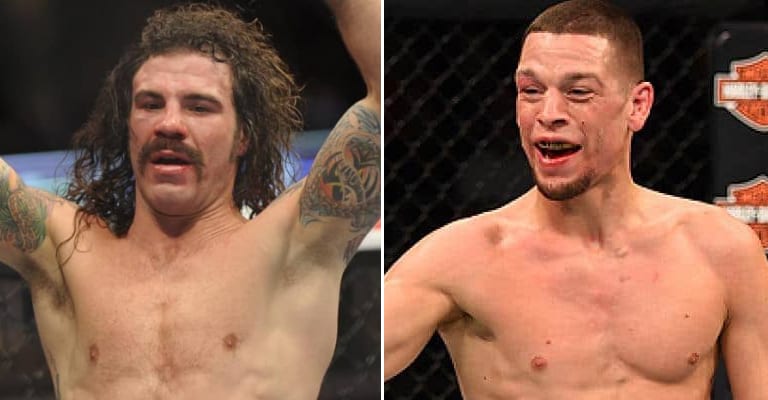 Nate Diaz may be in trouble with the law after an impromptu rematch with Clay Guida while at a Combate Americas event last weekend.
The two reportedly got into a physical altercation while at the event to support their teammates respective fights, and was documented by fellow mixed martial artist Tyler Diamond. Some of the fight was captured on camera as well:
I was talking face to face with Clay, he got pushed & I saw Nate & about ten other dudes so I stepped up with my arms out trying to descalate the situation & Nate then slapped me while one of his groupies rabbit punched me.

— Tyler Diamond (@TylerD1amond) May 12, 2018
https://youtu.be/VNu-59CCepw
Deputies with the Sacramento Sheriffs Department responded to the melee and took an incident report from Guida, who accused Diaz of battery, according to  Sacramento sheriff spokesperson Sgt. Shaun Hampton.
Guida suffered a bloody lip in the midst of the donnybrook, and witnesses on scene report Guida bleeding from his face in the aftermath of the fight.
Diaz fled the scene before authorities arrived and may possibly face charges, according to police.
Guida took to social media earlier this year to call Diaz out:
Yo @NateDiaz209 ….. my man @clayguida has a message for ya!@ufc @danawhite the fans would love this …. pic.twitter.com/ytTPs7V7iz

— CoryG (@corygfitness) March 11, 2018
Diaz and Guida actually already fought (professionally) back in 2009, where Guida took a split decision over the Stockton slugger. Guida has been tweeting quite a bit about a rematch with Diaz lately, which could have played into their backstage scuffle.
Guida is currently coming off of a nasty first round knockout over Joe Lauzon and will be taking on Bobby Green at UFC 225.
On the other hand, Diaz hasn't fought since losing the rematch with Conor McGregor at UFC 202.