Hulking No. 8 UFC middleweight Paulo Costa recently picked up arguably his biggest win by knocking out veteran Uriah Hall on the preliminary card of July 7's UFC 226 from Vegas.
With it came a decent amount of speculation – and criticism – due to the 12-0 rising star's unreal physique.
One such critic was surfing legend Kelly Slater, of all people, who recently commented on an Instagram post from the UFC that Costa was similar to former UFC fighter Cung Le, who was drug tested and eventually falsely busted for Human Growth Hormone (HGH) after a photo of him looking especially ripped before his fight with Michael Bisping surfaced online.
If you ask Slater, Costa makes even "The Soldier of God" look small: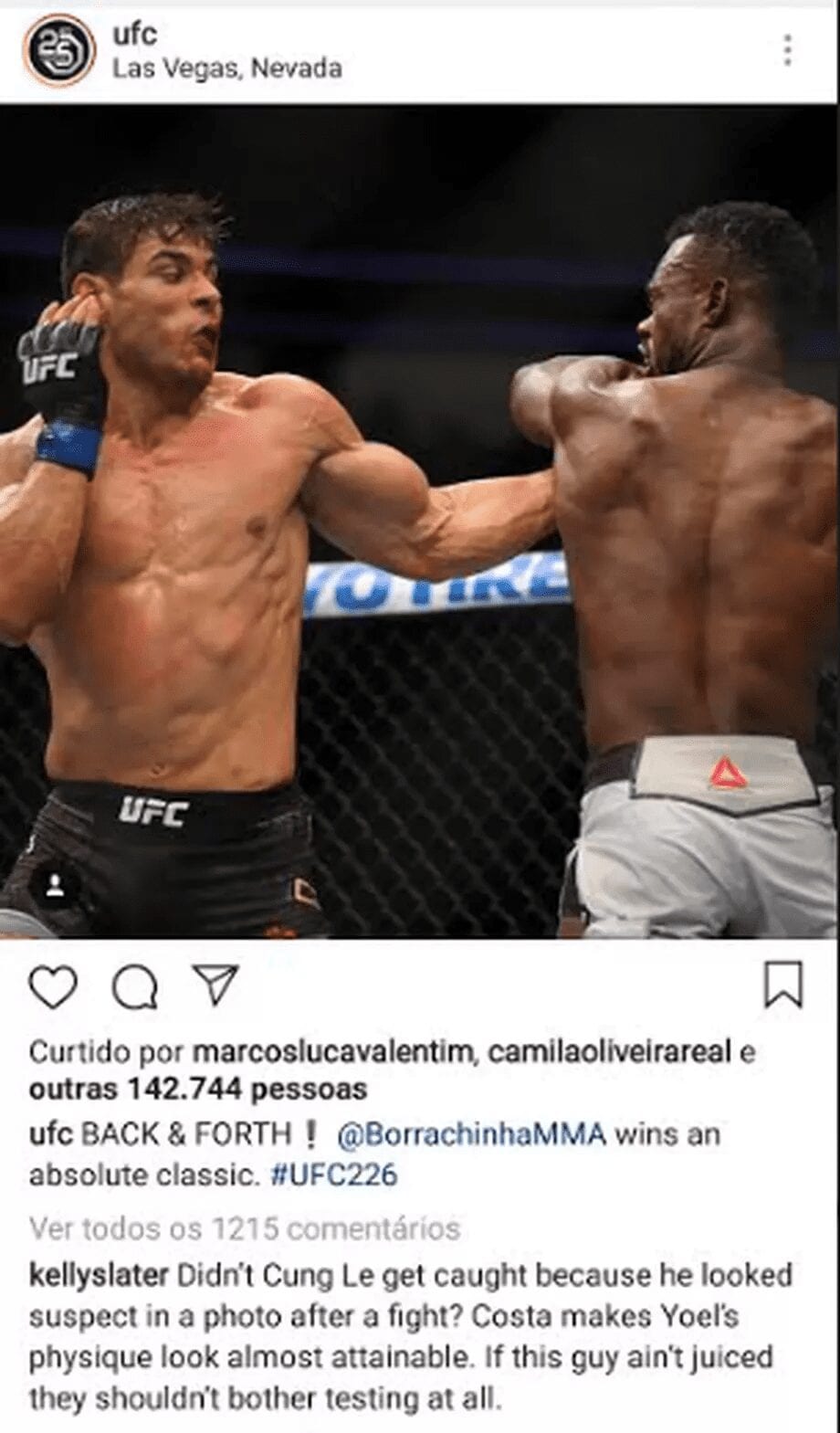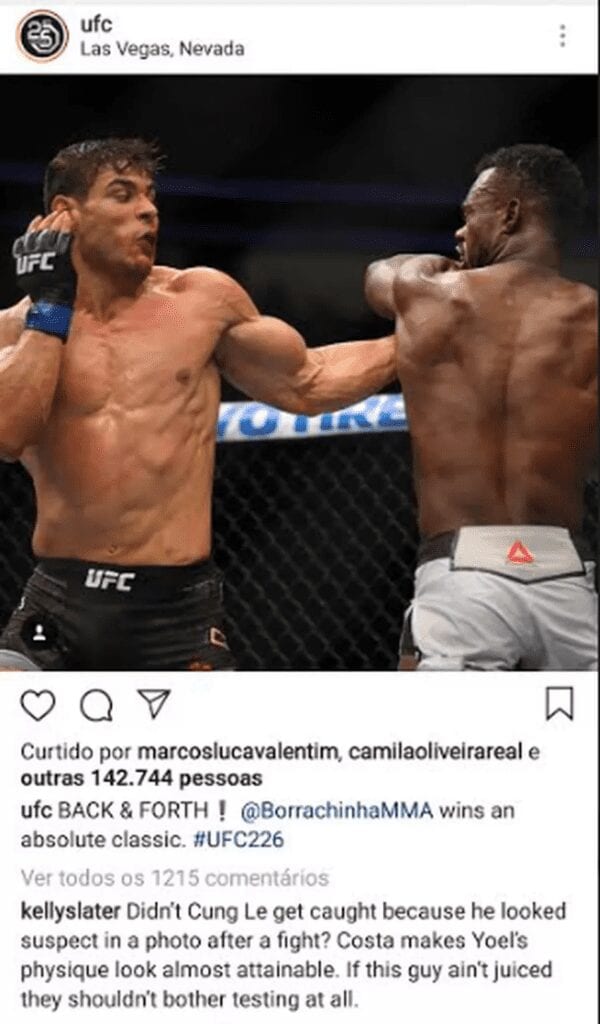 Costa replied to Slater about his slight to MMA Fighting, saying that Slater simply didn't know how the UFC's anti-doping policy with USADA works, as he's been tested 19 times since 2017 and has passed each one:
"Kelly Slater talked too much, said stupid things. He doesn't understand how the anti-doping system works in the UFC, he doesn't know how USADA works, doesn't understand the USADA policy of testing any fighter at any moment anywhere in the world, blood and urine.

"We do random tests all the time, so if someone says a UFC fighter is fighting on the juice, to me that someone is completely ignorant about MMA, UFC, antidoping and USADA."
The fearsome knockout artist dove into detail about the public perception of him just based on his looks, adding that they suggested he cheated instead of putting in the work for his achievements:
"It does bother me because people talk without knowing," Costa said. "They judge me because I have a good physique, an excellent condition, and think I got this by cheating instead of hard work, diet, effort and sacrifice. I keep working really hard, so it bothers me because they diminish my work and effort. But I know where my results come from, so my conscience is clear."
A big fight almost certainly on the horizon for him, "The Eraser" recently shot down fellow rising star Israel Adesanya's callout after "The Last Stylebender" beat Brad Tavares in the TUF 27 Finale headliner. He'd rather have a fight with former champ Chris Weidman, however, as it would raise his ranking higher.
But in his eyes, both Weidman and Adesanya would most likely be knocked out, as he believes he's the most powerful striker at middleweight – and perhaps even light heavy:
"I asked for a fight with Weidman because he's ranked higher," Costa said. "Fans might wanna see me fight Adesanya because we're two exciting fighters. Adesanya is a striker and so am I, and that's what fans like. We're both undefeated. If I were a fan I would also like to see that fight, but the best scenario possible is a fight with Weidman. Not because it's the easier fight, but because it takes me higher.

"I still believe I'm the most powerful striker in my division. Dare I say, even at light heavyweight," Costa continued, adding that he's open to moving up to 205 pounds one day in the future. "I'm sure that if I fought Adesanya he would get knocked out, I believe in the first round. Weidman has good chances of being knocked out as well."