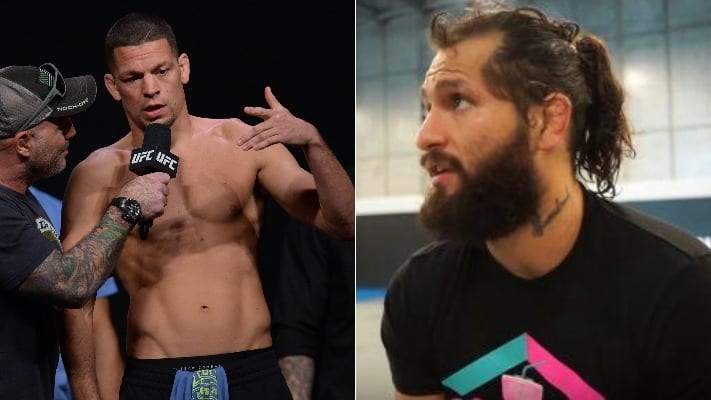 Nate Diaz did two very memorable things last night (Sat. August 17, 2019) at UFC 241.
First, he bested Anthony "Showtime" Pettis in the co-main event of the pay-per-view (PPV) inside the Honda Center in Anaheim, California. Then, he followed it up with a callout. Diaz called for a fight with fellow fan-favorite Jorge Masvidal, who was in attendance for the event.
Speaking at the UFC 241 post-fight press conference, Diaz elaborated on why he decided to call out "Gamebred."
"Just because you got to recognize who the best of the best is in this game," Masvidal said. "And it's not who they're saying it is. It's who I'm saying it is. It's the guys who have been in here forever, and now are on – are still on the top of the game. Like, Pettis just knocked out Thompson, who was just fighting for the 170 title a whole bunch of times.
"Then he fights Pettis, and Pettis just knocks his ass out real quick. Whose the real baddest dude in the 170 division? And then, they were trying to pump up a dude [Ben Askren], and then Masvidal goes in there and knocks his ass out after he's been in here since – I started fighting in 2004 I think. I think.
"And then, I think he has been there right there or a little longer. And he just did that. And I just did that. So, that's the best fighter to me. The best martial artist whose still on top of the game. Like I said, I've been through waves of these guys.
"There's a couple of guys who come in, and then they fight for a title, peaking, have three good fights, they fight for the title, get the belt, then they get their ass whipped, then they have another loss, maybe have another win and then another loss, and then they're gone with the wind. That's not the best fighter to me. I'll be here in 40 years, fighting, and still killing.
Masvidal has certainly seen a massive spike in popularity. He viciously knocked out Darren Till in London earlier this year. Then, he recorded the fastest knockout in UFC history when he starched Ben Askren at UFC 239 in five seconds with a flying knee.
Both Diaz and Masvidal are beloved by the mixed martial arts (MMA) community for their brashness and ability to sell a fight. A pairing of the two has potential to emerge as the biggest fight of the year.
What do you think about Diaz calling out Masvidal? Will the fight happen?