After years of feuding with Ronda Rousey, many fans thought Cris Cyborg would finally get her wish this year. One of the biggest hurdles in the potential Rousey vs. Cyborg equation was crossed when Cyborg joined the promotion, her debut was at UFC 198. Crushing Leslie Smith in Brazil with a first round TKO, Justino had arrived in the UFC with a bang. Coming some six months after Rousey lost the belt to Holly Holm at UFC 193, Cyborg's debut win came when 'Rowdy' still had no timeline for a return. Next facing and destroying Lina Lansberg in late September, the Brazilian reiterated her desire to fight Rousey.
Able to barely make the 140-pound limit means Cyborg has no division in the UFC. Bantamweight is too far down, and the promotion is not interested in a women's featherweight category. When Ronda Rousey's comeback was announced for UFC 207, Cyborg's reaction was furious. Blasting the UFC for 'protecting' Rousey, Justino vented her displeasure for everyone to see. The Invicta FC 145-pound boss says she's sick and tired of being avoided, pointing out that all the great fighters eventually move up in weight.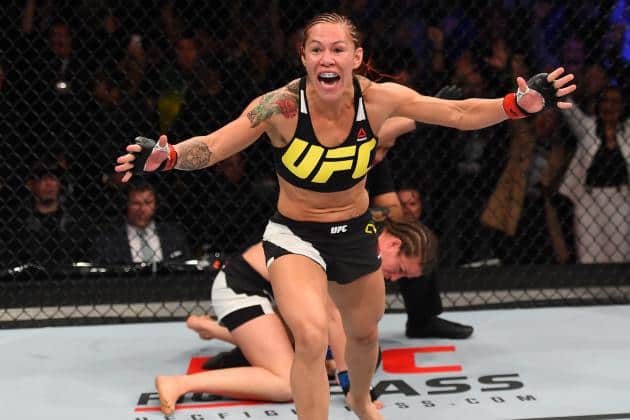 Cyborg vs. Tate?
UFC president Dana White promised the long-awaited fight between Ronda Rousey and Cris Cyborg would eventually happen, but at this stage few fans have any hope left. In step Miesha Tate, who again says she would be willing to take on Cyborg. Before being scheduled to face Raquel Pennington at UFC 205, the former champion 'Cupcake' tells MMAFighting.com that she'd have 'nothing to lose' against Justino:
"When I was the champ, they told me that they would not … do a catchweight, so either she has to meet you at 135 or you have to not be the champion. So now that I'm not the champion, I technically could fight her at 140. I wouldn't be against it. The thing is, I just feel like I have nothing to lose in that."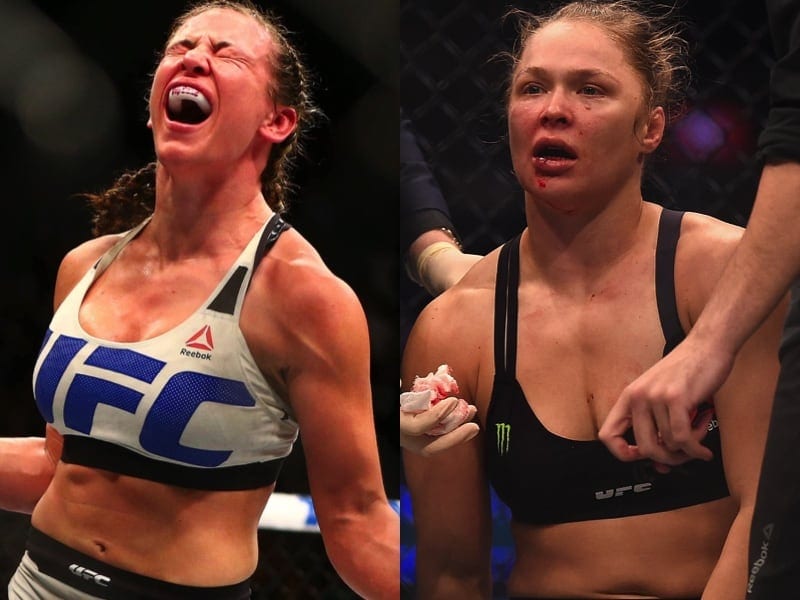 "Is Ronda Still Punch-Shy?"
Moving on to the subject of Ronda Rousey, as quoted by Mike Drahota, Miesha Tate makes her prediction for UFC 207. Having fought 'Rowdy' once in Strikeforce and once in the UFC, 'Cupcake' is in a well qualified position in comparison to most in making an assessment. She feels a top form Rousey defeats current champ Amanda Nunes, but also questions how the ex-champ will have recovered:
"If we're getting Ronda at the best she's ever been, then I say Ronda," she said. "But if we're getting Ronda coming back kind of with a half-ass mentality, kind of like I have to do this one time and she's got a lot of ring rust – I mean, is she still punch-shy since Holly?"
"Amanda has incredible power in her right hand. So, if she hits Ronda with one of those, I can see it being a huge problem for Ronda, a big, big problem."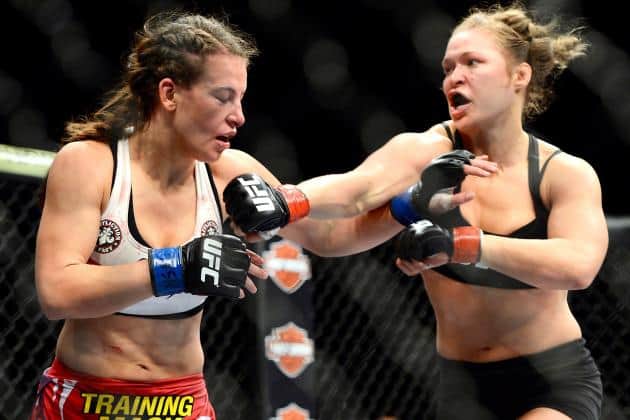 "It's Hard To Say"
"It's kind of hard to say honestly (who will win). I really just don't know what we're going to get with Ronda. I know what we're going to get with Amanda. I just have no idea what we're going to get with Ronda,"
"A long layoff can definitely have some adverse effects on coming back and getting right back in there with the best of the best. I guess we'll kind of see how it all plays out."
The women's bantamweight division continues to be a big focus point for the UFC. With the promotion's 135-pound pioneer set to come back at year's end, this ship could head in a number of directions. Will Rousey reclaim the title, or is Nunes destined to send the former queen back to inactivity? Amid all this, Cyborg is floating at 140 pounds, but 'Cupcake' is willing to take the trip.
Stay tuned.