Coming off of a successful first title defense of his mixed martial arts (MMA) career against longtime rival Dan Henderson, UFC middleweight champion Michael Bisping must shift his attention to who the next man up to challenge him for the 185-pound throne will be.
"'The Count' has no shortage of challengers for the gold, as perennial contenders Chris Weidman, Luke Rockhold, Yoel Romero, and Ronaldo 'Jacare' Souza all have fights with on another set to go down in the near future.
Bisping was recently a guest on Ariel Helwani's The MMA Hour (courtesy of MMA Fighting) to discuss his future plans inside the Octagon, and he is well aware of the beasts that await to challenge him for the strap that he has held so proudly since winning it at UFC 199 this past June:
"Obviously it's got to be one of the big contenders next," Bisping said. "We'll see how the chips fall regarding their fights. I think I'd like Weidman, to be honest. If Weidman could get past Romero, that'd be a fight that interests me.

"And seeing that me and Weidman have this rivalry now — I've got nothing against Weidman. He likes to talk sh*t about my career, and I'll do the same on his, but I wish him all the best. Competition aside, he seems like a good guy and good dude. But we've been talking a lot, so I guess we're going to settle it in the Octagon. So if he gets past Yoel Romero, which he's got his hands full there, but if he does, then yeah, I'll happily fight him next. I believe he's a good match-up for me."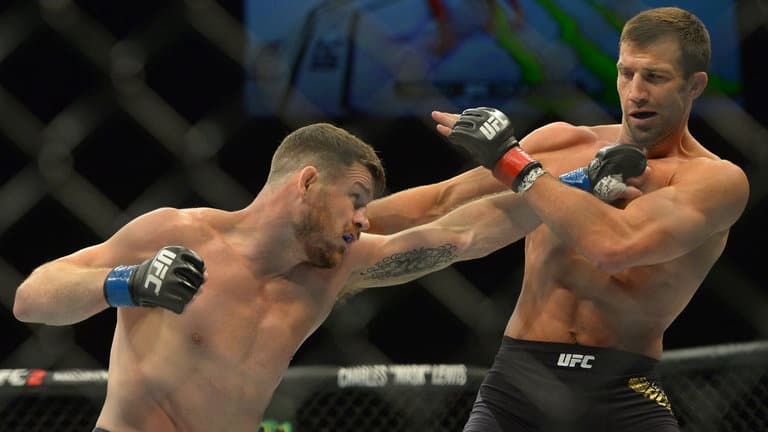 The Brit captured his first taste of UFC gold when he downed Luke Rockhold, a rematch of their first contest from UFC Fight Night 55 where Rockhold took home the submission win, in the main event of UFC 199 this past June with a thunderous first round knockout that set the MMA world ablaze. After nearly a decade in the sport Bisping had finally realized his dream of becoming a UFC champion.
Now after taking home a highly controversial unanimous decision win over Dan Henderson in his first career title defense earlier this year, the former Ultimate Fighter Winner is ready to get back in the Octagon for yet another title defense.
When it comes to a rubber match with Rockhold, however, Bisping doesn't see a big money fight in a trilogy bout with Rockhold, who according to Bisping, 'nobody really cares about':
"Well, business-wise, nobody really cares about Luke Rockhold," Bisping said. "Unfortunately, business-wise, nobody cares about Chris Weidman either, so I don't think either of them really make me that much money, unfortunately. They're probably the best two guys in the division other than me, and nobody gives a sh*t about them. Nobody gives a damn. That's why Chris Weidman couldn't main event a pay-per-view (when he was champion), he was always the co-main event.

"But I'll just take on the best challengers. I know what people said about the Henderson fight, but the UFC came to me with the match. I didn't ask for it, so I said yeah, sure. And now I'm happy to take on whoever the true No. 1 contender is, so we'll see who wins these fights, and whoever it is, I'll happily fight him. I've never ducked a fight in my life."
Outside of the top four ranked challengers at 185 pounds, a new challenger could be awaiting Bisping in the form of former Strikeforce champ Gegard Mousasi. Mousasi captured a second round TKO victory over Vitor Belfort in the co-main event of UFC 204 earlier this month, the same card Bisping defended his title against Henderson.
After the bout Mousasi made quite the claim to a potential title shot against Bisping, claiming he'd jab his face off en-route to securing the gold: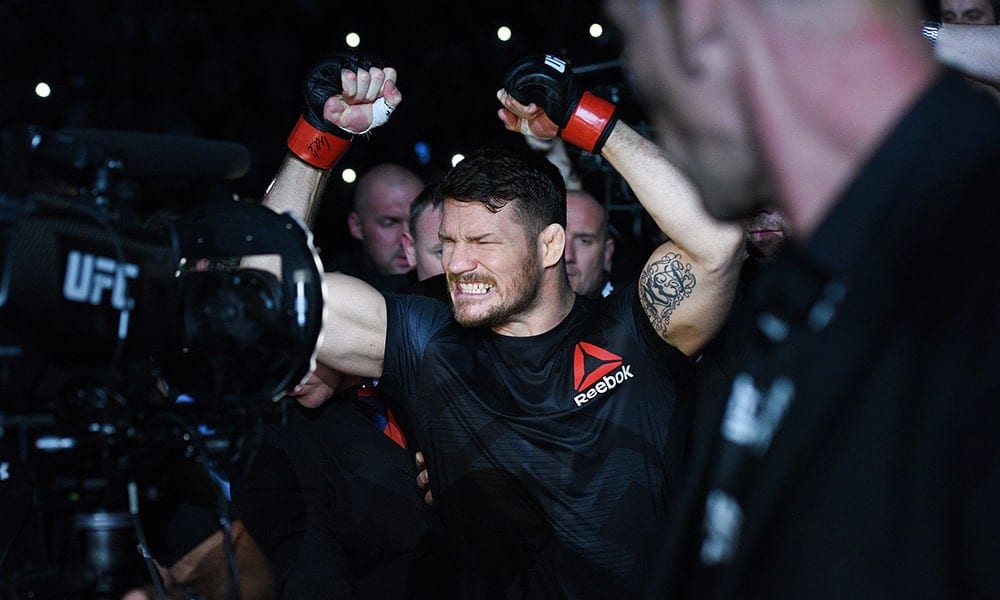 "Here's the thing, Mousasi is an incredible fighter," Bisping said. "He really is. I like the guy. But I just said that Rockhold and Weidman [would do] terrible business. Jesus Christ, I think it would be astronomically bad business at the moment with Mousasi. He just needs another win or two to really get people's attention. Unfortunately, it wasn't that long ago that the idiot Uriah Hall got a fluke knockout against him, so that kind of hurt his stock. And Mousasi is incredible, he really is. He's one of the best underrated fighters in the world.

"He beat Vitor easily and impressively. I think another big-name opponent, or another one or two in there certainly, he would be more of a household name, then I'd be happy to face him when the time comes. But I think right now he needs another tune-up fight."
Chris Weidman and Yoel Romero will attempt to make a case for the next shot a Bisping when they meet at UFC 205 live on pay-per-view (PPV), from the Madison Square Garden arena in New York City on November 12, 2016.
Rockhold will attempt to get his rubber match with Bisping if he is able to make a statement against the fierce 'Jacare' Souza in their main event clash at UFC Fight Night 101, live from the Rod Laver Stadium in Melbourne, Australia on November 27, 2016.