'The Count' believes he'll do better without a full camp…
It seems that 2016 is yet another year of the injury bug, as pay-per-view and fight night bouts continue being laid to waste by last minute accidents. The most recent of these main event smashing injuries was Chris Weidman's withdrawal from the June 4 UFC 199 PPV card in Inglewood, California. 'The All-American' requires surgery due to a rather concerning spinal injury, which he detailed in a graphic Facebook post yesterday. In dropping out of the event, Weidman left a gap opposite the middleweight boss Luke Rockhold, but every cloud has a silver lining.
As a result of Weidman's injury and removal from UFC 199, we get to see another rematch, this time between the 185-pound champ Luke Rockhold and his old nemesis Michael Bisping.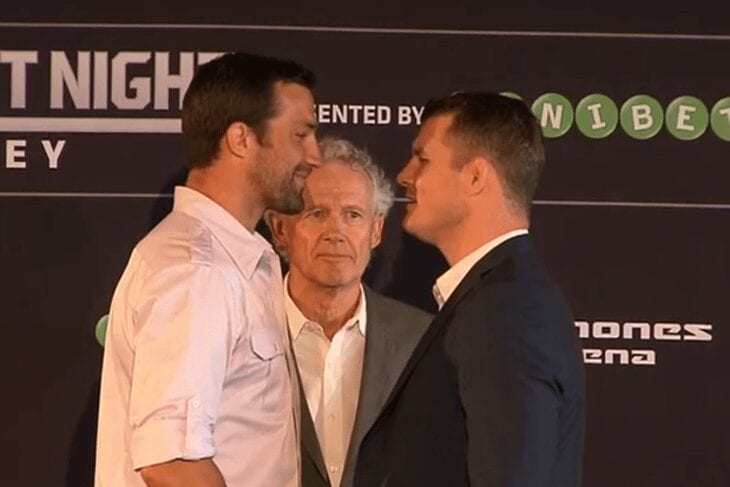 'Rocky' and 'The Count' first squared off in Sydney, Australia in late 2014, with Rockhold furthering his claim to the title fight with Weidman by rocking and then submitting Bisping inside two rounds. After finishing Lyoto Machida, Rockhold went on to brutally batter Chris Weidman for the title in a gruelling affair at UFC 194.
Just out of interest, here's Rockhold's streak compared to Bisping's:
Luke Rockhold: Costa Philippou TKO, Tim Boetsch submission, Michael Bispig submission, Lyoto Machida submission, Chris Weidman murder TKO
Michael Bisping: CB Dolloway unanimous decision, Thales Leites split decision, Anderson Silva Unanimous decision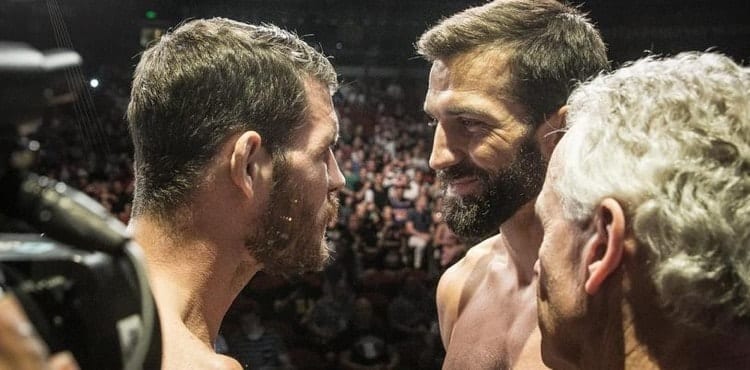 So Luke Rockhold is the bigger man, on home turf, coming in on a streak of finishes that includes one against Michael Bisping, and has a full camp compared to two weeks notice for 'The Count;' Where's the smart money going at the bookies?
Well hold your horses, because Bisping believes the short notice fight is actually in his favor…
continue…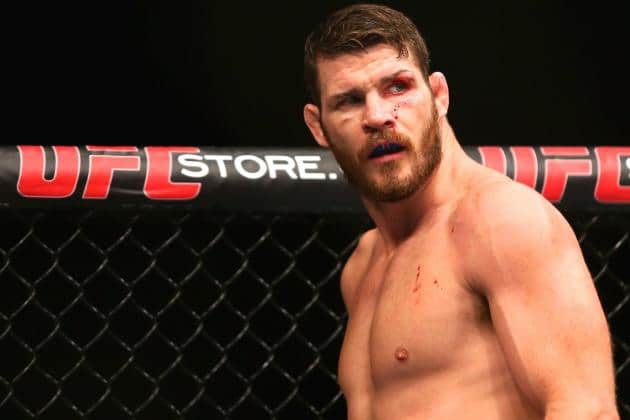 Check out Bisping's opinion on the rematch with Rockhold from the LA Times and MMAFighting.com followed by the full UFC 199 fight card:
"This will be the rubber match in some ways," Bisping said. "The first time, in training, he knows I beat the [heck] out of him. I had him all over the place, put him on his [rear]. The other fight was going well. I was winning the first round, but then he caught me with a good head kick. God bless him, that was the end of that.
"But I get to go again. It only takes one shot. I get a shot at redemption."
"I can beat this guy," Bisping said. "It's a short camp, but I just had a long talk with my boxing coach … and he thinks in many ways it will work out for the best. Normally what I do in a full camp, I always over-train. I stress out. I over-analyze it. I'm my own worst enemy. This camp, I won't. Just get in the best shape I can and fight. I'm going to do my best."
"Am I in the best shape of my life right now? No I'm not," Bisping said. "But I ran the sprints yesterday and finished it. It was hard, it killed me, but I can do this.
"[Rockhold] looked so good because he fought Weidman. Weidman's slow. I knew that would happen. I'm fast — faster on my feet, faster in striking. He has the range, but I've got to be faster than this guy."
"The more I've been around Luke — there's nothing that grates on me. If anything, I feel sorry for him," Bisping said. "He's got so little going on between the ears … he has no personality whatsoever. He looks good, but he has nothing going on."
Bisping added of Rockhold: "Great fighter. He can throw a punch, kick, is good at jujitsu. I'm not doing this for a payday.… I'm doing this because I believe it's my destiny to be world champion."
Listen, I'll put it like this. If people can walk around – and I don't mean this in a disrespectful way to religious people – and you believe the son of God came down to earth 2,000 years ago, and he killed himself for our sins, and he can walk on water, and there's a God up there looking after ourselves, and if you get on your knees and pray to him that things will change, if you can believe that, then you can believe that I can knock the f–k out of Luke Rockhold two weeks from Saturday.
But I'll tell you this, in that fight, I felt very comfortable up until that head kick connected, of course. In this first round, I was doing very good. I was faster than him. He connected a couple of times, but I didn't really feel any power. I wasn't like, 'Holy crap! I've got to watch out because that was insane!' He tried to take me down. He didn't feel particularly strong. I know he's technically very good, but I've been in there with him. I've felt him. I've sparred him for five rounds once, and I whooped his ass there.
I know what I'm expecting. I know what I'm getting myself into. Is he going to have better cardio than me on that night? Of course, he is. At the end of the day, he's a human being. I'm going to go forward and I'm going to fight with everything I've got. No one's got more heart than me.
Listen, I'm going to take this guy out of there. I'm not going out there to fight five rounds. If I try that, I lose. I'm not going to have the conditioning. Believe you me, I've stopped guys in the first round plenty of times before, albeit earlier in my career. I'm going to go back to that animalistic fighting style, which I have inside me. I'm going to go out on my sword and I tell you what, I'm going to give it everything I've got. Luke Rockhold better be ready.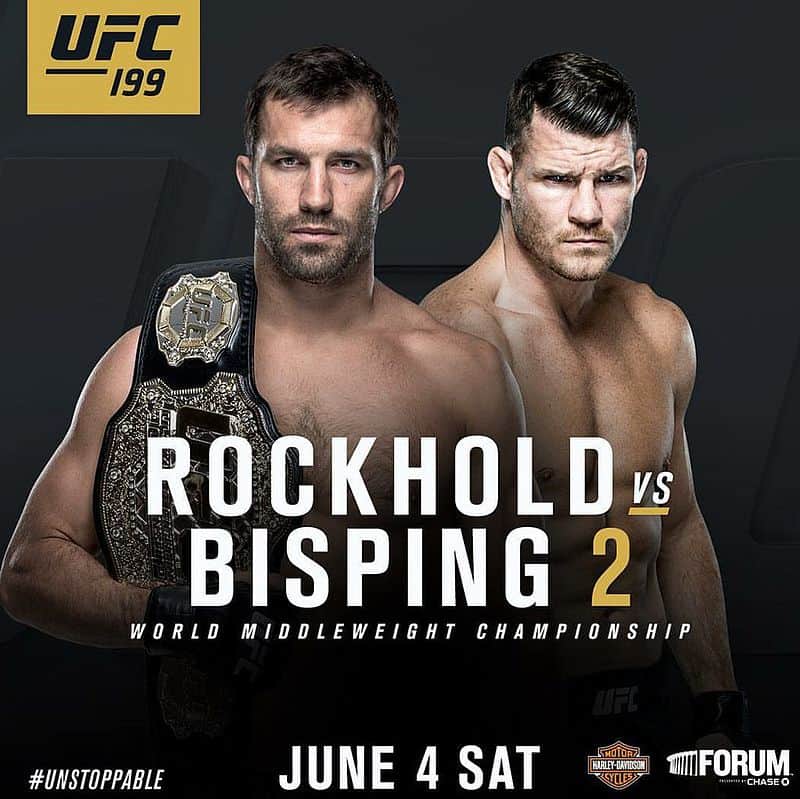 UFC 199 fight card
Event: UFC 199 "Rockhold vs. Bisping 2"
Date: Sat., June 4, 2016
Location: The Forum in Los Angeles, California
Broadcast: Pay-Per-View
UFC 199 PPV Main Event:
185 lbs.: UFC Middleweight Champion Luke Rockhold vs. Michael Bisping
UFC 199 PPV Co-Main Event:
135 lbs.: UFC Bantamweight Champion Dominick Cruz vs. Urijah Faber
UFC 199 Undercard (PPV/FOX Sports 1/UFC Fight Pass):
145 lbs.: Max Holloway vs. Ricardo Lamas
185 lbs.: Dan Henderson vs. Hector Lombard
145 lbs.: BJ Penn vs. Cole Miller
155 lbs.: Bobby Green vs. Dustin Poirier
155 lbs.: Evan Dunham vs. Leonardo Santos
115 lbs.: Jessica Penne vs. Jessica Andrade
185 lbs.: Kevin Casey vs. Elvis Mutapcic
205 lbs.: Luiz Henrique da Silva vs. Jonathan Wilson
155 lbs.: Dong Hyun Kim vs. Marco Polo Reyes
170 lbs.: Tom Breese vs. Sean Strickland
155 lbs.: Mehdi Baghdad vs. John Makdessi
145 lbs.: Clay Guida vs. Brian Ortega