Currently on the sidelines for nearly a full year, UFC middleweight champion Michael Bisping has been derided as one of the worst UFC titleholders in recent memory for his accused unwillingness to take on the top contenders in the talented 185-pound fray.
But that's just fine with him, as his meticulously planned 'maneuvering' has earned him – deserved or not – a title fight with longtime former welterweight champion Georges St-Pierre in the main event of November 4's UFC 217 from Madison Square Garden in New York City.
Although the bout will feature the previously awaited comeback of one of MMA's biggest overall stars in St-Pierre, the growing consensus from the majority of the mixed martial arts community is that it's a strange fight considering St-Pierre has never fought in the division and will have been out for almost exactly four years by fight time. Again, however, it's the perceived payday Bisping appears to be looking for, and even though he doesn't exactly have the best dance partner in terms of trash talk, that, of course, won't stop the brash "Count" from spouting off on "GSP."
Case in point, he recently offered a bold prediction for the title fight on his "Believe You Me" podcast this week (via MMA Junkie), claiming he will stop St-Pierre's grappling with his movement and knock him out in the first round:
"Generally, when I fight wrestlers in the past, I move around a lot," Bisping said. "I utilize a lot of lateral movement, forward and back movement, side-to-side, because if you're moving, it's hard for a wrestler to shoot a double leg on you because you're a moving target. I won't be doing that this time.

"I'm going to stand right in front of him, I'm going to plant my feet, I'm going to walk him down, put him on the back foot, and I'm going to knock him out in the first round. You have my word."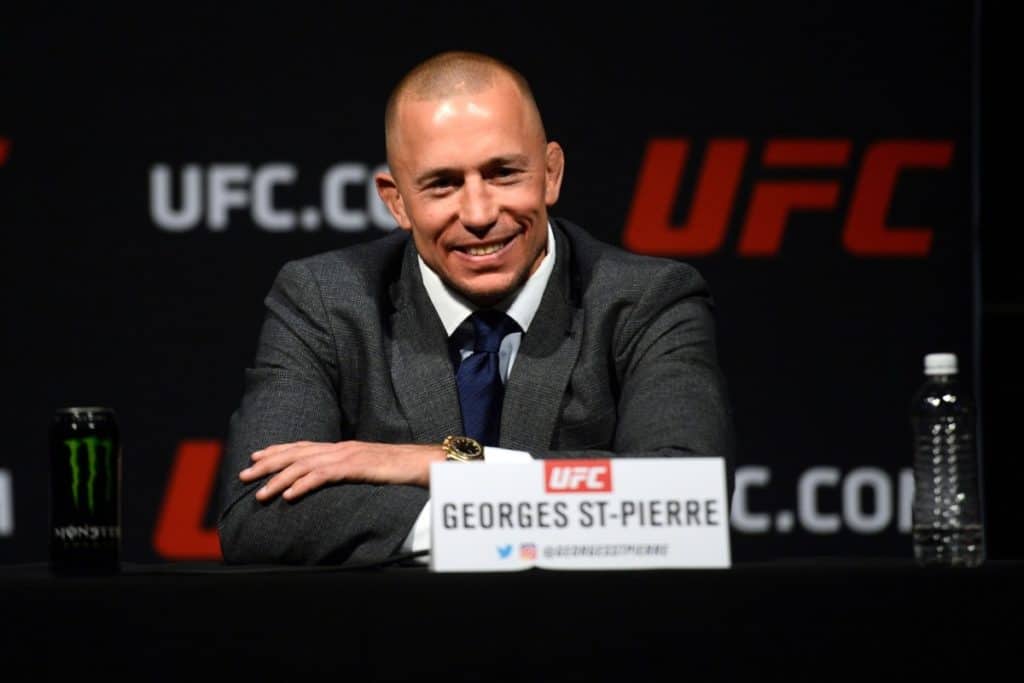 St-Pierre has only been knocked out in the first round once in his infamous upset loss to Matt Serra at UFC 69 in 2007. It's regarded as the bout that caused "Rush" to turn from a risk-taking knockout artist to a much more cautious wrestling-centered fighter who picked opponents apart with superior athleticism and gameplans.
It's true that Bisping has shown he's more than willing to push the pace at his opponents, especially during his recent run of success where he's done just that against Anderson Silva and Dan Henderson, but aside from his title-winning knockout of Luke Rockhold at June 2016's UFC 199, it hasn't translated into many knockout stoppages.
Perhaps he can score another by facing a man who competed his entire career at 170 pounds and has been out of fighting for quite a long stretch. Do you believe Bisping will knock out St-Pierre?