Best Of The Best: The Top 12 MMA Knockouts Of 2016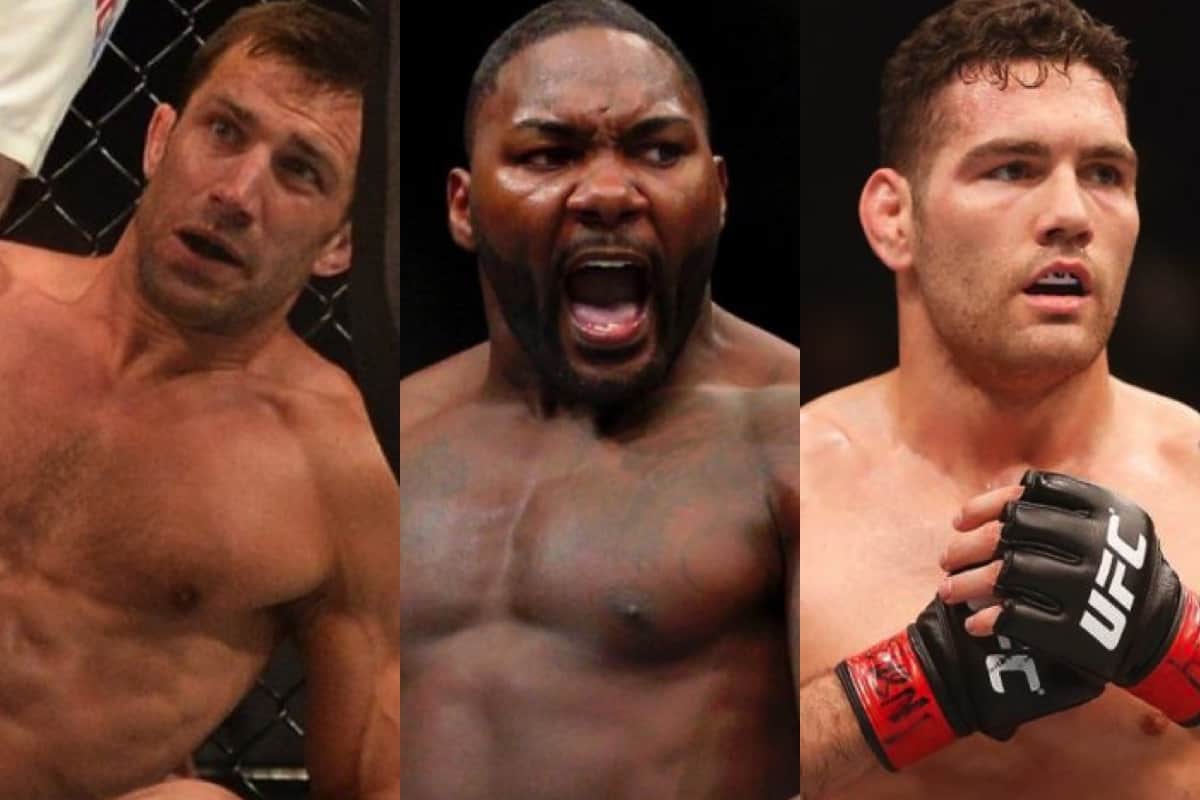 2016 is coming to a close, and another year of mixed martial arts (MMA) competition will soon be in the books. This year has given us some great memories in fighting; some historic, some spectacular, and some just plain amazing.
One of the most exciting parts of MMA are the vicious knockouts fans tune in to see every week, and 2016 has presented plenty highlight reel KOs that we'll never forget.
To commemorate those bouts, we've compiled a list of the best knockouts that we've seen this year, so let's dive into LowKick's top 10 MMA knockouts of 2016….
12. Paige VanZant vs. Bec Rawlings
Following her fifth-round submission loss to Rose Namajunas in December of last year, Paige VanZant took a little break from mixed martial arts (MMA) competition to compete in the 22nd season of Dancing With The Stars.
After finishing the competition as the runner-up, VanZant made her return to fighting action against Bec Rawlings, who was coming in off of a two-fight win streak that included a submission win over Lisa Ellis.
VanZant opened up the second round of her bout with Rawlings with a flashy maneuver that would land and send the Vancouver crowed into a frenzy, as the Team Alpha Male star landed a flush jumping head kick on Rawlings and finished her off with a few punches.
The jaw-dropping knockout earned VanZant her seventh professional win of her MMA career, and No. 12 on our list of top knockouts of 2016.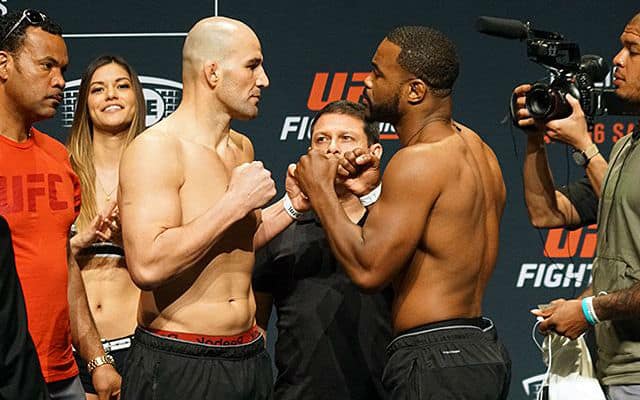 Making his Octagon return since suffering a unanimous decision loss to Ryan Bader, Rashad Evans and former light heavyweight title challenger Glover Teixeira were scheduled to throw down in the main event of UFC on FOX 19.
Teixeira was riding a two-fight winning streak that most recently included a second-round knockout victory over Patrick Cummins and a submission win over Ovince Saint Preux. With another big statement against Evans, Teixeira would propel himself into the title contenders conversation, and that's exactly what he did.
After a few brief exchanges between Evans and Teixeira, the Brazilian was able to land a left hand that would shut Evans' lights out for the early first round knockout win.
The win landed Teixeira in a title eliminator bout with Anthony 'Rumble' Johnson at UFC 202, and force Evans to make the decision to drop down to the 185-pound division.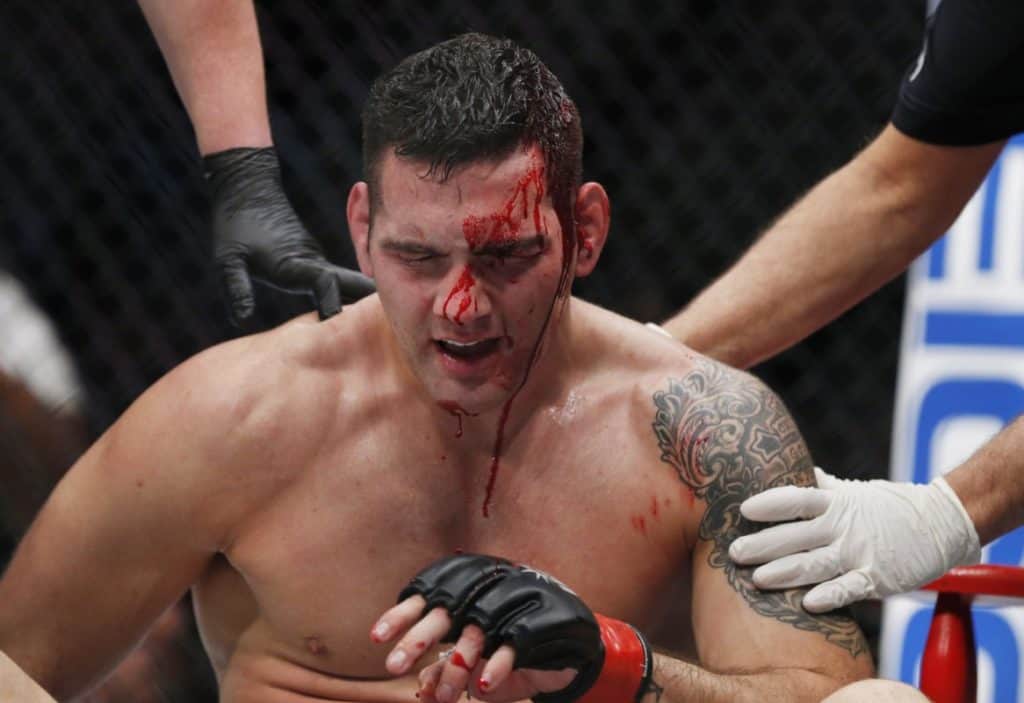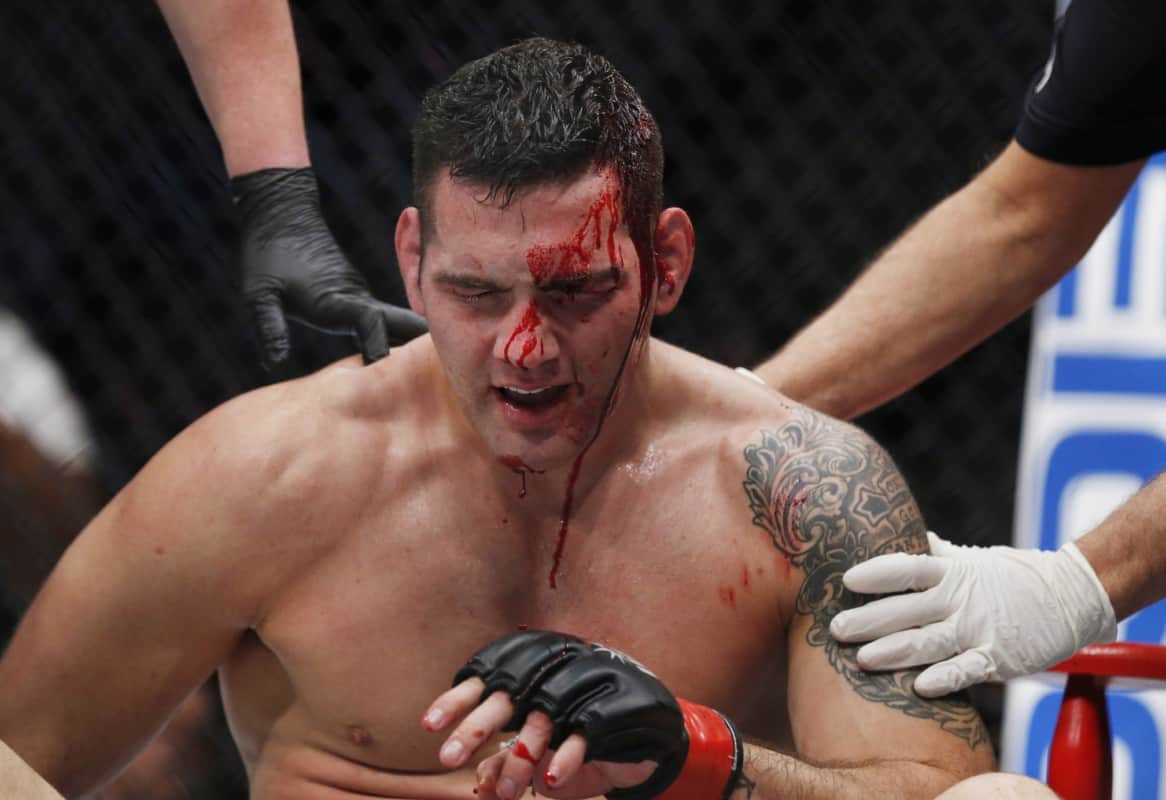 10. Yoel Romero vs. Chris Weidman
UFC 205 was the biggest card in MMA history, and the UFC decided to stack the first-ever card from Madison Square Garden with the best the sport has to offer.
In one of the most highly-anticipated fights on the main card, former UFC middleweight champion Chris Weidman took on surging 185-pound contender Yoel Romero in a pivotal clash for the division's championship picture. The contest between the two elite wrestlers didn't disappoint, and it delivered quite the ending that MMA fans won't forget for a long time.
Weidman made his first return to Octagon competition since suffering the first loss in his fighting career, when he lost his 185-pound strap to Luke Rockhold at UFC 194. Romero came in off of a seven-fight win streak featuring a split decision win over 'Jacare' Souza at UFC 194.
While Weidman seemed to have control of the contest going into the third round, Romero hit him with a massive flying knee to the skull, opening a gash that bled profusely.
The referee stopped the contest and Weidman suffered the second consecutive loss of his MMA career.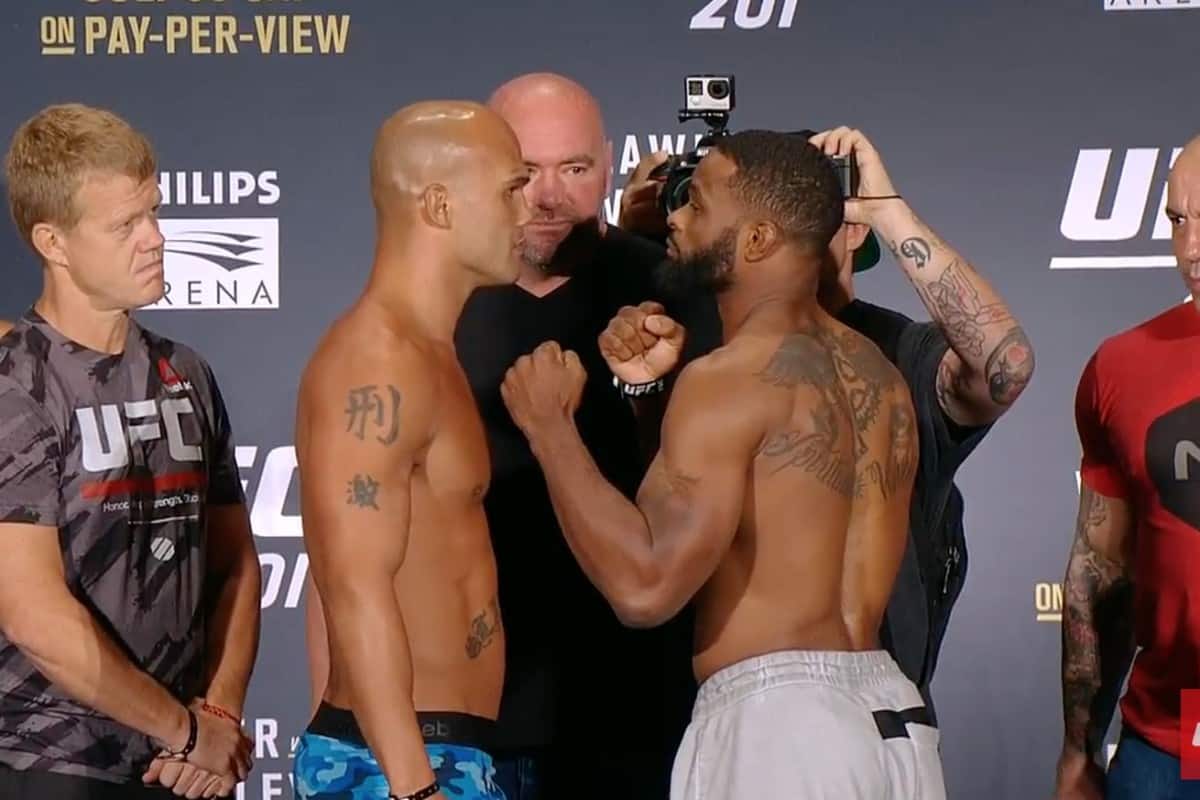 In the main event of July 30's UFC 201 from Atlanta, UFC welterweight champion 'Ruthless' Robbie Lawler would look to make his third consecutive title defense when he took on 'The Chosen One' Tyron Woodley.
Woodley earned his title opportunity after his scheduled bout with Johny Hendricks fell through when 'Bigg Rigg' was hospitalized due to complications with the weight cut and the bout was called off. Lawler was riding a five-fight win streak at the time, not having lost a boutsince 2014.
This bout didn't last very long, as Woodley opened up with a massive overhand-right that landed flush on 'Ruthless" chin and sent him into another dimension. The knockout loss was only the second of Lawler's career with his only other being against Nick Diaz in their meeting at UFC 47 in 2004.
Lawler was originally set to make his return against Donald 'Cowboy' Cerrone at UFC 205 from New York last month, but pulled out due to health concerns and is not yet booked as of this writing.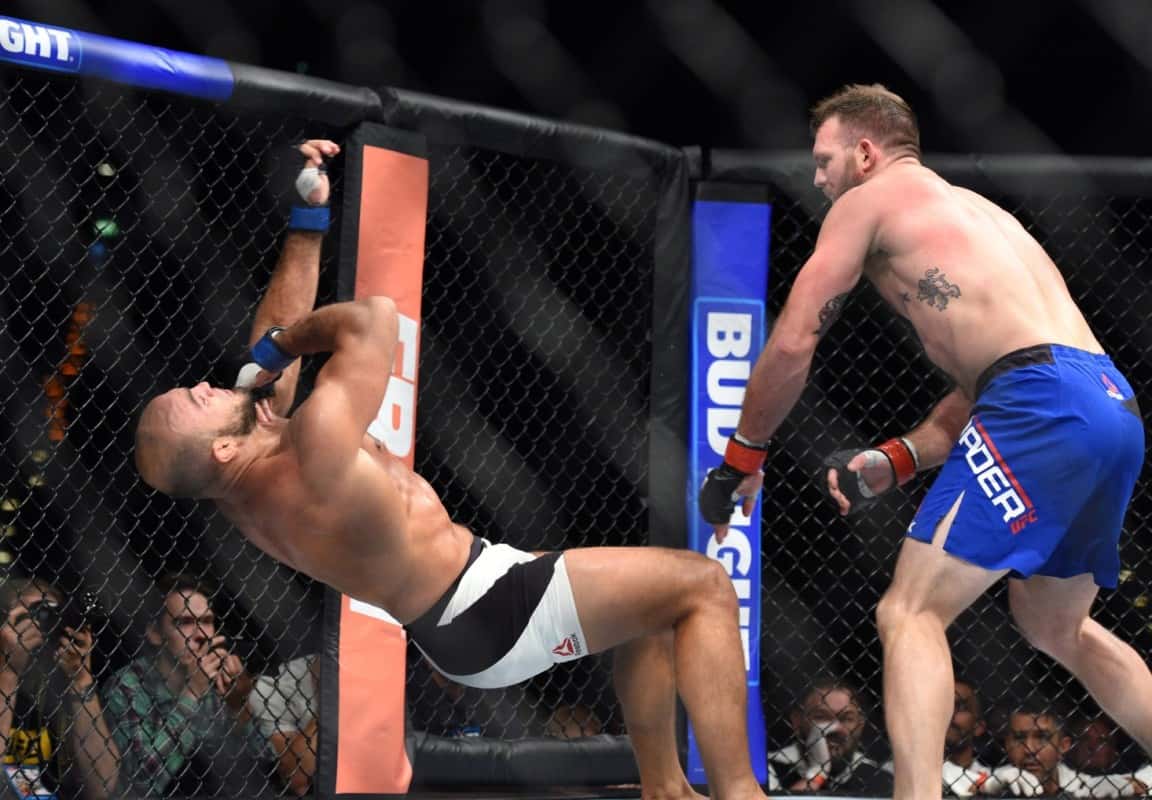 8. Ryan Bader vs. Ilir Latifi
Perhaps one of the most sudden and gut-churning knockouts to date came at the hands, or techincally the knee, of former The Ultimate Fighter (TUF) winner Ryan Bader.
With Bader coming off of a nasty knockout loss of his own to Anthony 'Rumble' Johnson just eight months before, 'Darth' stepped into the Octagon to take on Swedish powerhouse Ilir Latifi. Latifi was riding a three-fight win streak that included two devastating knockout victories in under a minute.
In the second minute of the second round of the fight, Latifi appeared to go for what looked like a takedown attempt when Bader responded with a powerful knee to the Swede's skull. The blow would render Latifi unconscious as he hit the mat hard like a ton of bricks, his arms moving wildly above his head as he descended to the canvas.
With Bader's UFC contract now up after defeating Antonio Rogerio Nogueira last month, 'Darth' may find himself delivering knockouts under another promotion's banner.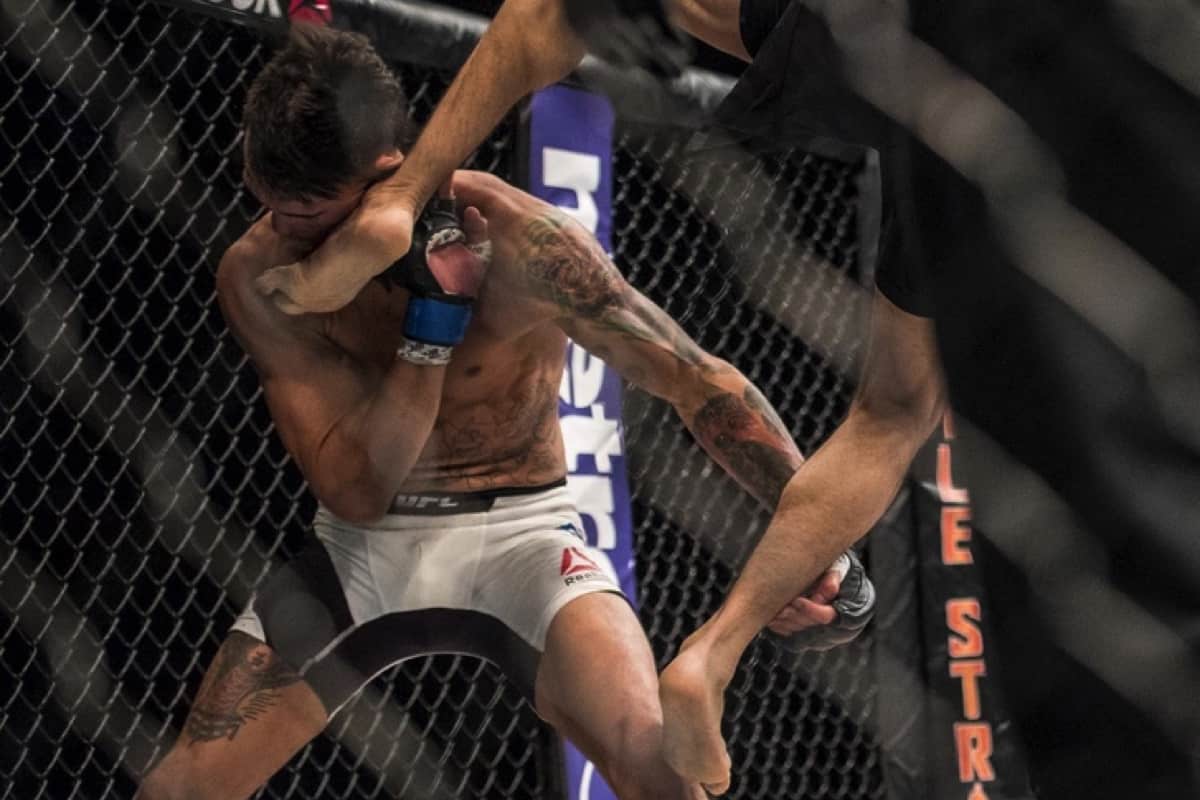 7. Yair Rodriguez vs. Andre Fili
Up-and-coming featherweight prospect Yair Rodriguez continues to impress MMA fans with his dynamic striking arsenal, and his performance at UFC 197 this past April did just that.
Rodriguez would take on Andre Fili who was coming off of a rather impressive knockout of his own over Gabriel Benitez in November of 3015. 'El Pantera' came into the contest riding a three-fight win streak and looking to solidify himself as a legitimate contender in the 145-pound division.
In the second round of the fight Rodriguez jumped up and delivered a beautiful switch-kick to Fili's head that sent him down to the canvas and ended the fight immediately. The masterful finish would earn the Mexican prospect Performance Of The Night honors.
After yet another impressive win over Alex Caceres this past August, Rodriguez has found himself slated to take on UFC Hall Of Famer BJ Penn in January. If he can continue his impressive streak of performances, Rodriguez may find himself on our list next year as well.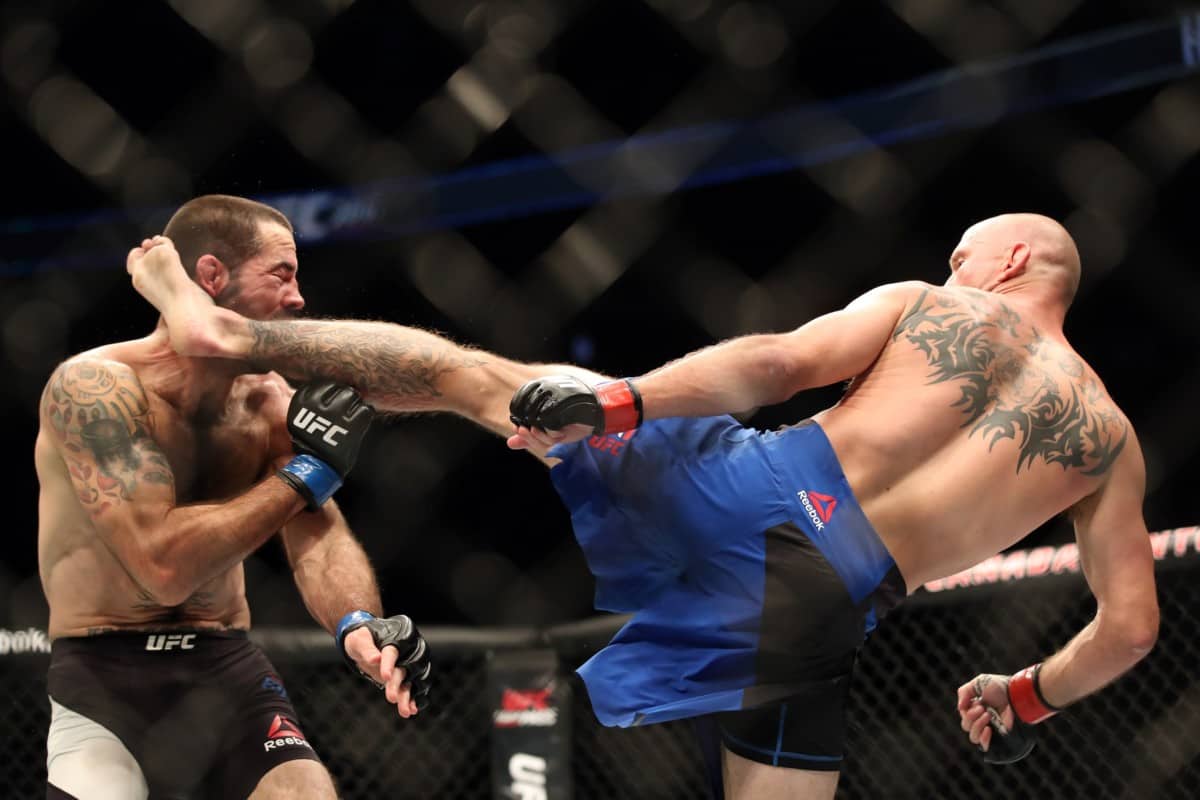 6. Donald 'Cowboy' Cerrond vs. Matt Brown
Since making the jump up to 170 pounds, Donald 'Cowboy' Cerrone has looked great inside the Octagon, and he continued his winning ways when he took on 'The Immortal' Matt Brown.
Cerrone came into the bout riding a three-fight win streak in the welterweight division, finishing all of his contests in spectacular fashion utilizing his skills both standing and on the ground. Brown, however, had been struggling as of late, coming off of a first-round TKO loss to Jake Ellenberger that marked his second straight defeat.
The contest proved to be a rather competitive one, as both men shined in their respective moments and had one another in trouble throughout the course of the bout. Despite the bad blood leading up to the fight, the men hugged it out to start off the third and final round.
Just 34 seconds into the round, however, 'Cowboy' would land a hellacious round house kick to Brown's head, sending him to the canvas with a hard thud and out for the count. Cerrone would increase his win streak to four fights and throw his name into the hat for possible title contention in the near future.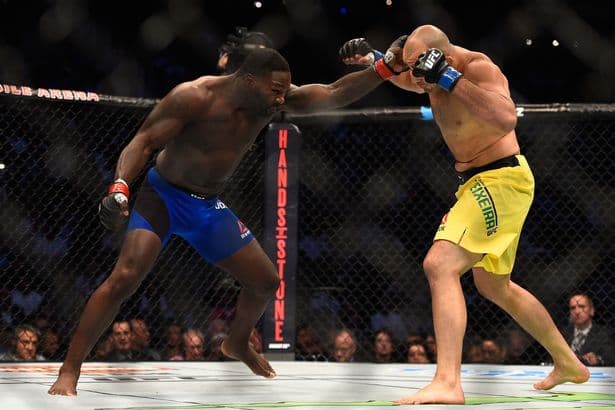 5. Anthony 'Rumble' Johnson vs. Glover Teixeira
Possibly the most feared striker in MMA today is light heavyweight title challenger Anthony 'Rumble' Johnson.
Johnson is no stranger to the Performance Of The Night bonus since making the jump up to the light heavyweight division, as he's left a trail of unconscious bodies in his tracks since returning to the UFC. One of Johnson's most bone-rattling knockouts, came in the co-main event of UFC 202 back in August when he took on Glover Teixeira.
Teixeira was coming fresh off his knockout victory over Rashad Evans that we mentioned earlier in our list already, and got his proposed match-up with 'Rumble,' whom he called out after his victory over Evans.
Johnson and Teixeira would come out immediately to the center of the Octagon at the start of the round, and the exchange of blows ended quickly with the Brazilian hitting the floor unconscious after an uppercut from Johnson landed clean.
The win now sets up 'Rumble' to challenge current division champ Daniel Cormier in a title bout in the near future, as the Blackzilians product waits for 'DC' to return from injury.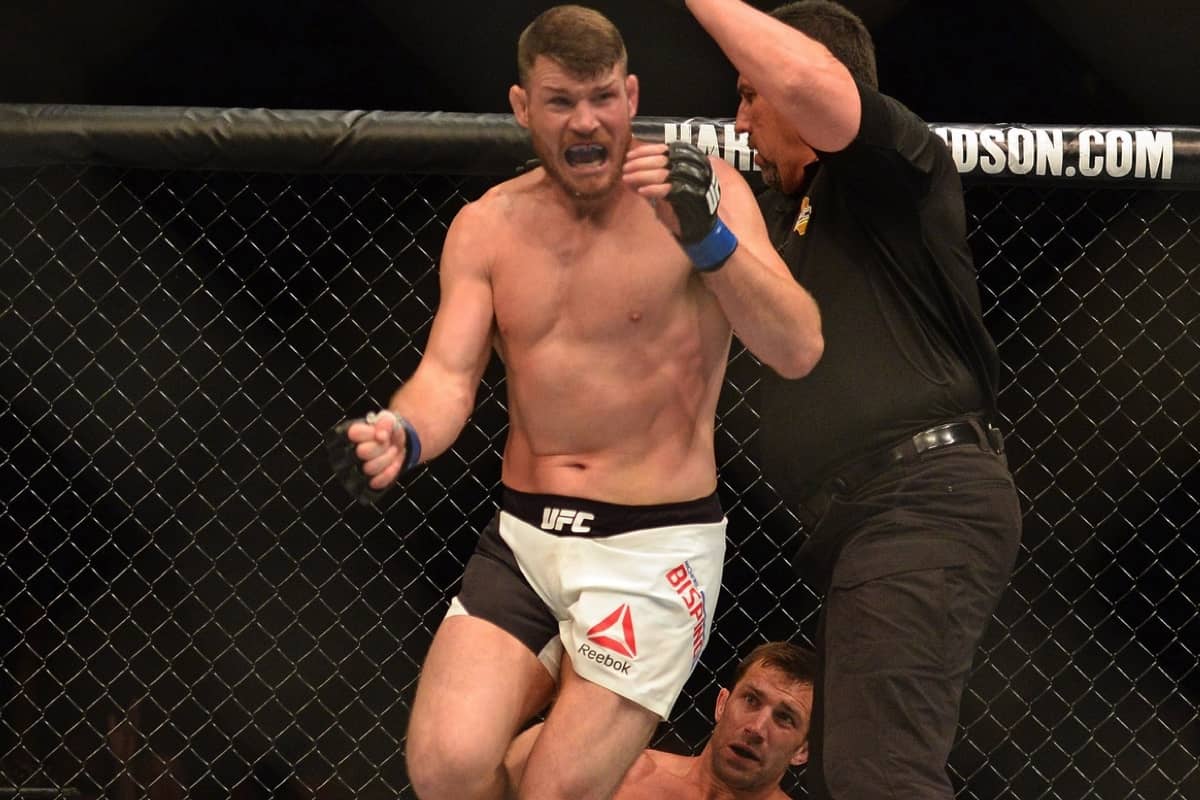 Michael 'The Count' Bisping has been in the UFC for over a decade. He's finally realized his lifelong dream of being a UFC champion, and he did it in spectacular fashion.
Bisping suffered a second-round submission loss to Luke Rockhold in 2014, and then embarked on an impressive three-fight win streak before jumping in against then-champion Luke Rockhold on short notice for an injured Chris Weidman. The win streak included a unanimous decision win over former middleweight champ Anderson 'The Spider' Silva in Bisping's home country of England.
Leading up to the bout, Bisping and Rockhold engaged in a war of words in which Bisping claimed it was his 'destiny' to become champion while Rockhold seemed to be writing 'The Count' off early by telling the Brit that the rematch would be his 'Swan Song'.
All talk would go out the window come fight night in California, however, as the roof of The Forum arena nearly came off after Bisping caught Rockhold off guard with a left hook that left the AKA team member sitting on the floor in shock of what just transpired.
Bisping would go on to successfully defend his title, against a man who has captured the No. 3 spot on our list…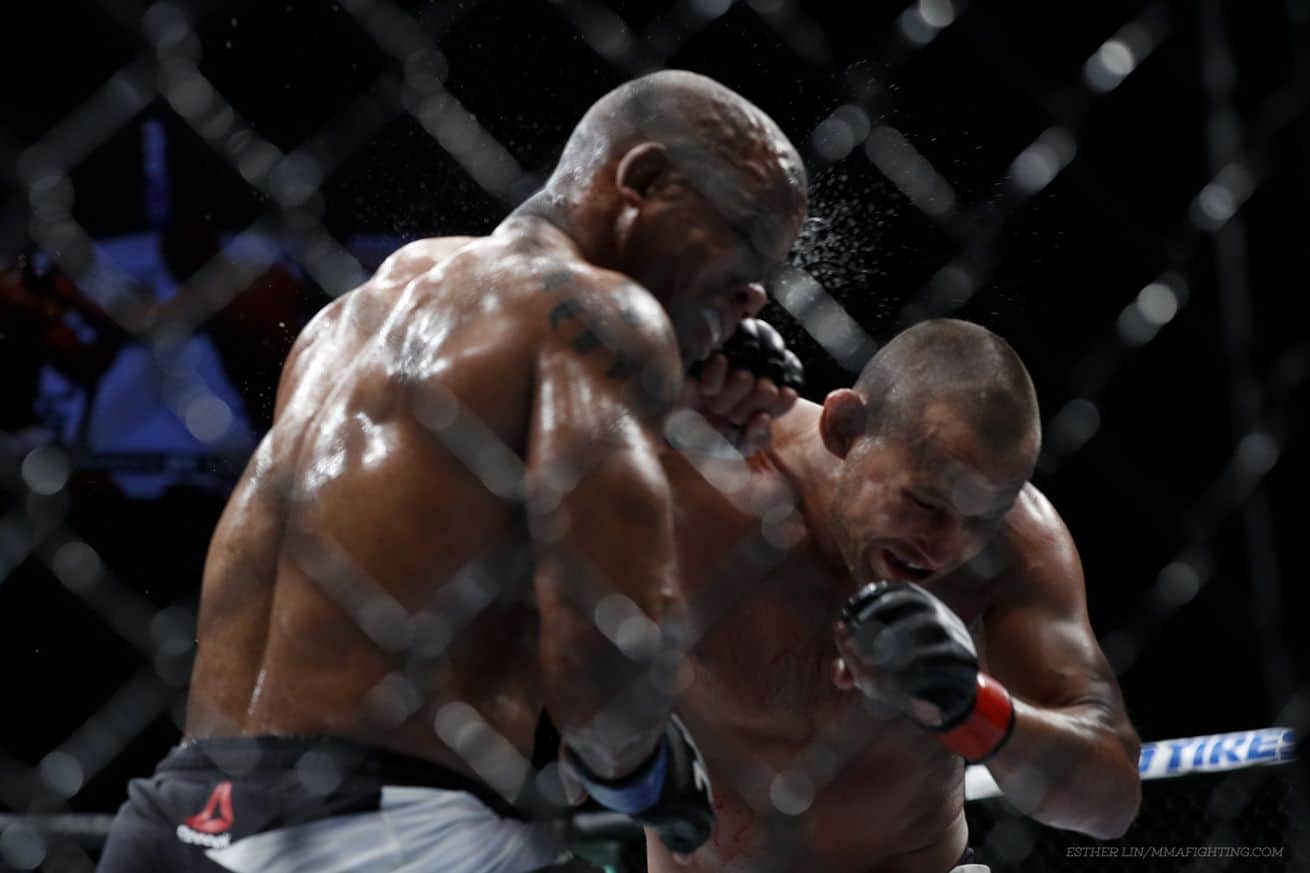 3. Dan Henderson vs. Hector Lombard
Yes, the recently retired Dan Henderson comes in next with one of the sickest finishes of the year.
Coming off of a first round head-kick knockout loss to Vitor Belfort in Brazil, Henderson would run into Hector Lombard, who was returning to middleweight after his third round TKO loss to Neil Magny in March at welterweight.
During the first round of the bout, both men were nearly finished as both Henderson and Lombard found themselves rocked after eating some heavy shots. In the second round, however, a head-kick from Henderson caught by Lombard would allow the former Olympian to land a reverse elbow for the knockout win.
The knockout earned Henderson "Performance Of The Night" and surprisingly a title shot against Michael Bisping four months later, despite being ranked the No. 14-ranked middleweight in the UFC.
After suffering a unanimous decision loss to Bisping in their title bout in October, Henderson would hang up his gloves for good to cap off his legendary MMA career.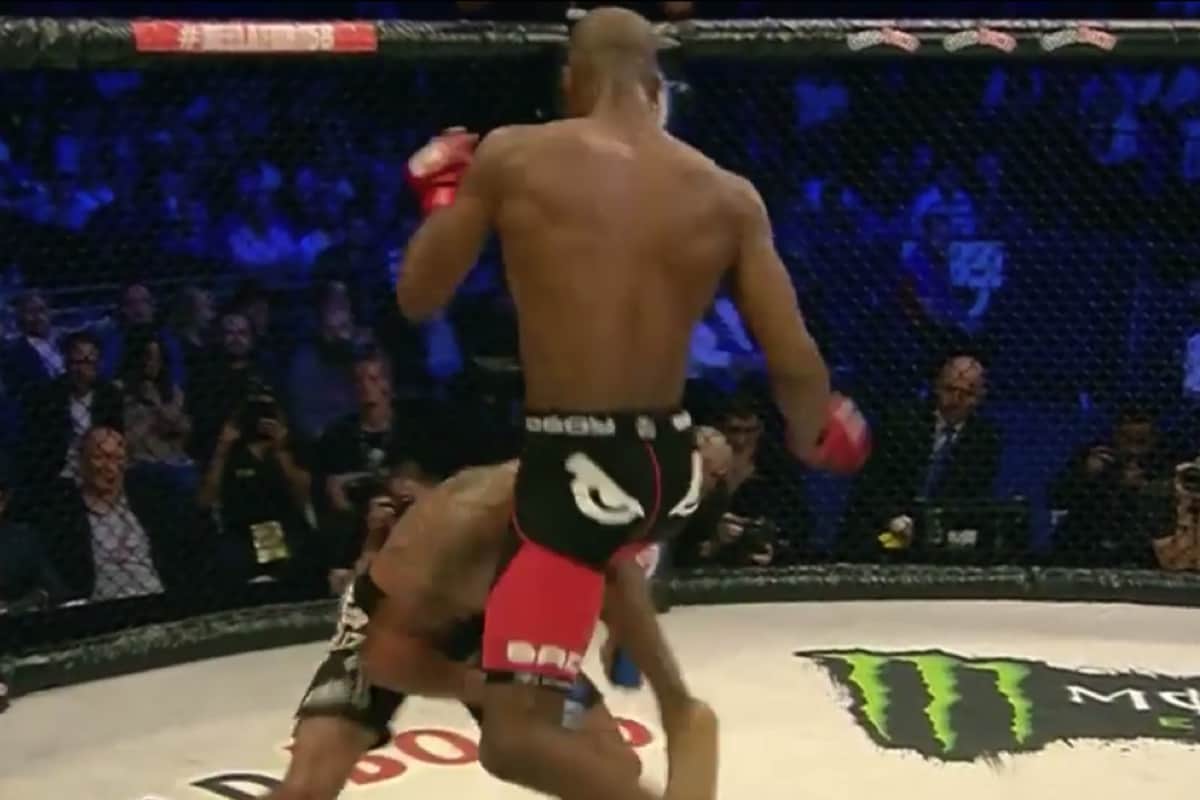 2. Michael Page vs. Cyborg
Our No. 2 knockout of 2016 comes from Bellator MMA and undefeated welterweight prospect Michael 'Venom' Page.
Page would take on Evangelista 'Cyborg' Santos at Bellator 158 in July, as the undefeated Page was now 6-0 competing in Bellator. Santos was coming off of a first-round loss to Saad Awad at Bellator 154, snapping his two-fight winning streak.
In the second round of the fight, 'Venom' threw a flying knee after the Brazilian came forward with a right hand, throwing Cyborg down to the mat with his hands clasped over his skull in agony. The powerful knee resulted in a frontal sinus fracture that would require Santos to undergo surgery.
Since then Santos has yet to return to the cage, while Page earned a split decision win over Fernando Gonzalez last month. If you're not convinced that Page's knockout over 'Cyborg' shouldn't be No. 2, just take a look at this: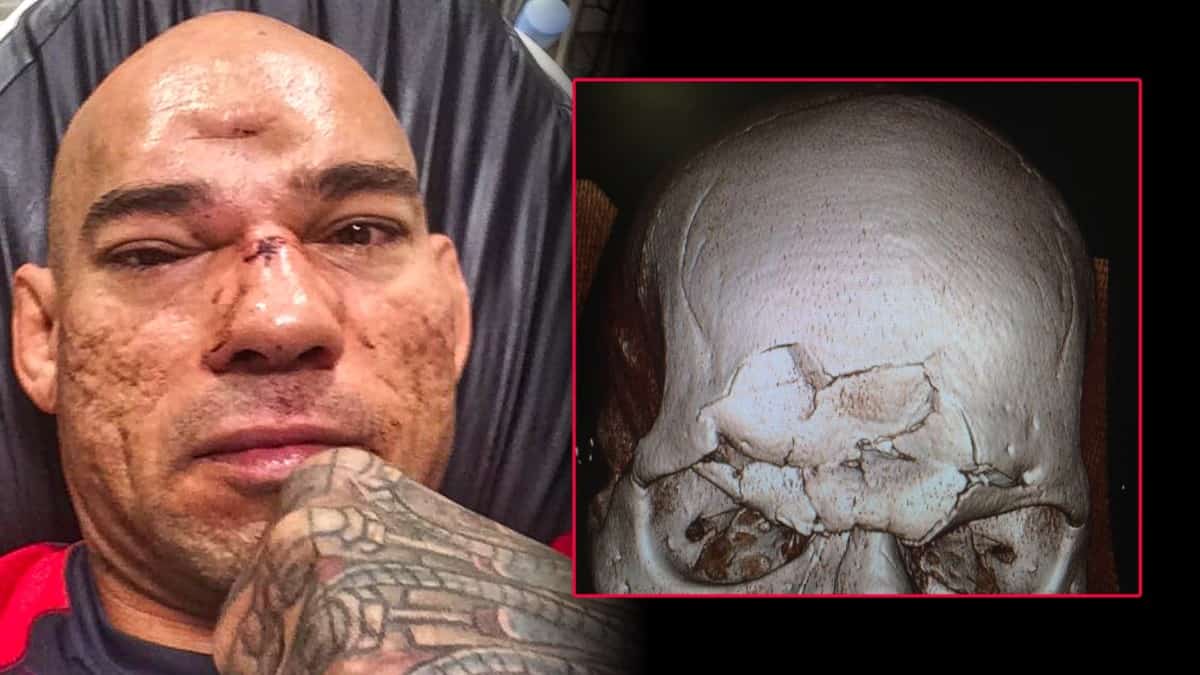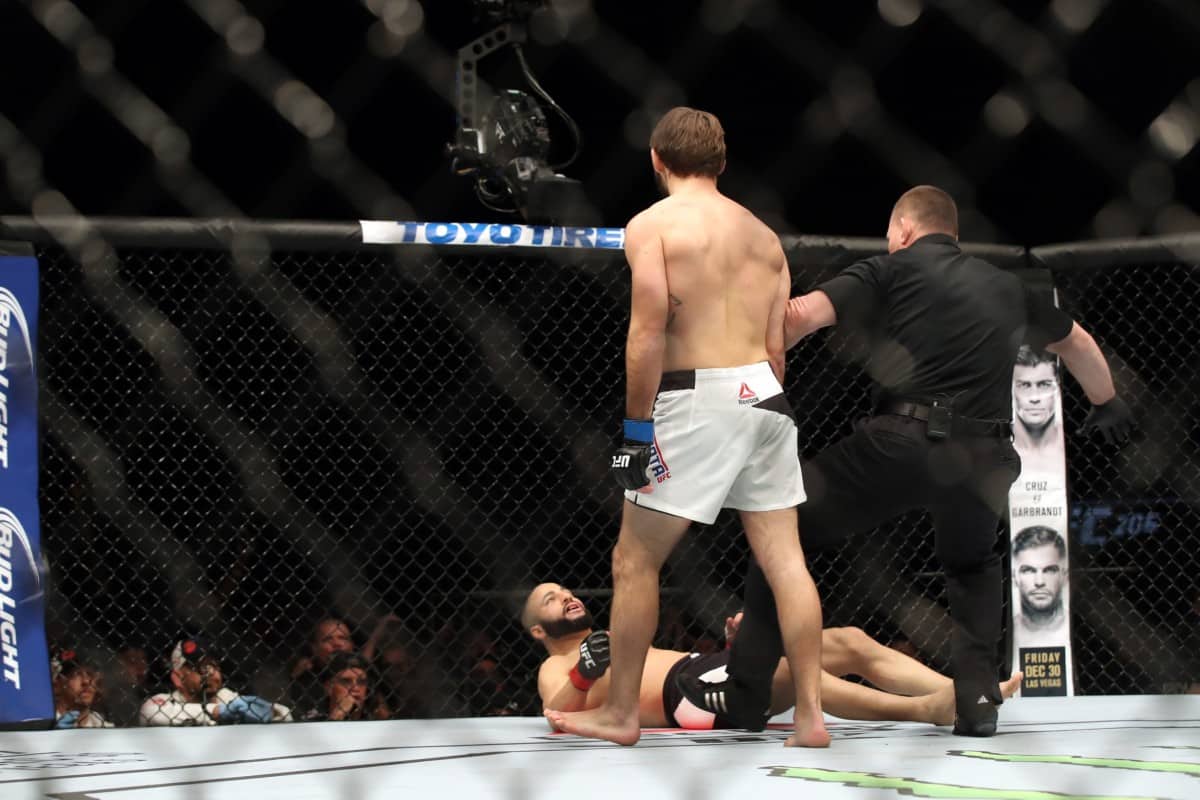 1. Lando Vannata vs. John Makdessi
We thought Edson Barboza's spinning knockout over Terry Etim was the most ridiculous thing we've ever seen, but there may now be a KO that's met – or even surpassed – it.
Lando Vannata is one of the hottest prospects currently competing in the UFC's 155-pound division, and he proved just why when he took on John Makdessi in his own backyard of Toronto at UFC 206. Vannata made his UFC debut on short notice against No. 2-ranked Tony Ferguson, nearly finishing the bout before getting caught in Ferguson's patented D'Arce choke.
The loss marked the first loss in Vannata's pro MMA career, and he looked to avenge it against the veteran Makdessi. Makdessi came off of a split decison win over Mehdi Baghdad at UFC Fight Night 90 in July, his first win since April of 2015.
Just under two minutes into the first round of their contest, Vannata unleashed a thunderous spinning wheel kick that landed flush on Makdessi's chin, giving Vannata a walk-off knockout win and the No. 1-spot on our 2016 knockout awards of the year.
You can check out the spectacular finish here: