Lorenzo Hunt: The Juggernaut of Bare Knuckle Boxing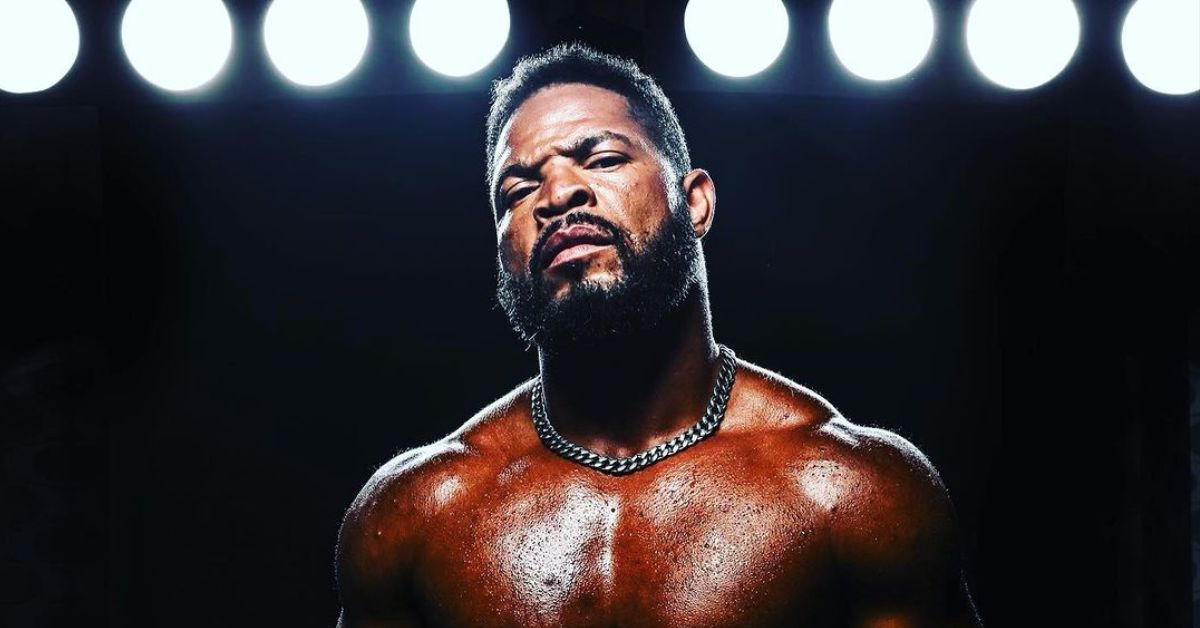 Lorenzo "The Juggernaut" Hunt is currently one of the best bare-knuckle boxers in the world. His violent and aggressive style has helped make him one of the faces of the young sport.
| | |
| --- | --- |
| Birth Name: | Lorenzo Hunt |
| Date of Birth: | 09/09/1982 |
| Place of Birth: | Elyria, Ohio |
| Nickname: | The Juggernaut |
| Weight: | 185 lbs |
| Height: | 6'3″ (191cm) |
| Records: | 11-1(BKB), 3-5(MMA) |
| Championships: | Reigning BKFC Cruiserweight & Light Heavyweight Champion |
Here is a short breakdown of the career of BKB champion Lorenzo Hunt. Detailing how he got into bare-knuckle boxing and became the best fighter in the sport.
How Lorenzo Hunt Started Training
Lorenzo Hunt grew up tough in Florida. From an early age, like many from his neighborhood, Hunt was in the streets fighting.
Surprisingly, Hunt didn't get into combat sports training until his twenties. The first combat sport that Hunt would get involved in was MMA.
Hunt's MMA Career
Lorenzo began his MMA career training in his home state of Florida. He would have a respectable amateur career before turning pro in 2015 at 33.
Even though he was a little late getting into fighting in his 30s, Hunt would show some potential. The Juggernaut would show flashes of his knockout power in MMA but lacked the grappling ability to be successful.
From 2015 to 2018. Lorenzo Hunt would earn a pro MMA record of 3-5. He lost the majority of his matches by submission but earned all of his wins by KO.
This knockout power would later become his trademark within bare-knuckle boxing.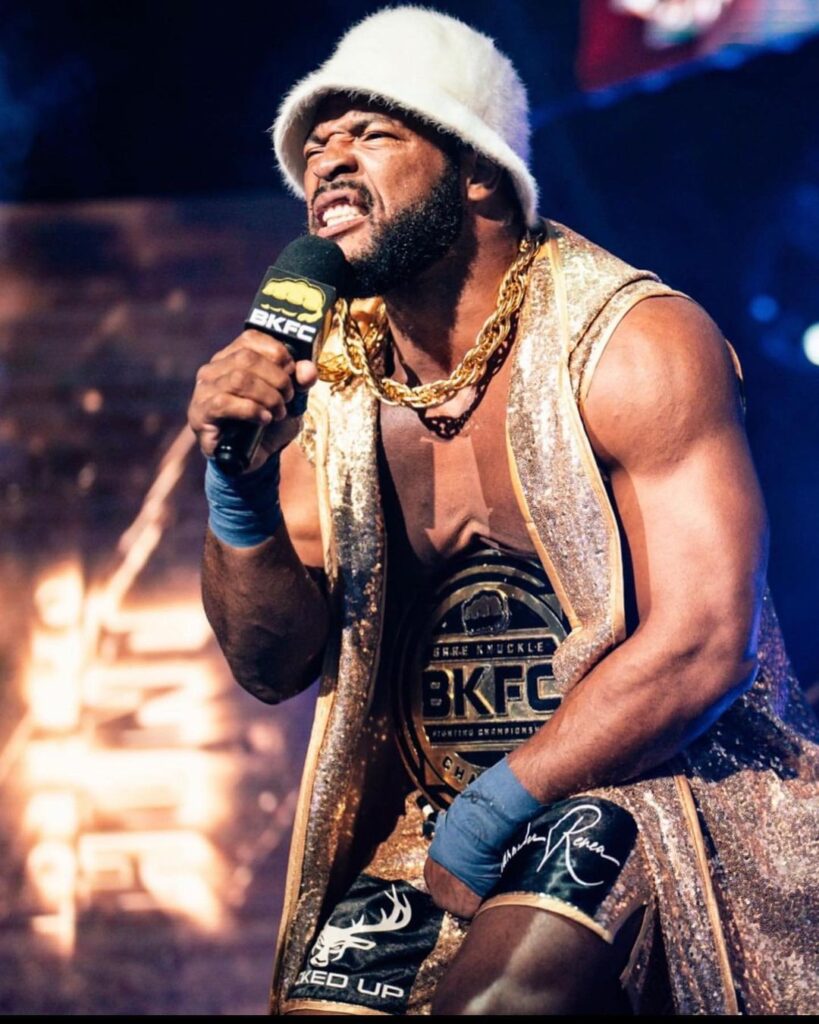 The Juggernaut's Bare Knuckle Boxing Career
Around 2018, the sport of bare-knuckle boxing began gaining momentum. The violent sport sparked an interest in Lorenzo Hunt, who felt his fighting style was perfect for BKB.
Hunt's Early BKB Career
Lorenzo's first BKFC match occurred in 2019 for the BYB promotion against Sabrina Brown. The Juggernaut would earn an impressive KO victory in his debut.
This impressive debut led the largest BKB promotion, BKFC, to bring Hunt into the promotion. Since joining BKFC in 2019, Lorenzo has had 12 fights within the promotion.
His BKFC debut was an impressive doctor stoppage win in the first round. Hunt would suffer a loss in his 2nd BKFC bout, but this loss would transform him into the Juggernaut. After the loss, Hunt would earn four brutal wins by stoppage.
The Hector Lombard Feud
After boosting his BKB record, Hunt looked to make a name for himself and face higher competition. He was present for the bare-knuckle match featuring MMA vets Hector Lombard and Joe Riggs.
During the post-match announcements, Hunt attempted to challenge Lombard to a match. Hector, known as a hothead, went into immediate fight mode and struck Lorenzo Hunt with a two-punch combo.
This scrap set the stage for the two to meet each other at the main event of BKFC 22.
It would be the Juggernaut who got the last laugh as he controlled the fight and earned a decision.
Joe Riggs & The Tomato
After Lombard, Hunt would face MMA vet Joe Riggs at BKFC 24. At the weigh-ins, Hunt would continue his controversial pre-fight antics.
The BKB star shoved a tomato in Riggs's face to cause a scuffle during the face-off. Tensions were high during the fight, and Hunt controlled the fight to earn a 2nd round TKO.
During the post-fight interview, Lorenzo Hunt would call out the best in the sport and demand a title shot.
Quentin Henry vs. Lorenzo Hunt
Hunt's fight with Quentin Henry at BKFC 30 was one of the wildest scenes in the young sport's history. The two came out blasting in the opening seconds of the bout, rocking each other.
As Henry hit the crowd, Hunt hit Henry with an illegal strike, which looked like it knocked him out. Remarkably, Henry was able to recover, and the bout was restarted.
The two would have a back-and-forth battle before Lorenzo Hunt landed a power uppercut to put Henry down in the 3rd round.
Hunt's KO win earned him the BKFC Light Heavyweight Championship.
Mike Richman vs. Lorenzo Hunt
Somehow, Hunt was able to top his title-winning performance against Henry in his next bout at BKFC: Knuckle Mania 3.
Leading up to the fight, his opponent Mike Richman had been calling to fight Hunt nonstop and finally got his wish.
In a rare scene, Richman was able to drop Hunt in the first round with a clean shot. Being a champion, Lorenzo brushed off the knockdown and ended the fight with one punch.
Topping his previous performance and solidifying the Juggernaut's place as the sport's top fighter.
Chris Camozzi vs. Lorenzo Hunt
The Juggernaut's latest fight was the highest-profile match of his career. He faced combat sports veteran Chris Camozzi.
Camozzi has had successful careers in MMA and kickboxing before getting into bare-knuckle boxing. After two KO wins in BKFC, he called out Hunt for one of the biggest fights in the sport's history.
For five rounds, the two-game fighters went back and forth, landing powerful shots. The judges awarded the Juggernaut a split-decision victory to retain his cruiserweight title.
Lorenzo Hunt now holds both the BKFC Cruiserweight and Light Heavyweight Championships. He is now on the hunt for the BKFC heavyweight title.
The Juggernaut's Fighting Style
Hunt is aptly nicknamed the juggernaut for a reason. If you've seen Lorenzo Hunt fight, you know he only goes forward and always looks for the KO.
He holds his guards high and tight like Mike Tyson's peekaboo style. Every time he throws a punch, it's a power shot designed to take out his opponent.
His aggressive style has made him one of the most successful BKB fighters on the planet.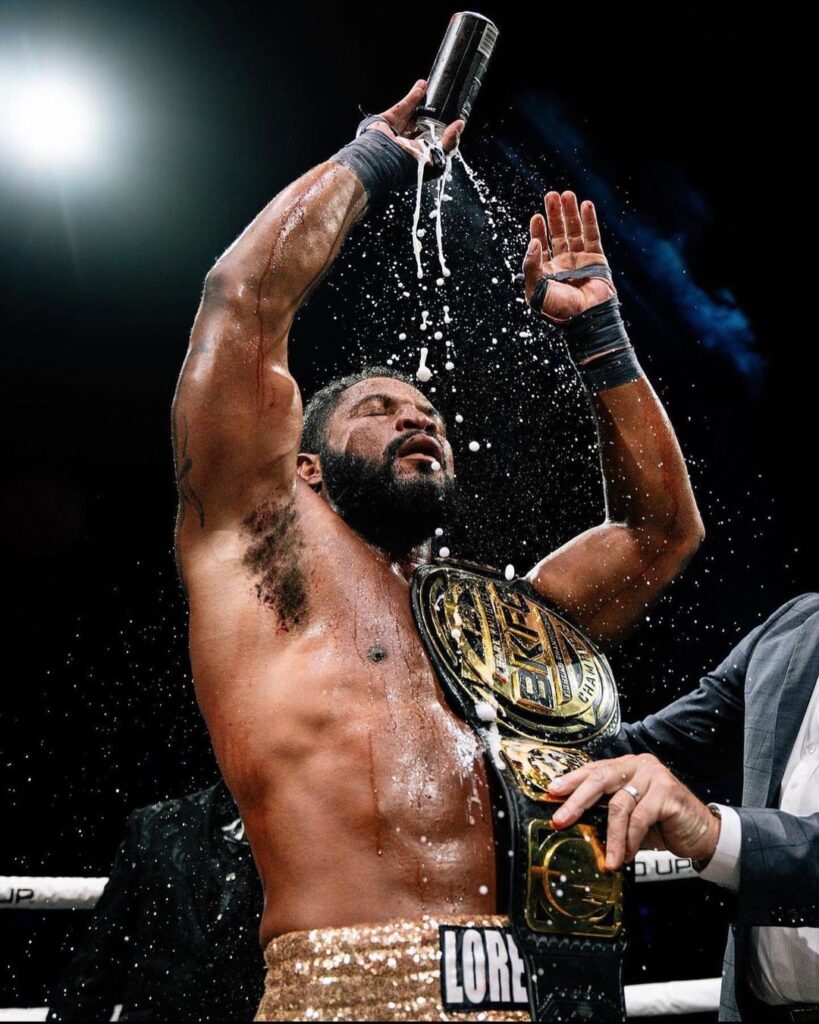 Lorenzo Hunt's BKB Training
Lorenzo Hunt originally trained with Riot MMA during his MMA career. As he transitioned to BKB, Lorenzo began training in Puerto Rico with friend and fighter Elvis Brito.
On Instagram, the Juggernaut constantly posts vids of the two training hard and preparing for their next fights.
Hunt's Instructional Videos
Thanks to his success in the ring, Lorenzo accepted a contract to produce instructional videos for Dynamic Striking. The website has currently released one of the very first BKB instructional videos featuring Hunt.
What's Next For Lorenzo Hunt?
The Juggernaut Lorenzo Hunt is one of the most successful BKB fighters in the world. He's currently a two-division champ who holds both the cruiserweight and light heavyweight titles.
But even after all of his success, Lorenzo is not satisfied. His goal is to one day challenge for the BKB Heavyweight Championship and become the first-ever 3-division champ. Hunt is an incredible bare-knuckle boxer and has made his mark as one of the sport's GOATs.