When stepping into the Octagon, size can be a key advantage to emerging victorious when it's all said and done and the horn blows for the final time.
Throughout the years we have had the opportunity to see some of the most gifted athletes and amazing physical specimens take center Octagon, but only a handful have truly left us in awe with their various ridiculous sizes and here we will look at the largest fighters in MMA. 
From big belly'd brawlers, to sky scraping smashers, all the way to the massive behemoths we've seen throw down inside of an MMA cage, we've compiled a list of some of the largest fighters in MMA who ever put on a pair of 4 oz. gloves and throw down.
So without further ado, let's take a look at the top ten largest fighters in MMA history…..
Largest Fighters In MMA
10. Antonio 'Bigfoot' Silva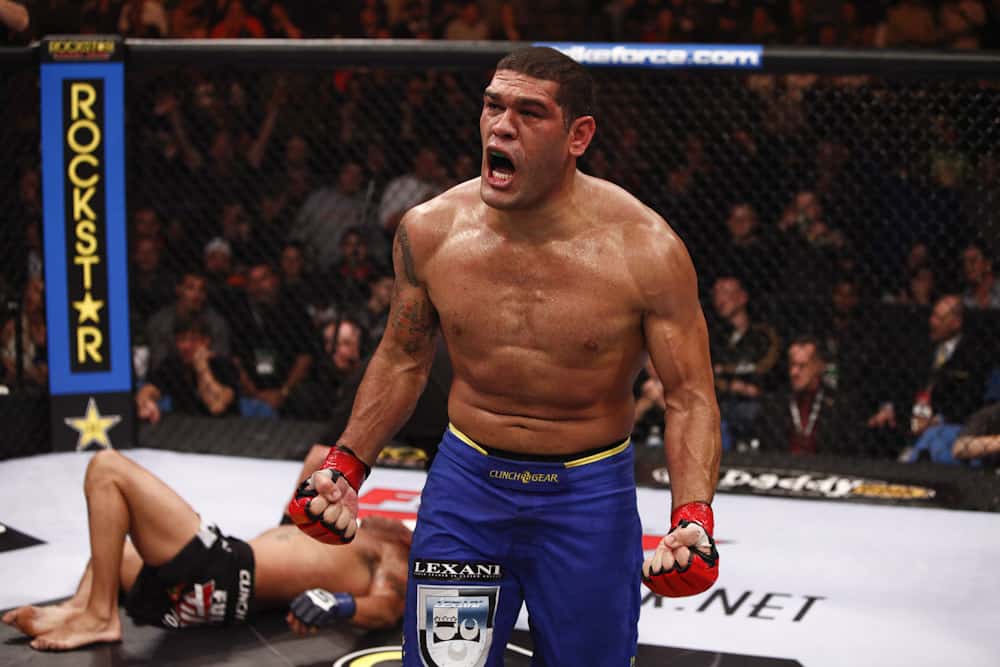 We kick off our list with the six-foot-four 265-pound former Brazilian UFC heavyweight title challenger, Antonio 'Bigfoot' Silva.
Silva (19-9-1) has been in 29 career mixed martial arts (MMA) bouts and owns fourteen knockouts on his record. Aside from his large size Silva also poses a threat to every man he steps into the cage with, as he holds a black belt in Shotokan Karate, Judo, and Brazilian jiu-jitsu.
The American Top Team and Team Nogueira product sports an 80-inch reach which gives him a sheer advantage against most that he steps into the UFC Octagon against.
Despite all of his physical attributes, Silva has not done too well in the UFC since joining the promotion in 2012. Through ten UFC Octagon appearances Silva has only managed to win three, while being finished in the other seven with an exception of his majority draw against Mark Hunt in 2013.
Today Silva is still going strong, despite being on a two-fight losing skid, and is set to take on Roy Nelson this Saturday (September 24, 2016).
9. Brock Lesnar

You know we have some freaks on a list of the largest MMA fighters when Brock Lesnar comes in at No. 9.
The six-foot-three, 265-pound behemoth is the most gifted physical specimens we have ever seen inside of the Octagon.
Lesnar (6-3) is a former UFC heavyweight champion who converted to the sport of MMA after dominating the professional wrestling world with the World Wrestling Entertainment (WWE).
"The Beast' holds Octagon wins over the likes of Randy Couture, Shane Carwin, and Frank Mir in addition to having shared the cage with heavyweight greats like Alistair Overeem and Cain Velasquez.
While Lesnar took a rather lengthy hiatus from the Octagon following his first round 2011 loss to Overeem at UFC 141, the NCAA Division I wrestler made his highly-anticipated return to the UFC when he took on Mark Hunt at UFC 200 in the card's co-main event.
Lesnar may have taken home the decision win, but it didn't come without controversy. Soon after the event it was announced that the United States Anti-Doping Agency (USADA) flagged Lesnar for a potential anti-doping violation.
'The Beast's' MMA career is still up in the air.
8. Mariusz Pudzianowski

Weighing in at a hefty 320-pounds and standing at six-foot-one inches tall, Polish 'Dominator' Mariusz Pudzianowski is one of the most massive super heavyweights we have seen in MMA.
Pudzianowski is a former strongman competitor who, interestingly enough, served 19 months in a Polish prison for assaulting a a local mafia boss.
In addition to taking home first place in 42 of his 59 career strongman competitions, 'Dominator' holds an MMA record of (9-5(1)) with his most recent cage appearance saw him suffering a second round submission loss this past May.
Although he has suffered losses to the likes of former UFC heavyweight champ Tim Sylvia, Pudzianowski does hold wins over two of his fellow list members Bob Sapp and Eric Esch, who we'll get to in a bit.
The 39-year-old powerhouse has no plans on retiring from MMA competition right now, as it appears he is still going strong since making his debut in 2009.
7. Alexandru Lungu

One of our rather talented super heavyweights and largest fighters in MMA on this list, is highly decorated judoka Alexandru Lungu.
Lungu has won various judo tournaments in Europe, competing in the sport for 14 years, including taking home titles from competitions such as the Romanian Cup in 2004 as well as the International Tournament Monaco in 2005.
After his judoka career Lungu decided to try his hand at professional kickboxing, and was rather successful as he managed to rack up a record of 5-1. His only loss came via disqualification after he striking a downed opponent.
Lungu decided to venture into MMA in 2005 when he took on James Thompson in PRIDE 30, and suffered a first round knockout loss. Over the next ten years, however, 'Sandu Lungu' would rack up a record of 12-4.
Coming off of a second-round knockout loss this past December, however, the 42-year-old now needs to sit back and contemplate walking away from combat sports.
6. Choi Hong Man

Standing at an astonishing seven-foot-two-inches tall and weighing in at 330 pounds, Choi Hong Man is one of the most amazing sights we've ever seen compete and one of the largest fighters in MMA.
Man started out his combat sports career in kickboxing, where he made a thunderous debut with a first round knockout in just two minutes with his meaty left hook.
The South Korean would then simultaneously compete in both kickboxing and MMA, when he made his debut in K1 with a thirty-second finish of Bobby Ologun.
Man also competed against the great Fedor Emelianenko in his second ever MMA bout, but succumbed to the Russian's superior ground game with a first round submission.
Currently Man's MMA record sits at a dead even 4-4, and he recently competed inside the cage at ROAD FC this past April with a first round finish of Aorigele.
If the UFC decided to implicate a super heavyweight division, would you pay good money to see Man compete under the promotion's banner?
5. Bob Sapp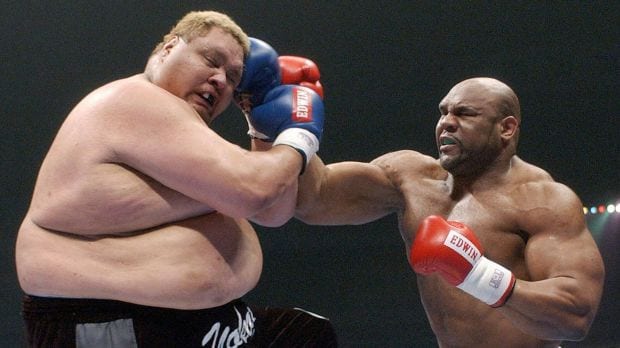 This next man is currently on a 13-fight losing skid, and they've all come by way of finish. Bob Sapp has yet to win a professional MMA bout since March of 2010, but is still going strong in competition today despite his recent troubles.
Sapp is a monster of a man with a height of six-foot-five and weighing an astonishing 329 pounds. 'The Beast' started his combat career right off the bat by juggling both kickboxing and MMA competition.
Despite his size, Sapp has never been a dominating presence in either sport, as both his kickboxing and MMA records are losing ones.
Sapp's kickboxing record sits at (12-17), while his MMA record sits at (11-19-1). Sapp is currently 42 years old and is surely nearing the end of his combat career after earning his 13th consecutive MMA loss.
4. Giant Silva

Another skyscraper coming your way.
Giant Silva (real name Paulo César da Silva) is a retired mixed martial artist who's career was short-lived.
Silva's athletic career originated in basketball when he was competing for Brazil's national basketball team. He even competed as a reserve in the 1988 Summer Olympic team.
He would then make the transition to MMA and professional wrestling in 1998 when he signed with the World Wrestling Federation (WWF).
Silva stepped into the cage for the first time in 2003 against Heath Herring in Pride. He would unfortunately be unsuccessful after suffering a submission loss via rear-naked choke in the third round.
The big man never seemed to find himself successful inside the cage as he ended his career with a record of (2-6). He was able to retire with a first round submission win over Akebono Taro in K-1 back in December of 2006.
3. Stefan Struve

One of the most talented fighters to ever come out of Holland, Stefan Struve is a man to certainly keep your eye on going down the line in the UFC's heavyweight division.
The seven-foot 28-year-old has been competing in the UFC seven years now, and has shared the Octagon with some of the best the world has to offer in the heavyweight division.
Struve holds a black belt in kickboxing that is complemented by his brown belt in Brazilian jiu jitsu, and is tied with former 205-pound kingpin Jon Jones for the longest reach in the UFC at 84.5 inches.
While the Blackzillians product holds an MMA record of 27-8, he has had his fair share of troubles inside of the Octagon as he has fallen to Roy Nelson, Travis Browne, Alistair Overeem, Mark Hunt, and Junior dos Santos, but he does own a finish win over current UFC heavyweight champ Stipe Miocic.
Aside from his accommodating accolades, Struve is an interesting talent all UFC fans should keep their eyes on going down the road, as his size alone makes him a danger for any man he is locked inside the cage with.
2. Butterbean

This man is one of my personal favorite super heavyweights of all time and of course of the largest fighters in MMA.
Eric 'Butterbean' Esch may only stand at five-foot-eleven inches tall, but he makes up for it in his jaw-dropping number on the scale that reads 425 pounds.
'Butterbean' started off his combat sports career when he took up professional boxing, starting off (15-0) with a slew of knockouts to his name.
Esch would then decide to take it a step further when he made a successful professional kickboxing debut against Yusuke Fujimoto at K-1 in 2013.
Just months later 'Butterbean' would make his MMA debut in K-1 against Genki Sudo, but would sadly suffer a second round heel-hook submission defeat.
For the next ten years Esch would simultaneously compete in professional boxing and MMA contests before walking away from the cage after a first round loss to Sandy Bowman in Prestige Fighting in 2011. His record at the end of his MMA career sat at an admirable (17-10-1).
'Butterbean' would continue to compete in boxing for the next two years and finally decided to end his combat sports career in June of 2013 after suffering a second round TKO loss to Kirk Lawton in England. His boxing record officially stands at (77-10-4).
1. Emmanuel Yarborough

Here you go ladies and germs, the No. 1-ranked largest fighter in MMA to ever compete inside of an MMA cage, Emmanuel Yarborough.
As you can see in the picture above, Yarborough didn't miss many meals as the former NCAA Division I wrestler stood at six-foot-eight inches and weighted in at mountainous 600 pounds.
Yarborough may have only had three professional bouts in his entire MMA career, but they were each spectacles to watch. 'Manny' made his MMA debut against Keith Hackney at UFC 3 in 1994, but suffered an overwhelming TKO loss in the first round of the fight.
His next bout would take place at a Shooto event in Japan four years later, where the Judo brown belt earned his first and only professional win over Tatsuo Nakano in the only fight I have ever seen end via 'smother'.
Yarborough's last MMA fight took place under the Pride 3 Banner against Daiju Takase where the big man lost via submission in the second round.
Following his MMA career Yarborough embarked in a career in acting as he appeared on various films and talkshows in Bollywood, as well as being involved in a commercial for Motorola.
At the age of 14 Yarborough weighed 320 pounds due to his love for eating a plethora of fried foods, leading to him eventually having to be hospitalized in 2007 for heart failure.
Unfortunately Yarborough's unhealthy life style caught up with him last year, and he passed away of a heart attack at the age of 51. His manager revealed that 'Manny' had been battling food addiction for all of his life, saying "he always said, 'I am a prisoner in my own body.'"