WWE legend Kurt Angle was offered $500,000 by the UFC to compete on TUF 10 with Kimbo Slice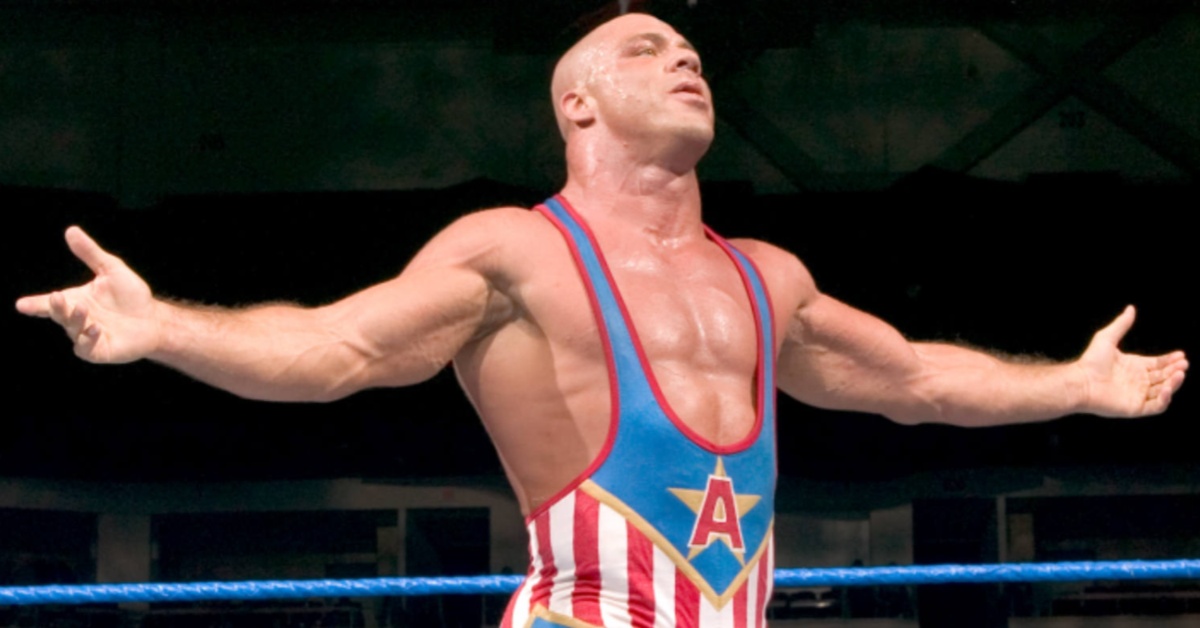 Before carving out a career as a WWE Hall of Famer, pro wrestling legend Kurt Angle was one of the most successful amateur wrestlers in the history of the sport.
As a two-time NCAA Division I national champion, Kurt Angle was well on his way to becoming an Olympian. Not only did he accomplish that goal, but he also left the 1996 Games in Atlanta with a gold medal. It was a feat he had dreamed of accomplishing since childhood. However, the question of what comes next for an Olympic-level athlete is rarely an easy one. But Kurt Angle managed to find his second calling in life, moving from the never-ending grind of amateur wrestling to the fantastical world of professional wrestling.
Making his WWE (then WWF) debut at the 1999 Survivor Series against Shawn Stasiak, Angle immediately made his presence known, showing off his impeccable technical wrestling skills and a penchant for drawing heat from the crowd thanks to his incredible mic work.
Over the next several years, Kurt Angle would establish himself as one of the greatest sports entertainers of all time, capturing a plethora of titles and engaging in some legendary matches with the likes of 'Stone Cold' Steven Austin, The Rock, Shawn Michaels, The Undertaker, Hulk Hogan, Edge, Rey Mysterio, and Shane McMahon.
But had the UFC come correct with an offer for his services, it's possible we may have never seen Kurt Angle inside the squared circle. During a recent interview with ESPN, the Olympic gold medalist revealed that the Las Vegas-based fight company came to him right after the Olympics with a massive 10-fight offer.
"I got offered three different times," Angle said.
"First time was right after the Olympics in 1996," Angle said. "Dana White wasn't involved with the UFC back then. They came to me and they gave me their best contract, and it wasn't a very good contract. It was ten fights for $150,000. That's $15,000 per fight. And that was the highest they were giving to the fighters for the fights."
"I was like, 'You know what, that doesn't sound right. I love fighting, but I don't love it that much to get my butt kicked for 15 grand.' So I decided to go to the WWE" (h/t BloodyElbow).
Kurt Angle went on to become a massive star for the promotion, capturing the WWE Championship less than a year into his debut, something that was practically unheard of at the time.
After suffering a string of injuries and falling into a dangerous cycle of self-medication, Angle walked away from the promotion in 2006. It was then that he had reached out to the UFC about potentially trading in his wrestling boots for a pair of four-ounce gloves.
"In 2006, when I left the WWE, my manager contacted Dana White. I was curious whether I could fight," he said. "Dana flew me out and put me up in a really nice penthouse suite. He offered me a deal and I considered it, and I ended up turning it down.
"The reason I turned it down in 2006 was because I just signed a contract with TNA, and Dana White would not let me wrestle and fight at the same time. And I didn't want to go back to TNA and say 'Listen, that contract I just signed is null and void.' So I didn't want to do that and I wanted to respect their wishes."
Kurt Angle Was Offered a Spot on Season 10 of The Ultimate Fighter
A few years later, Kurt Angle once again reached out to the UFC when his time with TNA was over.
"Dana White told me 'When you're done with wrestling, come back to me,' and I did," he said. "When I thought I was going to be done with wrestling, I went back to Dana, and Dana came back with an idea to be in (The Ultimate Fighter) with Kimbo Slice."
"I considered it," Angle said. "And I said, 'Well, Dana, you don't pay those guys to be on TV.' And he said, 'I know, but I'll give you a half-million to be on the show. And then I'll give you this contract a six-fight deal regardless whether you win it, The Ultimate Fighter, or not. You'll have a contract when it's over.'
"I thought about it. At that point in my life I was 41 years old," Angle said. "I broke my neck five times. I sat back and I realized — I started training for it a little bit, and I realized, 'I'm past my prime, I can't do this.' So, I had to turn it down."
Kurt Angle still admittedly wonders how he would have fared had he taken the alternate route and signed with the UFC, but he has no regrets regarding his iconic career as one of pro wrestling's greatest performers.
"Every once in a while it gets to me," Angle admits. "When I watch these fights, I'm like 'gosh man, I think I would've done pretty well in this.' Seeing Brock Lesnar and my friend become UFC champion, seeing Randy Couture, who I trained with for the Olympics being UFC champion.
"It makes you question 'did you do the right thing?' but I look back and I say 'you know what? I had a pretty stellar career in pro wrestling, so I can't regret that."