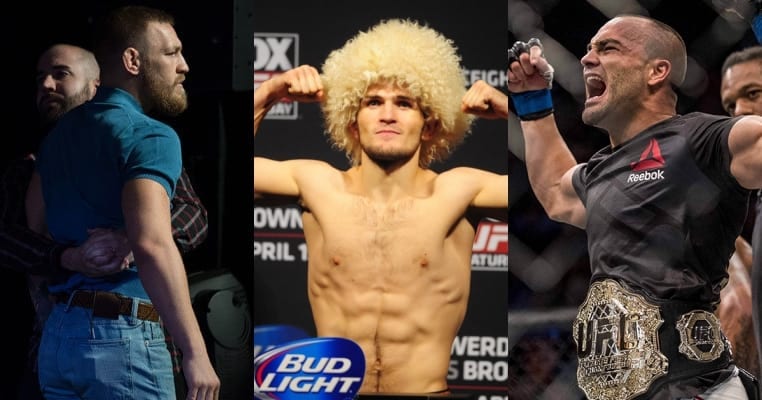 The scene surrounding UFC 205 has been bizarre to say the least. Fans were teased with rumours of a massive title fight between Eddie Alvarez and Conor McGregor, but that tale took a twist this week. After widespread reports that Alvazrez vs. McGregor was a done deal, Khabib Nurmagomedov's name cropped up in the mix. According to UFC president Dana White and 'The Eagle,' they were simply waiting on Alvarez to sign the bout agreement. Following this apparent shuffle at UFC 205 came reports that McGregor was still rehabbing his foot injury from UFC 202.
Then we learned 'The Notorious' was fine, and still wanting to compete on the first New York card in MMA history. After so many conflicting stories and 'leaked' announcements, it's fair to assume someone is leading a bit of a wild goose chase. In all seriousness though, the UFC 205 card is lacking in New York natives. Al Iaquinta removed himself from the card recently after being banned from earning bonuses for three fights. His controversial story links to reports that Chris Weidman is refusing to fight at MSG too. What about the big three at lightweight then?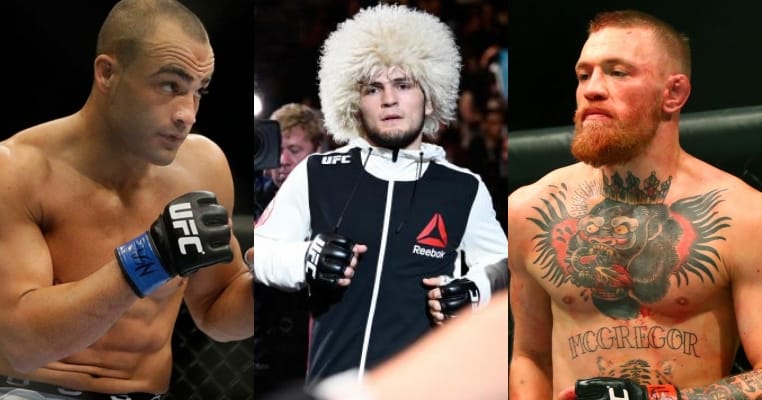 Khabib Calls BS
As the UFC seems to be swinging between money fights and rankings, both Alvarez and McGregor seem set on the latter. Stuck in the middle is the number one ranked Khabib Nurmagomedov, who told ESPN via MMAFighting that he isn't happy. According to the undefeated 155-pounder, handing 'The Notorious' a title shot at lightweight is 'Number 1 bullshit.'
"Conor's stuck two divisions, featherweight and lightweight. Now Conor makes the decisions…
"I want to fight at 205 in New York, maybe fight with Eddie Alvarez. I love this fight. I want to fight for the belt. All fans, coaches, fighters, analytics, everybody agrees and knows who deserves this title shot. I deserve it. I am No. 1 ranked. Why UFC put me on No. 1 ranking if they don't want to give me title shot? Why do they make rankings?
"Conor McGregor fights in the UFC in a lighter division and the UFC wants to give him title shot? I think this is No. 1 bullshit. They cannot give him a title shot because he's never fought with the top guys, like top five, top 10 in the lightweight division, and they want to give him title shot? "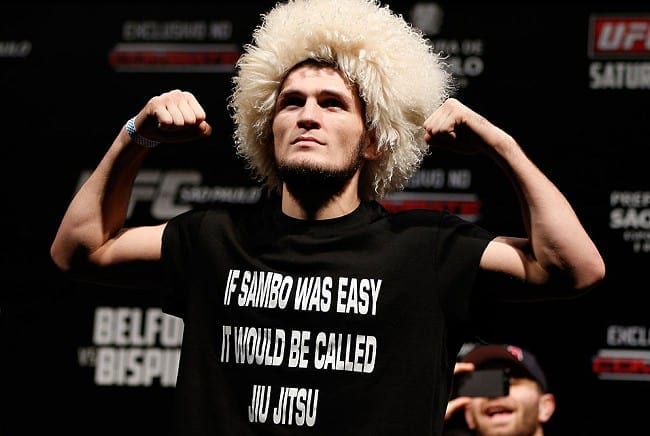 'Not High Level'
After a lengthy period of absence due to injury, 'The Eagle' returned to defeat Darrell Horcher by TKO. Although he was out for nearly two years to the day, Nurmagomedov managed to maintain his top ranked spot. In regards to Conor McGregor and Nate Diaz, Khabib says neither are a high level fight for the top five in the lightweight rankings:
"I think at 170 pounds a lot of people can kill both [McGregor and Diaz]. This is my opinion. If we look at the lightweight division, I think a lot of guys can beat these guys. Edson Barboza, Tony Ferguson, Dos Anjos, Michael Johnson, a lot of guys can beat those guys. I think this is big money fight, and that's it. I don't think this it's a high level fight.
"For me it's very interesting, how will Conor look when he comes to lightweight division? For me, I think his weight is 155 , but if he wants to fight for the title he needs to take somebody like a top five fighter. If he beats him, he deserves title shot, I agree. But now if the UFC gives him a title shot, I don't agree because I am the next in the line."