"No Nonsense" Keith Peterson is one of the most recognizable MMA referees in the sport. He is known for his serious demeanor and reputation for being one of the best MMA referees in the sport
| | |
| --- | --- |
| Name: | Keith Peterson |
| Nickname: | No Nonsense |
| Age: | N/A |
| Background: | MMA & Muay Thai |
| Years Active: | 2009/2010 to Present |
| Fights Officiated: | 617 Fights(192 Knockouts, 126 Submissions, 286 Decisions, 4 Draws, 6 No Contests, 3 Disqualifications) |
Here's a bio of UFC referee Keith Peterson detailing his journey to becoming a combat sports official. We'll also detail some most memorable moments and how fans and fighters feel about Peterson's work.
Keith Peterson's Early Life
Keith Peterson is a New Jersey native who grew up being an athlete. As a teen, Peterson competed in wrestling and earned various honors for being a successful high school wrestler.
His wrestling career would continue for a few years through college before Keith transitioned to MMA and Jiu Jitsu. Peterson would use his wrestling background to excel at grappling.
He found a passion for MMA training and started entering grappling tournaments. Keith would train hard and win a NAGA Belt from the New Jersey State Championship.
Peterson also became passionate about the Muay Thai training that he received. This passion for Muay Thai would lead Keith to begin entering amateur Muay Thai tournaments.
No Nonsense would frequently compete in almost every combat sport, including MMA. He would begin fighting as an amateur MMA fighter during the 2000s. Keith would retire from MMA after compiling an amateur record of 8-7.
How Keith Peterson Became an MMA Referee
After retiring as a fighter in 2008, Peterson still wished to work within the sport he loved. This would lead him to become an MMA referee.
Peterson was lucky enough to be in New Jersey, which had some of the better programs to become an MMA ref. After getting his license, Peterson would begin working as an MMA referee.
He would start small in local NJ pro/am organizations. Over time, Peterson developed a good reputation, leading him to work on bigger events and fights.
This would also lead him to become a licensed MMA referee in other states, which got him more work. His work would lead him to work UFC events in the early 2010s.
From then on, Peterson became a fixture, reffing nearly every UFC and Bellator event.
Keith would earn the nickname "No Nonsense" Keith Peterson, which commentator Jon Anik loves to say. He's mostly known for his all-business demeanor during a fight. No Nonsense takes his job seriously and is known for being a respectable MMA official.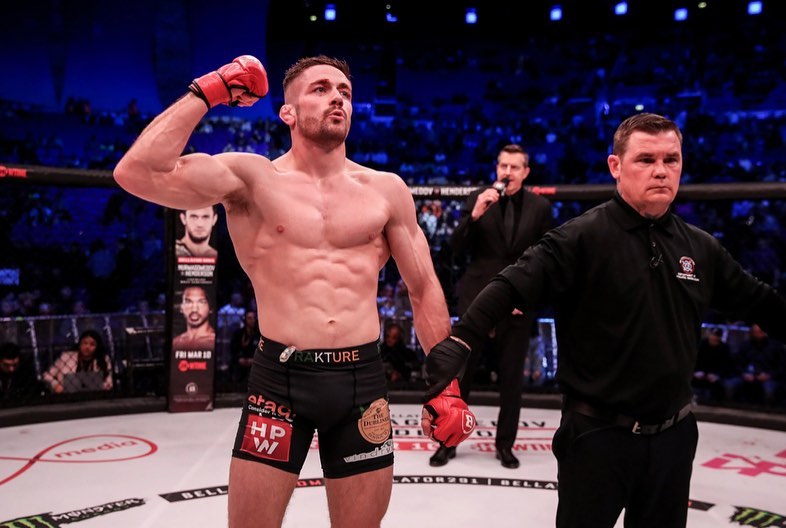 The Keith Peterson vs. Dominick Cruz Saga
For years, Peterson would fly under the radar from the MMA press since he did a good job. That was until he reffed the UFC Bantamweight Championship bout between Dominick Cruz and Henry Cejudo at UFC 249.
This fight would result in a TKO win for Cejudo as Peterson stepped in to save Cruz. Dominick would begin protesting that he was not out and was defending.
Being outspoken, Cruz would begin to criticize Peterson's decision to stop the fight highly. Even questioning his professionalism by claiming he smelled like "cigarettes and alcohol."
Peterson wouldn't make a public statement, but he did post a picture of a dazed Cruz on Instagram. I included the quote. "Me after a night of smoking and drinking."
Many thought the clap back was funny, except Cruz, who would go on an ongoing smear campaign against Peterson.
Since Domick is also part of the UFC commentating team, he'll always take jabs at Peterson during events.
Notable Fights That Keith Peterson Has Worked
In his career, Peterson has worked over 671 MMA events. Those numbers include 286 decisions, 192 Knockouts, 126 Submissions, 4 Draws, 6 No Contests, and 3 Disqualifications. Many of these fights include many big UFC and Bellator events.
Some of the biggest events that Keith Peterson has reffed include:
The Latest Controversy with Keith Peterson
Keith had stayed away from any controversy for a while until UFC Vegas 75. He was working a preliminary bout between Dan Arguenta and Ronnie Lawrence.
In the fight, Dan Arguenta would lock on a guillotine choke on Ronnie Lawrence. The submission wasn't fully locked on.
Lawrence would begin adjusting himself to defend, but Peterson would step in and stop the fight. He mistook Lawrence's hand movement for a tap and stopped the fight.
Once Lawrence popped up, Peterson knew that he made a mistake. Since a fight cannot be restarted after a finish, the only thing Keith could do right was change the decision.
The fight was declared a draw, and online criticism began pouring in. Obviously, the one leading the charge in the criticism was Dominick Cruz, followed by other fighters and experts.
This was a bad call and a blotch of Keith Peterson's record as a referee, which is mostly good.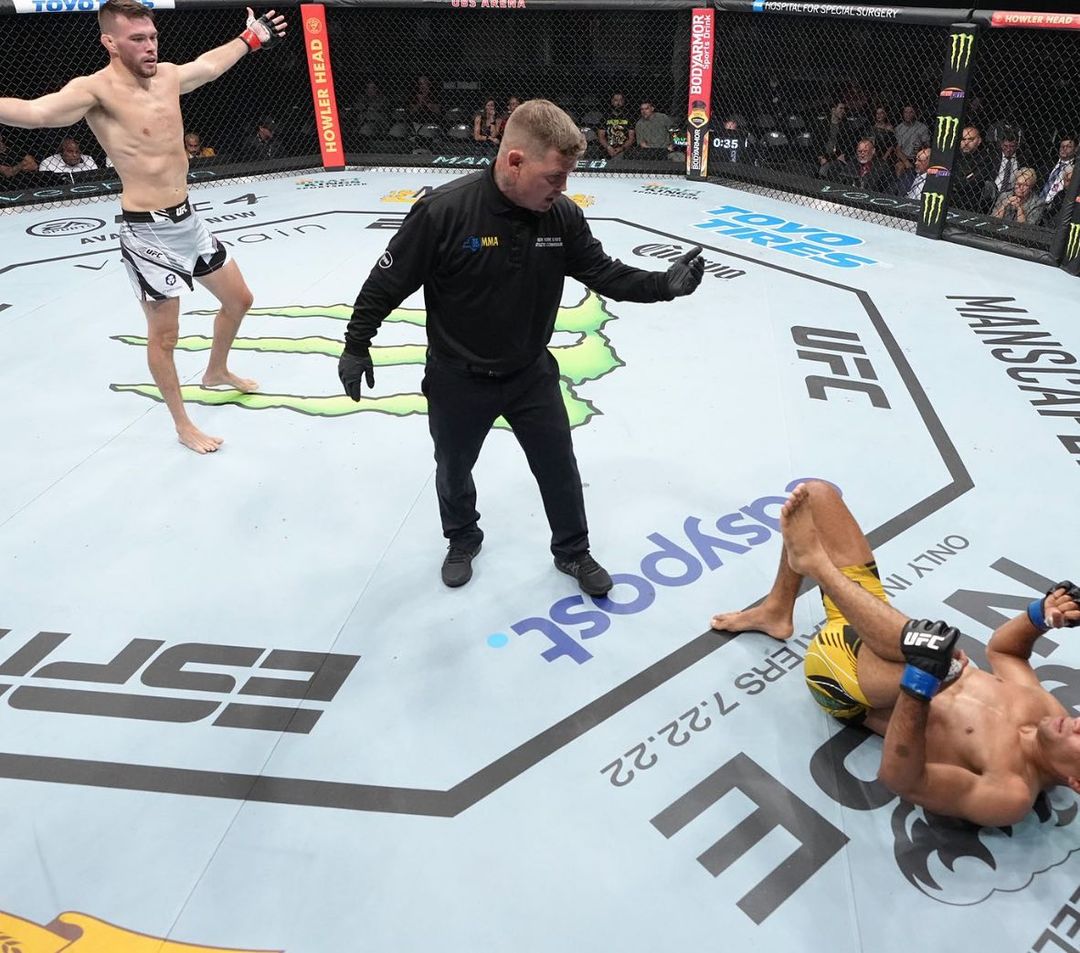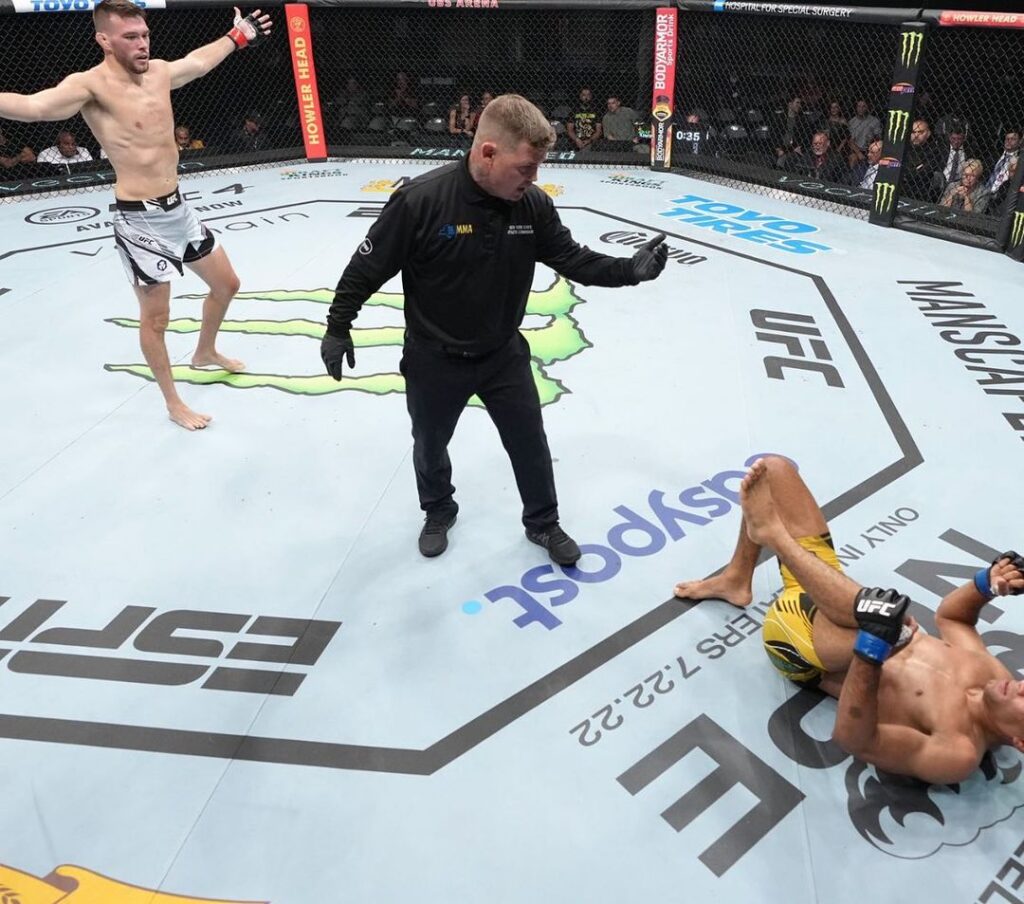 Is Keith Peterson a Good MMA Referee?
Despite the Cruz stoppage and recent misjudgment at UFC Vegas 75, Keith Peterson has been a good referee. Apart from these two calls, Peterson has rarely been criticized for his work as an MMA ref.
His long and tenured career as a ref has been predominantly met with praise. Peterson's peers have also acknowledged the good work that he's done as a ref and former athlete.
This hard work and dedication led to Keith Peterson being inducted into the New Jersey Martial Arts Hall of Fame. In a sport where there's only a small percentage of good referees, No Nonsense is one of the better ones.