Justin Gaethje opens as massive betting favorite to defeat Conor McGregor in potential BMF title fight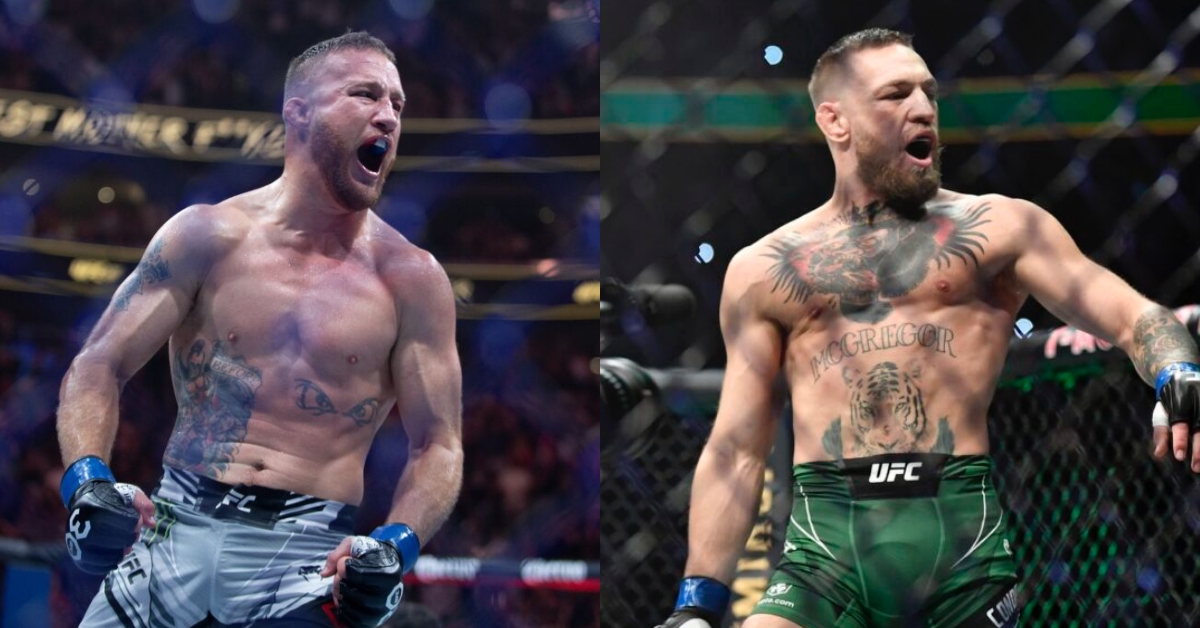 Newly-minted symbolic BMF championship holder, Justin Gaethje has been the subject of attention from former two-weight UFC titleholder, Conor McGregor since his title win back in July, however, the Arizona native has opened as a stunning, and quite large betting favorite to win the former duel-weight champion in a potential future bout.
Gaethje, the current number two ranked lightweight contender and newly-minted symbolic BMF titleholder, most recently headlined UFC 291 at the end of July in Salt Lake City, Utah, landing the aforenoted promotional title with a stunning second round win over common-foe, Dustin Poirier.
Avenging a prior 2018 loss to the Lafayette native, Gaethje managed to spring with a spectacular second round high-kick, sending Poirier to the canvas in brutal fashion for a jaw-dropping KO victory for Justin Gaethje.
As for McGregor, the 35 year old has been sidelined himself since he headlined a July 2021 card against Poirier in the pair's trilogy rubber match at UFC 264.
Yet to return to active competition since that T-Mobile Arena showdown, McGregor fractured his left tibia and fibula in the opening round of his clash with Louisiana native, seeing the bout come to a close due to a first round doctor's stoppage TKO. 
Justin Gaethje opens as a massive betting favorite over Conor McGregor
Switching attention to a fight with Gaethje following the Arizona native's BMF title victory against Poirier at the end of last month, McGregor has clamoured for a pairing, however, has opened as a massive +250 betting underdog for the pairing, with Gaethje himself sat as a -325 betting favorite for the potential future pairing.
A host of UFC best bets websites are already taking action on a hypothetical pairing between Gaethje and McGregor before the end of this year, with the two recently also exchanging some verbals on social media in relation to a potential matchup in the future.
In the immediate aftermath of his victory over Poirier, Gaethje claimed that he would have no interest in ever facing McGregor in the future, alluding to long-rumored performanc enhancing drug use from the Crumlin striker during his absence from combat sports.
"I'm not going to fight someone on steroids," Justin Gaethje said of a fight with Conor McGregor during his post-fight press conference at UFC 291. "I've never taken steroids in my life, never will – well, maybe when I retire, I might, but I've never taken steroids, and I don't want to fight someone that's cheating. And I probably shouldn't even say that I want the fight, but it's the truth."
However, in the weeks following that initial claim, Gaethje, a staple of Dominance MMA headed up by Ali Abdelaziz, claimed on his official X account that he had penned a contract to fight the Dubliner – urging him to the do the same.
Off the back of their most-recent exchange, McGregor, a former undisputed lightweight and featherweight champion predicted a slew of dominant victories over Gaethje, planning a rather violent first round finish over the veteran lightweight mainstay.
"I KO him (Justin Gaethje) [with] one shot," Conor McGregor posted. "Guarantee it."
Do you want to see Justin Gaethje fight Conor McGregor?