Julianna Pena criticized for mocking Amanda Nunes' retirement at UFC 289: 'It was cringey'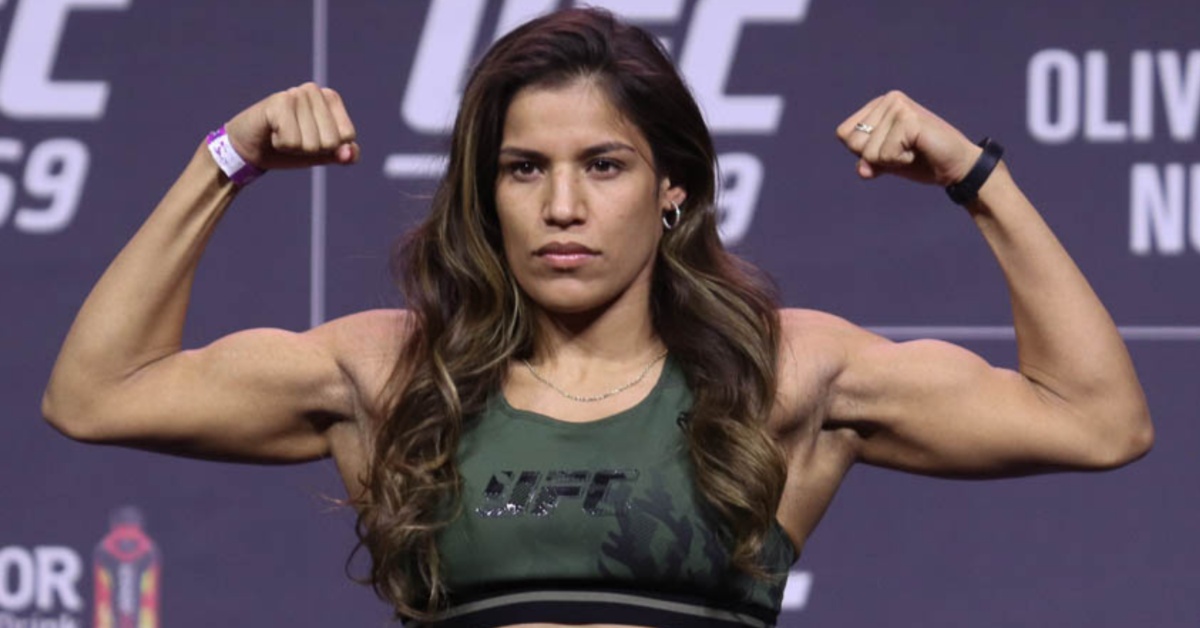 Maycee Barber was not a fan of the way Julianna Pena conducted herself during Amanda Nunes' retirement speech at UFC 289 earlier this month.
Nunes and Pena were originally scheduled to scrap in a mildly anticipated trilogy bout in the Great White North before 'The Venezuelan Vixen' was forced to withdraw due to an injury. Determined to keep her spot on the card, Amanda Nunes sought another opponent and found one in top-five ranked contender Irene Aldana. Unfortunately, Aldana forgot to bring her fighting spirit to Canada and suffered a lopsided unanimous decision defeat at the hands of 'The Lioness' inside Rogers Centre.
With her hand raised once again, Amanda Nunes appeared to be primed for a trilogy bout with Julianna Pena. Instead, 'The Lioness' announced her retirement from the sport, guaranteeing that Pena would never get the fight she's been lobbying for since handing the bantamweight title back to Nunes nearly a year ago. Upset by the news, Julianna Pena was spotted screaming and booing throughout Nunes' retirement speech and even considered storming the Octagon before cooler heads prevailed.
Maycee Barber, who returns to the Octagon on Saturday night in an effort to continue her meteoric rise to the top of the flyweight division, shared her candid thoughts on Pena's conduct during Nunes' emotional retirement speech.
"The only thing I didn't like was how much Julianna was talking crap," Barber told reporters on Wednesday at the UFC Jacksonville media event. "That was the only thing that was like, that's just cringey. But, that was probably the only thing that I thought about the retirement that I didn't like, and I wish Amanda all the success in the world."
Maycee Barber Suggests Things Would Not Have Ended Well for Julianna Pena in Third Fight with Amanda Nunes
With Amanda Nunes now out of the picture, Julianna Pena will likely find herself as one of the two women vying for the newly-vacated bantamweight title later this year. A situation Barber believes 'The Venezuelan Vixen' should be grateful for, implying that things would not have gone well for Pena had the trilogy gone down as originally planned.
"I think that was very stupid," Barber said. "You never know what's going on in someone's life. And if she wanted to call it done, she called it done. Who's to say you can't retire? If Amanda hadn't retired and she fought Julianna, I think that Julianna got out very easy on that, having the shot at keeping the belt" (h/t MMA Junkie).
Julianna Pena shocked the world with a second-round submission over Amanda Nunes in December 2021, but many fans were quick to discredit Pena's win, believing Nunes simply neglected to take her opponent seriously. Those opinions were somewhat vindicated seven months later when Nunes handily defeated Pena in their UFC 277 rematch to reclaim the 135-pound crown.
We'll never find out just how the trilogy fight would have gone down, but considering the lack of interest in their third meeting from the get-go, we suspect MMA fans are perfectly fine with that.