Erin Blanchfield calls for clash with Julianna Pena for vacant UFC bantamweight title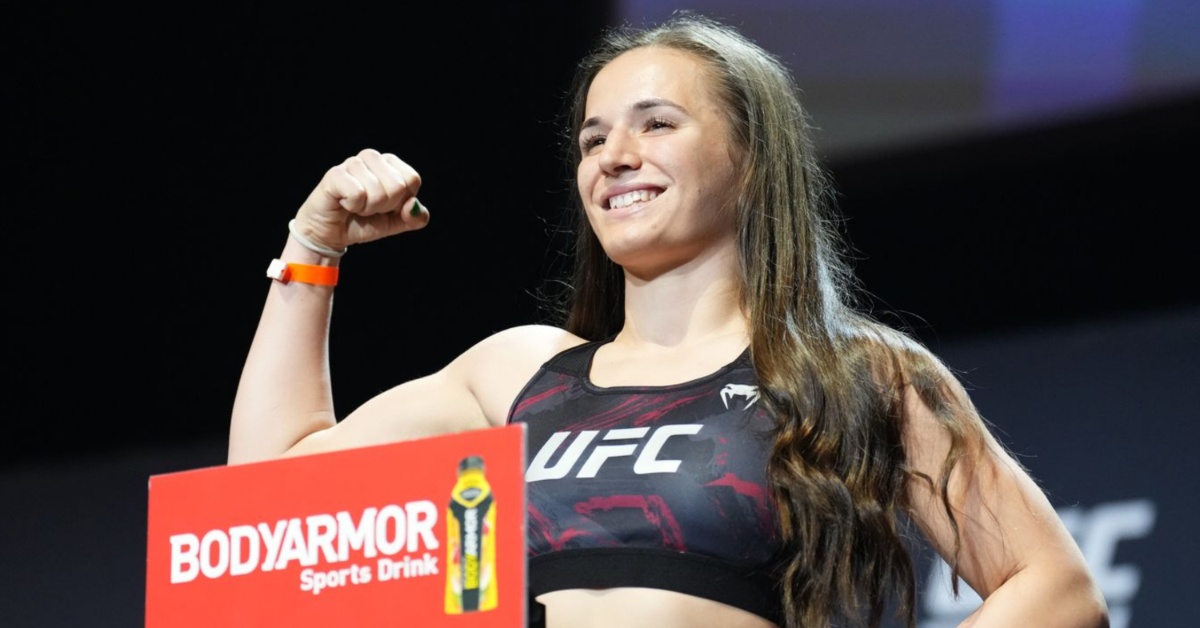 Erin Blanchfield could very well be in prime position to challenge for the flyweight title in her next outing, but right now, 'Cold Blooded' is eyeing a potential clash with former bantamweight champion Julianna Pena for the recently-vacated 135-pound crown.
Undefeated in the UFC with five-straight wins, Erin Blanchfield is sitting pretty in the flyweight division as the No. 4 ranked contender. Many believe she is the next woman in line for a title opportunity at 125 once current champion Alexa Grasso settles some business with Valentina Shevchenko later this year. However, Blanchfield may not want to wait that long for her first crack at UFC gold.
In an interview with MMA Fighting, Erin Blanchfield suggested that moving up to bantamweight for a title opportunity opposite the division's top contender, Julianna Pena sounds very interesting now that Amanda Nunes is out of the picture following her retirement at UFC 289.
"I think that is something that's super interesting," Blanchfield said. "Julianna Peña is, I believe, the No. 1 contender right now, she's the former champ. I think someone coming up from the flyweight division to fight her, I think would be super interesting.
"I think a lot of people are curious when I'm going to be fighting next. I don't have anything lined up right now. I know she wants to fight and get her title back, but I feel like I'm one of the most interesting fights right now for that division and for that title. I think it would get a lot of eyes on it, and that's something I'd definitely be interested in."
Erin Blanchfield believes she could be a much-needed fresh face in a division filled with former champions and women who have already failed to capitalize on previous title opportunities.
"I feel like in the bantamweight division, those top five names, top 10 maybe are kind of like recycled names or people that have been around for a while," Blanchfield said. "They're very good girls, but they've been the same. Bantamweight hasn't had as many prospects come up as the flyweight division has, and I think throwing my name in there and having me fight for a 135-pound title is definitely going to get a lot of eyes on it.
"People will be interested to see that fight, and it could be on a pay-per-view card, main or co-main. It will definitely get a lot more eyes on it than a lot of the girls that have already been seen."
Erin Blanchfield is Not Overly Considering About the Challenge that Julianna Pena Presents
Reigning as the bantamweight world champion, Amanda Nunes put away multiple top contenders in the division, including Julianna Pena, Holly Holm, and, most recently, Irene Aldana. With so many top names vanquished by 'The Lioness' in recent years, the doorway is wide open for another big prospect to step through and stake their claim as the head of the division now that its queen is gone.
Erin Blanchfield has seemingly found herself in the right place at the right time. With Nunes now out of the picture, the 11-1 fighter would love to capitalize on the moment, but to do so, she knows she will need to go through a very tough 135-pound scrapper in Julianna Pena.
"I haven't really studied her a ton yet, but I feel like her best attribute is, honestly, she's a very tough girl," Blanchfield said of Peña. "She goes to fight. I know her first fight against Amanda, she beat her, but the second fight, she fought super hard even though she was kind of getting outclassed everywhere. She's decent. She's well-rounded.
"It is kind of a backhanded compliment — you don't necessarily want to be known as being one of the toughest people. It's definitely something nice to have in your back pocket if you need it, but you don't want to have to rely on it or be known for it."
Erin Blanchfield is not terribly concerned about what Julianna Pena brings to the table in a potential showdown between the two. 'Cold Blooded' is admittedly much more focused on cashing in on the massive opportunity and etching her name in the history books.
"I don't think there's anything crazy about her style," Blanchfield continued. "I know Valentina fought her, and she arm barred her a while ago. She's a tough fighter, but I don't think there's anything I would be too nervous about. I feel like I could go and finish that fight." Blanchfield continued.
"If I have the Julianna fight, beat her, I'd be the youngest female UFC champ, I believe. Then go back down to flyweight, win that belt. I'd definitely be the youngest double champ. There's a lot of upsides to it, and it's definitely something I would be interested in."