Josh Barnett To Roy Nelson: 'Five Rounds? You're A D*ck'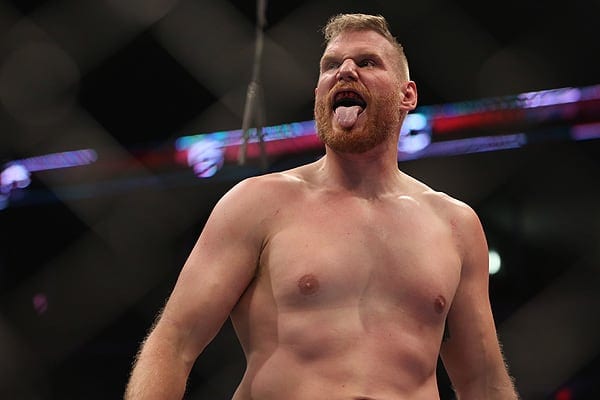 UFC heavyweight contender Josh Barnett took on Roy Nelson in last night's (Saturday September 26, 2015) UFC Fight Night 75 main event. It was a surprisingly busy fight, with both men happy to exchange for a grizzly five round affair. 'The Warmaster' eventually came out on the winning end of the judge's scorecards, but it was a hard fought win to say the least.
In the finish filled UFC heavyweight division, Josh Barnett and Roy Nelson would be the last two you'd expect to see making it to the finish line of a five round fight. Looking back on it, Barnett tells MMAJunkie.com that he didn't see it coming either. Check it out:
"For one, I didn't want to have to throw that many strikes, so I blame Roy, I blamed Roy immediately after the fight. I go, 'Five rounds? You're a d-ck. We're not supposed to be there that long. Have you seen us?' It's just work, work, work, work."
"People get hung up on wins and losses," Barnett said. "I lost my last fight but that's not the type of performance to expect from me ever again. Tonight I came out there and gave my all, and I was able to win this one, but for sure it wasn't anything like my last fight."
Having been out of action for nearly two years since getting destroyed by Travis Browne's elbows, 'The Warmaster' had a lot to prove against 'Big Country'. His grappling career advanced greatly during his time away from the octagon though, as he won the Metamoris heavyweight title and has defended it once so far against Ryron Gracie. As for his next fight, Barnett says he's not sure just yet:
"I don't know (what's next)," Barnett said. "I'll stay in shape, make sure that Colleen and Victor win their fights next week at Pancrase 270 and see what comes of this.
"The thing is, you build upon things no matter what. Even the losses you build upon and try to grow from it. You have to grow from wins. There's a lot I take out and try to improve on my own performance."
Now 2-1 in his modern UFC stint, Josh Barnett has an interesting number of fights to consider. At 37 years of age, it's definitely not too late for making a run at the heavyweight title. The win over Nelson marked the first time that Barnett had seen the judge's scorecards in victory since 2008.
Anyone in particular you think 'The Warmaster' should take on next?