Last night (Sat., July 28, 2018) longtime former UFC featherweight champion Jose Aldo shocked the mixed martial arts (MMA) world with a brutal first-round TKO over Jeremy Stephens (watch highlights) in the co-main event of UFC on FOX 30 from the Scotiabank Saddledome in Calgary, Alberta, Canada.
The victory gave Aldo's supposedly fading career a much-needed shot in the arm after a pair of consecutive stoppage losses to current champion Max Holloway in his previous two fights, a skid that sent MMA's longtime pound-for-pound king to three such defeats in his last four fights. Despite the fact that his otherwise peerless record at 145 pounds still meant he was the greatest featherweight in MMA's short history, it seemed many had already written off the all-time great against the surging Stephens, who had recently knocked out Doo Ho Choi and Josh Emmett during a late-career resurgence.
But Aldo came into Canada – the place where he first defended his UFC championship in 2011 – with all the pressure in the world on his shoulders and delivered perhaps what may be his single greatest performance in the hallowed Octagon. True, in a time overflowing with hyperbole and extremes seemingly everywhere you look, that may sound like a bit of recency bias, and indeed it's a point of view that must be taken into account in a 'what have you done for me lately' sport like MMA.
This one lives up to its lofty billing, however. Aldo obviously strung together a record-setting title reign at featherweight in the UFC, but the explosive stoppages that came so easily back in his WEC days had largely evaded him throughout his UFC tenure.
With his back against the wall against arguably the most dangerous pure knockout striker competing in the 145-pound division, Aldo took some huge shots from Stephens, exhibited the heart of a true champion to persevere when he was hurt, and ultimately blew the roof off the Scotiabank Saddledome with two of the most earth-shattering body shots ever landed in the Octagon.
The win put 'Scarface,' whom many were ready to write off as a has-been, back into the title discussion at 145 pounds, and he revealed that was his renewed goal at the post-fight press conference (via MMAjunkie):
"I think the performance was good enough to catch the eyes of the matchmakers again, and show that I do belong here. I am a top fighter in this division, and I'm ready to get another title shot eventually in this run."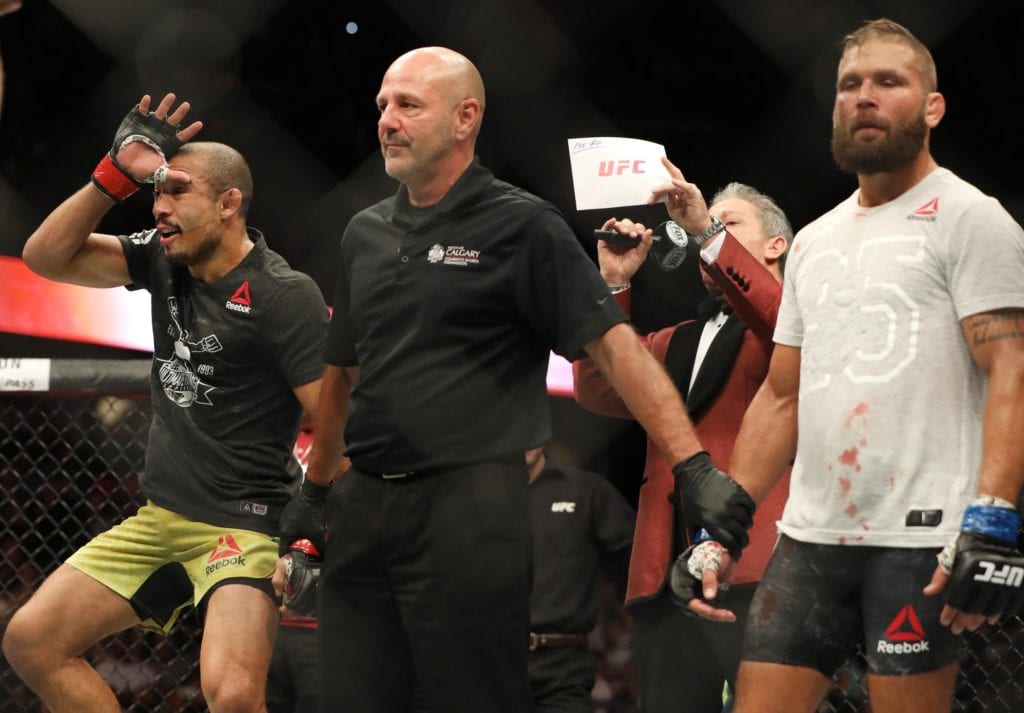 Aldo also touched on the doubt many (perhaps justifiably) had about him going into the bout with "Lil' Heathen." He knew there were several doubters predicting his demise, but he used the support of his team to rise above that and calmly do his job:
"A lot of people were looking at me and thinking, 'Where is he now? Is he the same fighter that he was before?' But I had my group behind me," Aldo said. "I was able to keep calm and do the work."
So with his decorated fighting career back on track in a big way for now, Aldo is looking to make his own late-career run that ends with an unheard-of third title reign.
That may be difficult with Holloway still the champion, and it's even more uncertain with him sidelined while undergoing tests for the concerning concussion-like symptoms "Blessed" recently experienced the week before his awaited title bout with top contender Brian Ortega earlier this month. We don't know when Holloway will be back, and with two prior losses to the champion, it's going to be tough for Aldo to get a third shot at "Blessed."
He could possibly face Ortega for the top contender spot, yet "T-City" doesn't seem to want any fight that isn't for the title after he earned his shot by knocking out Frankie Edgar, ironically enough, in a fight where "The Answer" stood to gain little facing Ortega as a late replacement after Holloway fell out with a leg injury. If that fight did happen, it would be nearly impossible to deny the winner the next shot, even with Aldo's two losses to Holloway.
So we'll have to wait and see what Aldo's next move will be in a suddenly confusing 145-pound weight class, yet two things are certain based on his performance in Calgary: Aldo was wrongly overlooked last night, and he reminded us why he is MMA's forgotten GOAT by providing one of the most brutal wins of the year against a contender many picked to do just that to him.
For that, Jose Aldo deserves our continued, everlasting respect. In fact, he never deserved to lose one shred of it.