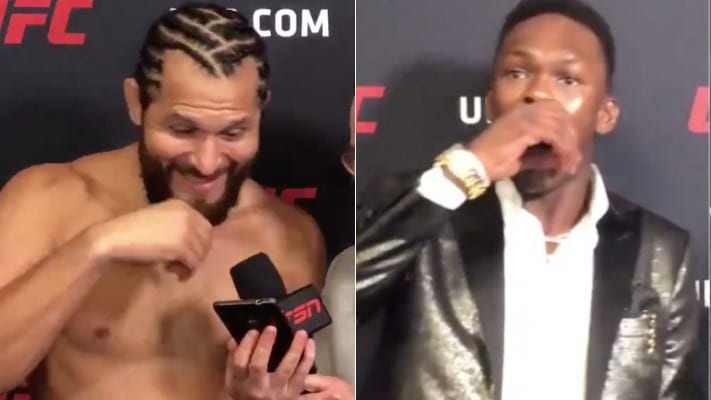 Jorge Masvidal stole the show at UFC 239 this past weekend.
"Gamebred" knocked out Ben Askren in five seconds in their highly-anticipated welterweight bout. The knockout garnered a ridiculous reaction from the mixed martial arts (MMA) community online. However, interim UFC middleweight champion Israel Adesanya's reaction was caught live on camera.
While in the middle of an interview with TSN's Aaron Bronsteter, Adesanya lost it when watching Masvidal nail Askren with a sprinting flying knee. Masvidal was later interviewed by Bronsteter as well, and was shown Adesanya's reaction to the knockout. The Florida native found "Stylebender's" reaction very amusing, and had some kind words for the Nigerian striker as well.
Check it out here:
"I know he likes that violence sh*t," Masvidal giggled. "Damn, that's the champ right there, man, shouting me out. You guys are welcome, man. See, that's another real fighter.
"That's another dude that comes to hurt people, so when I get those kind of reactions from guys that I f*cking like their f*cking style, man, and I like that they're actual fighters – you know, he's a dog and he showed in that Gastelum fight, it means a lot to me."

What did you think about Masvidal's big knockout win over Askren at UFC 239? Do you think Askren will retire?