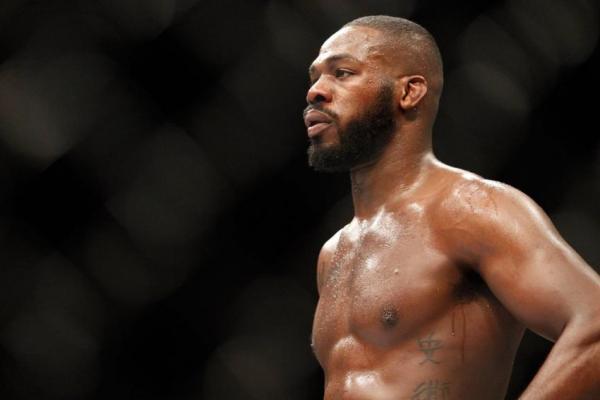 Former UFC light heavyweight champion Jon Jones has addressed potentially moving up to heavyweight.
Jones' history has been well documented, and it's lengthy. He failed an in-competition drug test at UFC 214 after he beat Daniel Cormier by third-round TKO in the main event on July 29 in Anaheim, California on PPV (pay-per-view) to regain the title. Jones tested positive for Turinabol.
As a result of that failed drug test, he was stripped of the UFC light heavyweight title and removed from the official UFC rankings.
He was then provisionally suspended by USADA pending a full investigation by the CAC (California Athletic Commission), and Cormier was reinstated as the champion of the light heavyweight division.
The CAC revoked Jones' MMA license and fined him $205,000 at the hearing that would determine Jones' fate as a result of this drug test. Jones has yet to be dealt with a punishment by USADA for his latest failed drug test.
He has had a long string of incidents despite his success that not only cost him money but opportunities to build his legacy.
The former champion has been stripped of three different UFC belts (also a record) and failed multiple drug tests by USADA to go along with myriad legal troubles outside of the cage.
Earlier this week, UFC President Dana White went on record by stating that Jones and former UFC heavyweight champion Brock Lesnar are interested in fighting each other.
A fan recently asked Jones on his official Twitter account about potentially moving up to heavyweight. The former UFC light heavyweight champion responded by writing the following:
"Honestly don't think I'm ever going to officially move to heavyweight. I make 205 way too easily. I will start picking off super fights tho.. heavyweights take way too much damage." "I don't underestimate Brock Lesnar, dude's been whooping ass his whole life," he said. "He's just facing a different animal this time, that's all. My brother wrestled at 275 lbs. throughout high school, I've been dealing with bigger guys my whole life."
Honestly don't think I'm ever going to officially move to heavy weight. I make 205 way too easily. I will start picking off super fights tho.. heavyweights take way too much damage. https://t.co/BorAkydT64

— Jon Bones Jones (@JonnyBones) June 12, 2018
I don't underestimate Brock Lesnar,Dudes been whooping ass his whole life. He's just facing a different animal this time that's all. https://t.co/WG2krVXvN8

— Jon Bones Jones (@JonnyBones) June 12, 2018
My brother wrestled at 275lbs through out high school, I've been dealing with bigger guys my whole life https://t.co/qcWk1QytK2

— Jon Bones Jones (@JonnyBones) June 12, 2018