Joe Rogan: Amanda Nunes Is More Dangerous Than Holly Holm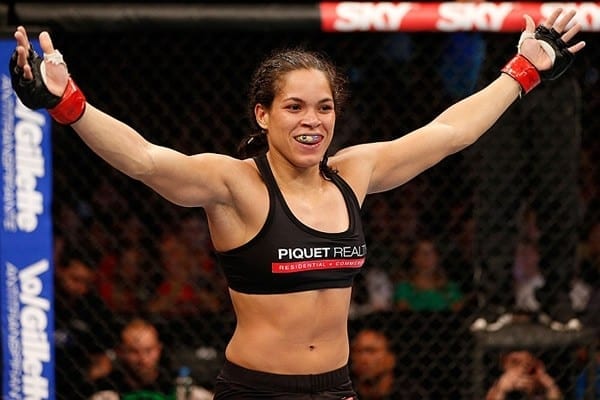 It was a wild weekend just gone for the UFC women's bantamweight division, as Ronda Rosuey announced live on air that she'd be facing Holly Holm in the UFC 195 main event. Much to the dislike of Miesha Tate, 'Rowdy' will square off with one of the best female boxers of all time in Holm, and the news seemingly sparked a string of interesting bookings and beefs within the 135-pound women's class.
Bethe Correia started a feud with 'Cupcake', then Sarah Kaufman got in on the action, and then there are the rumours of Amanda Nunes vs Tate. One criticism that has come of the UFC 195 main event booking is that 'The Preacher's Daughter' is simply not ready, and UFC color commentator Joe Rogan feels that Amanda Nunes would have been a better fight.
Check out what Rogan said during his podcast on Sunday, as transcribed by David St. Martin of MMAFighting.com:
"I don't agree with that fight," Rogan said, "That Holly Holm fight. I don't think that's smart. I would have gone with Amanda Nunes before Holly Holm. Amanda Nunes looked like a badass when she knocked out Sara McMann. That's a more dangerous fighter. A more marketable fighter. [Holm] is only the best boxer in the world if Ann Wolf decides not to box."
"The Holly Holm fight is not as intriguing to me as Amanda Nunes would be. [Holm's] big issue is the grappling. Who knows, though? You never know. Maybe Holly, because her standup is so much more refined, she's been doing it for so much longer, maybe she can keep Ronda away from her. I'm serious. I just think, honestly, the real problem is that there's a lack of talent."
Holm recently said she feels Rousey wants to test her new-found striking prowess, make a statement against a pure boxer in her own domain. Truth be told, it's far more likely that 'Rowdy' will take her down and expose those rather primitive, in comparison, grappling skills of Holm. Talk of Rousey's dominance being because of a lack of competition is ripe right now, but Rogan also feels that a big part is to do with the champion's high calibre:
"Bruce Seldon was a legit, world-class heavyweight," said Rogan. "[Tyson's competition] were really good fighters. The real problem with those guys is that they were fighting Tyson. The real problem with Ronda is that Ronda is like a Mike Tyson. She's the elite of the elite. Those girls? No. They're good. She's great. They're amongst the best.
"I think Amanda Nunes has real potential. If you look at Claudia Gadelha, she's world-class. Joanna Jedrzejczyk, world-class. There's a few. Cris Cyborg, steroids or no steroids, take away the controversy, go by her performances, ferocious. That's four. There's four of them."
As Rousey's legendary career reaches climax after climax, the legitimate competition begins to dwindle. With perhaps three or four more potentially huge fights, will the dominant queen of the bantamweights be sitting on a cleaned out division?
The general consensus is that Cris Cyborg is the biggest threat to Ronda Rousey's belt, but not only is she fighting for a different promotion, there's no guarantee that Justino can even make bantamweight.
How would a win over Holm impact on the division, or Rousey's legacy for that matter? Further to that, will she be around long enough to see a string of 'worthy' contenders, or are the MMA fans being too fickle in their praise of the champ?