Jake Paul laughs off Nate Diaz's ability after boxing win: 'How did he hurt anyone with his punches in his career?'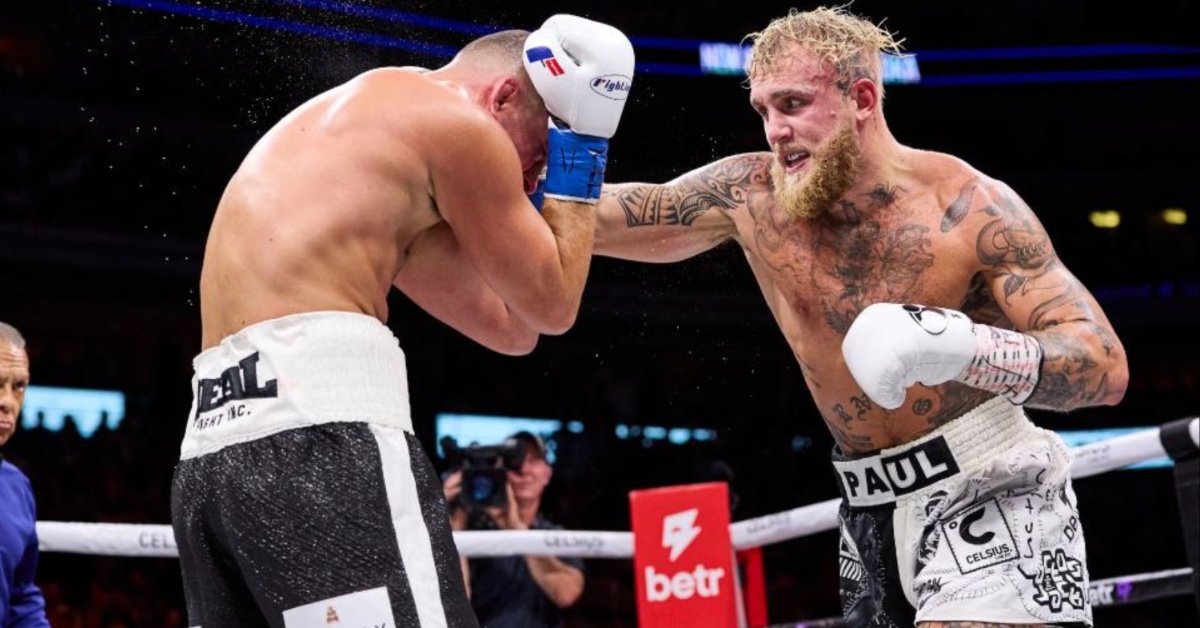 Turning in a comprehensive unanimous decision victory over former UFC lightweight title challenger, Nate Diaz over the course of last weekend in Dallas, Texas, outspoken puncher, Jake Paul has questioned how the Stockton veteran managed to hurt any prior opponents, appearing to scoff at the striking ability of the former.
Paul, who improved to 7-1 as a professional with his win over Californian fan-favorite, Diaz atop a pay-per-view event in 'The Lone Star State' over the course of last weekend, turned in a rather one-sided unanimous decision (98-91, 97-92, 97-92) win over the former UFC welterweight contender.
Almost finishing Brazilian Jiu-Jitsu ace, Diaz in the opening round, Ohio boxer, Paul swarmed with a slew of strikes early in the opening frame, as well as then dropping Diaz with a winging left hook in the fourth round – en route to a unanimous judging triumph.
Jake Paul mocks the striking ability of UFC alum, Nate Diaz
And immediately offering Diaz a rematch under the PFL (Professional Fighters League) banner with a purse worth a cool $10,000,000 awaiting the former, Paul certainly fancies his chances of a rematch win under the unified mixed martial arts ruleset, appearing to scoff at the former's striking prowess.
"Guy's (Conor McGregor) lost it, he's lost it," Jake Paul said of Conor McGregor during an appearance on IMPAULSIVE. "I don't think he is a good fighter. After I seen what like Nate Diaz did to him, hurting him, like bro, how did Nate Diaz hurt anyone with his punches in his whole entire career? F*cking dropping these guys, hitting Conor and Conor's wobbling into the cage. I could have stood there with my chin out and let Nate Diaz punch me as hard as he wanted to and the sh*t didn't hurt at all."

"The heavier gloves are actually more dangerous," Jake Paul continued. "Because, would you rather get hit with a 10 pound sledgehammer or a five pound sledgehammer? Also, with a bigger surface area, the trauma gets passed into a bigger surface area, which creates more of an impact on your head."
Off the back of his judging loss to Diaz, the Stockton native has been welcomed back to the UFC in a potential resigning – by former two-weight champion, Conor McGregor for a trilogy rubber match in the future. 
Would you like to see Nate Diaz rematch Jake Paul in MMA?