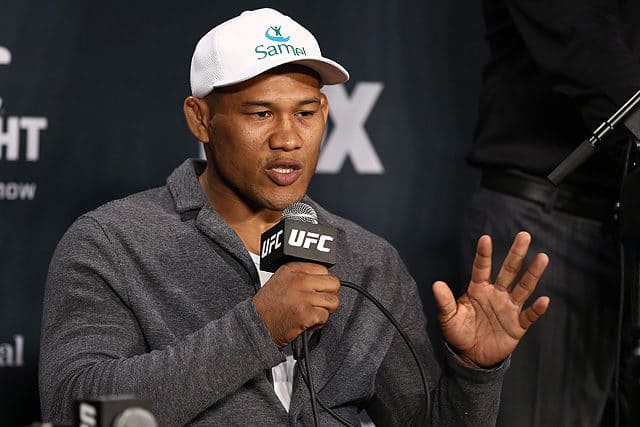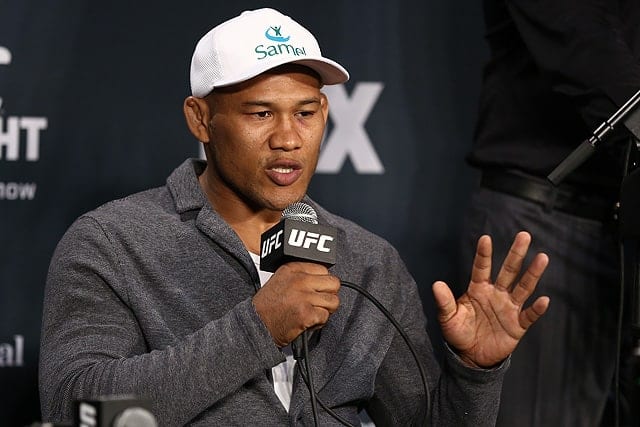 Jacare is not too happy with the UFC's choice to schedule middleweight champion Michael Bisping's second title defense against former welterweight kingpin Georges Saint Pierre.
The Brazilian submission specialist has certainly done more than enough to earn his shot at the belt, having finished both Vitor Belfort and Tim Boetsch in the first round after dropping a close split decision loss to fellow middleweight contender Yoel Romero.
Jacare (24-4-1) gave his opinion on the Bisping vs. GSP matchup during a press conference in Rio de Janeiro on Thursday, and did not hold back while doing so:
"I want them to suffer a double knockout," Souza said. "I want them to f—k themselves, man. That's the reality. I don't care about this fight. That's the same thing I said when Bisping fought Dan Henderson. I didn't care, too. I won't even watch this crap."
The Brazilian decided not to wait for his shot at the belt, instead opting to take on surging middleweight Robert Whittaker in April, in an effort to extend his winning streak to three in a row and strengthen his case for a title shot.
And while Bisping is set to take on a man who has never fought at 185 pounds, Jacare went on to question why the former welterweight champ is finally stepping up a weight class after years of talks of a superfight between GSP and then-middleweight champ Anderson Silva.
"I already imagined this could happen. In fact, a lot of thing has happened in the UFC. What upsets me is not the fact that St-Pierre is fighting Bisping. It's normal to me, he can fight, but he never fought at 185, he always said he was too small. He was always scared of fighting Anderson, everybody knows that, and now he's back and fighting at 185."
After fighting several contenders with promises of a title shot hanging in the balance of each fight, Jacare appears to be fed up with the UFC's handling of the middleweight division. The former Strikeforce champion has been neck-and-neck with fellow middleweight contender Yoel Romero, both of whom have been extremely vocal as of late in making their case for a title shot.
"Fight (Yoel) Romero, and if you get past Romero you fight Bisping. No, he went straight to the belt, so that's weird and bad for the middleweight division because no one's happy with this bullsh-t. That's the reality."
With two deserving contenders left in the lurch, Jacare's wish for a double-KO between GSP and Bisping seems to be a projection of the Brazilian's frustration in waiting so long for his overdue turn for the belt.
However, both Jacare and Romero will have to wait until the dust settles with Bisping vs. GSP, and even then, the next shot could easily go to either one of them.
Meanwhile, Jacare will return to action against Whittaker at UFC on FOX 24 on April 15.
If you enjoyed this story, please share it on social media!