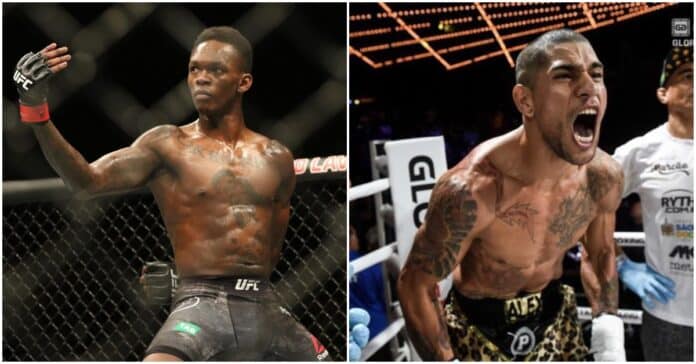 Glover Teixeira believes it won't be long until we see Alex Pereira fight Israel Adesanya.
Pereira recently enjoyed a successful UFC debut earlier this month when he knocked out Andreas Michailidis with a flying knee on the UFC 268 featured prelim earlier this month.
Naturally, many were already eyeing up a future middleweight contest between him and current champion Israel Adesanya. That's because the pair are 1-1 against each other in kickboxing with Pereira notably being the only fighter to knock out Adesanya.
And training partner and UFC light heavyweight champion Glover Teixeira believes a trilogy in the form of an MMA contest could take place in a year's time.
"I told [Pereira], 'One year,'" Teixeira said on The MMA Hour. "I told him when he signed with the UFC, 'Hey man, they'll be talking about you in about one year, three fights.' Especially the way he fought. It couldn't go better.
"I couldn't be more happy as a coach as a training partner that's been telling people that this guy is no joke. He's got a lot to learn, but he's learning things quick. He'll get things quick. I'm talking about you get a regular guy and whatever, that guy's gonna learn in six months – [Pereira will] learn in a week. You show him a move and he just does it."
Glover Teixeira: Three More Fights For Adesanya vs. Pereira
Although it wasn't Pereira's MMA debut, it's still very early in his MMA career as it was just his fourth fight in the sport.
However, Teixeira sees similarities between Pereira and himself in how they're able to quickly pick up things and utilize it straight away.
That's just another reason why he is confident Pereira is just three fights away from facing Adesanya.
"Alex is kind of like [me in training] and couldn't have done better [at UFC 268]," Teixeira said. "He got taken down, he defended takedowns, he got up and he stayed there. You see the other guy come out of the clinch, the guy's face was all messed up, he was dead tired and he come out with the flying knee. So calm, so relaxed.
"I say three more fights the most, and he wants to fight quick. He wants February already, he wants to fight quick, so he's going to fight back to back probably. No injuries, no nothing. By this time next year, they'll be talking about him and Adesanya."
Do you agree with Glover Teixeira?