For those of you following the plight of exiled UFC fighter Nick Diaz over the last month, it's been a roller coaster ride. The drama started at UFC 183, where Diaz failed a drug screen for marijuana, but passed two WADA (World Anti Doping Agency) tests on the same night. The date was set for his September hearing, and what transpired has been since described as a travesty.
With a seemingly air tight case presented by his legal team, few expected Diaz to be slammed with a five year suspension. The decision passed down has sparked outrage, and the support shown for the Stockton slugger has been coming from some unlikely places. The 'Free Nick Diaz' campaign has seen pop icon Cher, famous rappers, Ronda Rousey, Georges St-Pierre, Conor McGregor, Floyd Mayweather, and countless other celebrities and sports personalities speak up for Diaz.
The White House petition to lift the ban by the NAC (Nevada Athletic Commission) was set up the day of the hearing. That was exactly one month ago, and just two days ago we reminded you that Diaz still needed 23,000 signatures. As fate would have it, Diaz now has reached well over 100K signatures.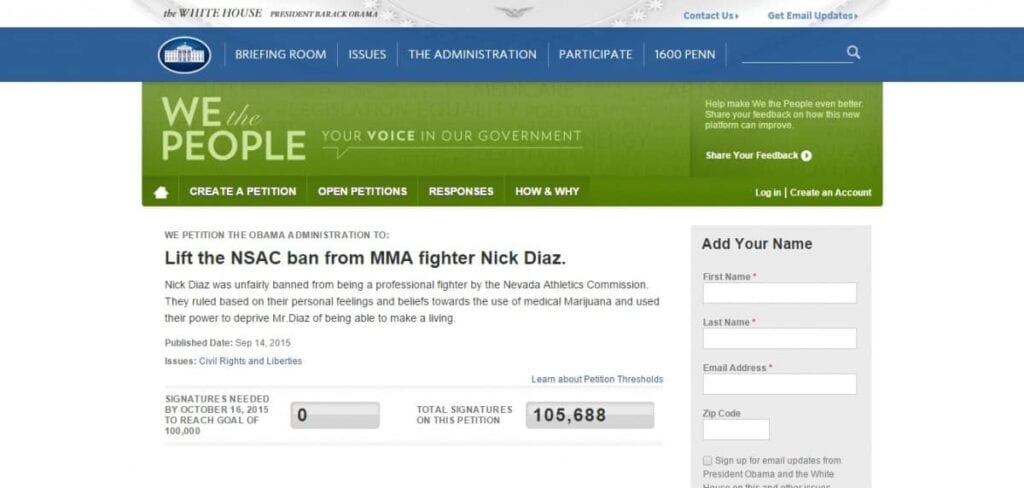 The fact that Anderson Silva, Diaz's UFC 183 opponent, failed a drug test for steroids and tried to blatantly lie his way out of it has somewhat fuelled the anger directed at the Athletic Commission. As it turned out, the now no-contest fight with Silva probably was the key to getting this petition so much attention.
That and, of course, the fact that millions upon millions of people believe marijuana shouldn't be either illegal, or classed as a performance enhancing drug in cases like these. Even though it is at present, the rules don't need to be abused to give an out-of-favour character, at least in the NAC's view, like Diaz an unfair punishment.
Let's hope this is the first step to getting the Commission to eat their words and drop this ban.
FREE NICK DIAZ!