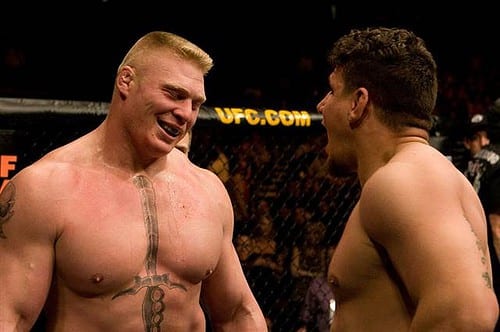 Former UFC heavyweight champion Frank Mir was back in action last night (Sunday February 22nd, 2015) as he took on and impressively finished Antonio "Bigfoot" Silva at UFC Fight Night 61. What makes Mir's performance stand out even more is that he did it in Silva's back yard and took zero damage in the process.
It was truly a do-or-die moment for the Jackson's MMA trained grappling ace, who had suffered four one-sided defeats in the lead up to his debut fight in Brazil. So what's next for the UFC's former poster boy? When quizzed on whether he'd like to fight Brock Lesnar for a third time, Mir answered 'absolutely' during the Fight Night 61 post fight presser.
Check out the quotes as transcribed by MMAFighting.com:
"I think it would be a huge, big fight, I think it's something that would catapult my name even higher up. I mean, a rubber match between the two of us would be a phenomenal fight. To keep that anywhere in the works, I had to get a win tonight."
The first fight between the two came at UFC 81 in 2008 where Mir handed the WWE superstar his first pro MMA loss. The first round kneebar was widely recognized as 'submission of the year' and made a great path for the rematch at UFC 100. Lesnar returned the favor, finishing Mir in the second round with a barrage of relentless ground strikes. Although it may seem a natural progression to look at the third fight, Mir said his focus was purely on Silva in Brazil:
"I really have just kept it in the back of my mind, honestly," Mir said. "It's not something like, 'I'm gonna win this to fight Brock.' I was like, 'Man, I need to win this to keep my job or my wife is not gonna let me go to the gym anymore.' It's not gonna pay the bills. I'm gonna have to go get a 9 to 5."
With his back against the wall, the fourteen-year heavyweight looked crisp and very dangerous against "Bigfoot". Now looking ahead, he says he'd welcome his old foe Lesnar back to the octagon:
"If Brock Lesnar decides to come back, [I would] welcome him back," Mir said. "I don't think he likes getting punched very much; I'm looking like I'm actually figuring how to punch pretty hard. So whoever they give me. If I come in at 100 percent and I feel good like I did tonight, I wouldn't bet on anybody across from me."
There have been rumours of the WWE crossover making an eventual return to fighting, if so, then a third fight with Mir would likely sell out any venue. Lesnar's time as champion was hindered with long lay-offs due to illness and he was finally smashed upon his return by Alistair Overeem and Cain Velasquez (the Mexican won the unified title from Lesnar), could he make a better run this time around?
Frank Mir vs Brock Lesnar 3? Why not.