The biggest story in MMA this week came in the form of UFC bantamweight champion TJ Dillashaw's somewhat surprising departure from his longtime Team Alpha Male, the exact place where he began his fight career under the tutelage of former WEC champion Urijah Faber.
"The California Kid" and "The Viper" became close friends during their time spent training together, but the seeds of discord were unfortunately sown when a rift erupted between Faber and former TAM head coach Duane "Bang" Ludwig.
When the feud spilled over into the media, it became clear that Dillashaw was in the middle of a back-and-forth personal disagreement like a child in the middle of a messy divorce. Even though Faber detailed a long list of troublesome occurrences that seemed to follow Ludwig around, it was clear that Dillashaw was no doubt the best fighter he could be thanks in large to Ludwig's extensive striking knowledge.
So the champion took a lucrative deal with Elevation Fight Team in Colorado, where he'll be paid to train rather than pay himself, and it obviously gives him an opportunity to train more with Ludwig, who owns his own gym nearby.
But even though those aspects may suggest Dillashaw is a fighter simply looking out for his own best interests in a game with an extremely short window of opportunity to make an impact, the timing probably couldn't have been much worse, and it's understandable that Faber is a little miffed at how the whole thing played out.
Perhaps the biggest result of the move was that it now opens a clear road for Faber and Dillashaw to finally throw down in their oft-discussed title bout, which was always put aside because they were teammates.
They aren't anymore, and in a shallow bantamweight division, this is a fight that has to be made whether it's for the title or not. Let's take a look at five reasons why.

5.) Bad Blood/ Team Honor
At the heart of the matter sits the obvious bad blood that Faber and the rest of Team Alpha Male will have towards Dillashaw. He was a flagship team member who achieved the highest level of success anyone from their gym had, so it's only natural for them to be a bit put off by the whole situation.
Faber has already spoke out against the fashion in which "The Viper" left, and he said he doesn't believe it's a good idea that the champ comes back to train at TAM when he's in town. Those feelings will only be amplified by the fact that Ludwig took his beef with TAM to an all-new level this summer when he said only Dillashaw wanted to be a champion before his UFC on FOX 16 main event against Renan Barao.
"The California Kid" may not want to fight his star pupil, but he will undoubtedly want to defend his team's honor above all else, suddenly making this high-profile fight a distinct possibility.

4.) Money
Faber has repeatedly said he would never fight Dillashaw unless there the titleholder wanted him to and there was "a ton of cash" involved.
With it now appearing that Dillashaw is obviously motivated by money (just like the rest of professional fighters), the UFC almost has to book this fight given the rarely seen mentor vs. prized pupil dynamic going on here.
That's going to take lots of money from the UFC to make this interest-piquing bout happen happen; money that they will almost certainly be willing to shell out.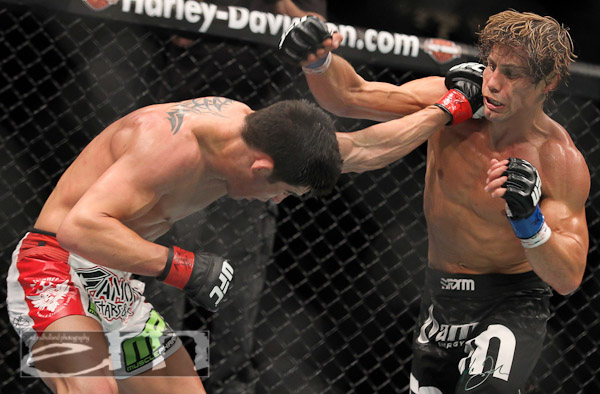 3.) There aren't many true title contenders left after Cruz
Regardless of if Dillashaw gets past long-injured former champion Dominick Cruz in the main event of January 17's UFC Fight Night 81 from Boston, Faber vs. Dillashaw makes sense for the barren 135-pound division nonetheless.
But if the champ does defeat Cruz, well, there are just aren't many true top contenders left for Dillashaw's belt after that. Young fighters like Bryan Caraway, Aljamain Sterling, Michael McDonald, and Thomas Almeida will all likely be potential contenders sometime in the future, but it's hard to say that any one of them is really ready to take on Dillashaw for the belt right now.
True, Faber has lost multiple title fights in a row, but he's always had a knack for making his way back to another one by dominating all of his competition out side of them, and he's simply the biggest name with the biggest (and only) backstory available at 135 pounds.
All of that culminates to make Faber vs. Dillashaw a no-brainer booking for the UFC.

2.) Dillashaw proved Conor McGregor right
One of the most seething aspects of Dillashaw's departure for Colorado has to be the fact that "The Viper" proved the Irish interim champ's recent statement that he was a "snake in the grass" true.
Faber had Dillashaw on The Ultimate Fighter (TUF) 22 to "help" his team, but the "Notorious" said he saw that Dillashaw was only out for himself. Dillashaw did absolutely nothing to disprove that theory, and he left TAM a very, very short time after that interview went public, making him look like the exact thing McGregor accused him of being.
The decision could be right or wrong depending on your point of view, as Dillashaw and his team obviously have to look out for their own best interests in a tough sport, but again the timing couldn't have been much worse.
You'd think Dillashaw could have waited for the whole Faber/Ludwig feud to blow over a bit before amplifying it by leaving, but maybe that's what expedited his departure in the first place.
Either way, Faber and his team of trained killers can't be too happy about it right now.

1.) It could be his last chance at a UFC title
As mentioned in reason number two, Faber has lost a lofty six straight title bouts in the UFC, and at 36 years old, his time as a truly elite contender will most likely be coming to a conclusion in a couple years.
After his scintillating 2013 under "Bang's" tutelage, "The California Kid" hasn't exactly been knocking the doors down at bantamweight, as his last fight was a decision loss to featherweight Frankie Edgar. He's scheduled to fight up-and-coming prospect Frankie Saenz at UFC 194 in the kind of fight he's always won in dominant fashion; a non-title fight.
However, he could most certainly be reinserted into the title scene with a win because him vs. Dillashaw would instantly become the biggest fight at 135 pounds by a wide margin. The drama with "Bang" and Dillashaw leaving has actually helped Faber's relevancy in the division, and in no small way, either.
It'll be more than hard to envision Faber getting another title shot if he loses a seventh straight, making any potential bout with his former student a do-or-die-situation.
Ultimately it looks like the stage is set for Faber to face his good friend Dillashaw in the octagon, as the pieces are falling into place for perhaps the most marketable 135-pound bout in UFC history, and that's a good thing for Faber (whether or not he thinks it is), fight fans and the promotion.