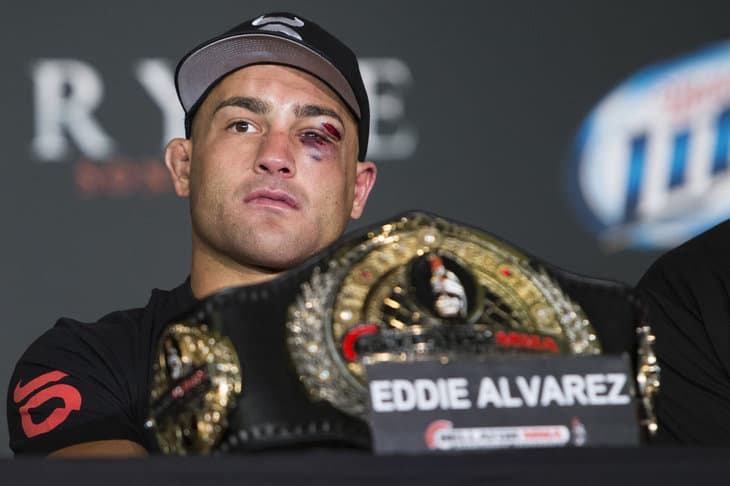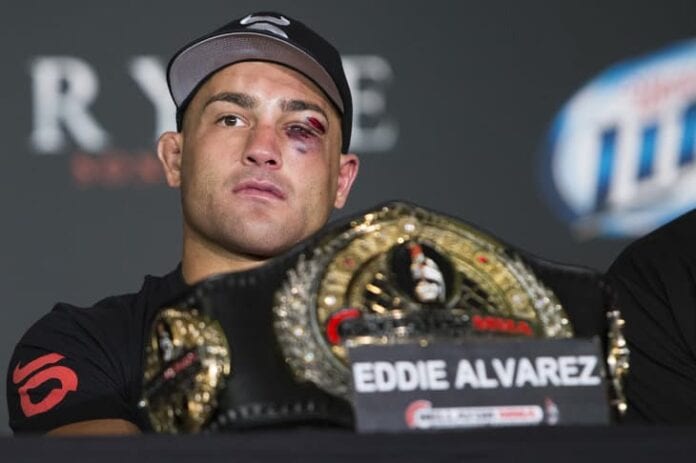 Finally settling a rivalry dating back five years ago, top 10-ranked lightweights Gilbert Melendez and Eddie Alvarez threw down in the bad blood-fueled co-main event of tonight's (Sat., June 13, 2015) UFC 188 from the Mexico City Arena in Mexico City, Mexico.
The long-awaited 155-pound scrap began with the fighters cautious, with Alvarez finally throwing a solid combo to the body and head. Melendez fought back with his jab, snapping it repeatedly into Alvarez' nose. 'El Nino' then caught Alvarez with some a big right elbow that rocked him, following with another. A hard jab followed from Melendez, and Alvarez landed some strong low kicks. Alvarez then jumped in with a quick combo, but ate a another hard right from 'El Nino.' Despite a pair of kicks, a bloodied Alvarez was a bit hesitant towards the end of the round.
Alvarez' eye was swollen shut at the start of the second due to the big elbow in the first, but he still came out with a hard right hand. Melendez was calm as he stalked down his opponent, and Alvarez landed some big shots. The former Bellator champ clinched Melendez until a low blow briefly hated the bout. Melendez continued landing his jab on the restart, eating another low kick from Alvarez. 'El Nino' shot for a takedown, missed, and abandoned it for a knee to the body, following with a hard right hand. Alvarez sought a takedown against the fence, securing it and finishing out the second strong with a nice spinning back elbow.
The final frame started with Alvarez shooting a takedown, missing at first but persevering to finally score a lifting slam. Melendez complained about another low blow when the fighters broke from a clinch, but John McCarthy didn't halt the action. Alvarez snapped an overhand right as Melendez appeared to breathe heavy. Alvarez went back to his low kicks, dumping Melendez with a single leg. He got back up but was taken down again only to bounce back to his feet again. Melendez threw a sloppy combo on the feet, with Alvarez landing a body kick. He landed another big spinning elbow in the final seconds, opening Melendez up. Although he ate an uppercut at the bell, Alvarez fought through brutal swollen eye to win the fight via split decision.
Final Result Eddie Alvarez def. Gilbert Melendez via split decision (29-28, 28-29, 29-28)